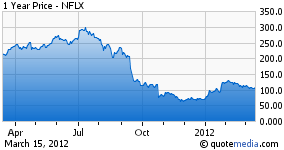 Whenever I think of a punching bag, I don't get that hanging, swinging item that people like to send their fists into. I think of Netflix (NASDAQ:NFLX), and with good reason. Not only has this company shot itself in the foot over the last year, but its troubles have allowed competitors to keep taking shots at Netflix. Sooner or later, one will hit that will take down Netflix for good.
The first new shot this week came from Wal-Mart (NYSE:WMT). Yes, it came from the big retailer, not from a cable provider or media company. Wal-Mart announced a new disc-to-digital service. Here's how this unique service works:
Bring your movie collections from the participating studio partners - Paramount, Sony, Fox, Universal and Warner Bros. - to your local Wal-Mart Photo Center.
A

Wal-Mart associate will help you create a free VUDU account.

Tell the associate how you'd like your movies converted:

Convert a standard DVD or Blu-ray movie for $2; or,
Upgrade a standard DVD to an HD digital copy for $5.

Wal-Mart will authorize the digital copies and place them in your VUDU account. No upload is necessary, and you get to keep your physical discs.

Log onto VUDU.com from more than 300 Internet-connected devices to view movies any time, any place.
So basically, you can create your own video library, accessible pretty much anywhere, for just $2 per DVD or Blu-ray. If you have a few favorite movies that you love to watch, it might be worth it. If you are a frequent traveler, it might be worth it as well. I'm guessing that the next step in this phase would be to allow you to convert TV shows, which would be a true Netflix killer.
Now, I don't think a million people are going to cancel their Netflix plan today and run to Wal-Mart with boxes and boxes of their DVDs or Blu-rays. Some may question this move on Wal-Mart's part, saying this strategy will never work. If Wal-Mart decided it was worth it, it probably is. Wal-Mart isn't going to kill Netflix with this service, but it is just another shot at Netflix, and the hits just keep on coming.
On Wednesday, the next hit came, and this one was from an established Netflix competitor. Amazon (NASDAQ:AMZN) announced an agreement with Discovery Communications (NASDAQ:DISCA) that will give Amazon's Prime Video service access to the company's library of hit TV shows and original programming.
Now, Amazon Prime costs $79 a year, which is cheaper than the $7.99 monthly Netflix fee. Now, we know that Netflix has a much greater content library than Amazon. However, Amazon's Prime does offer other benefits, like free two-day shipping on some items, and allows members to borrow a book a month free on the Kindle.
Netflix says that Amazon isn't a true competitor. Amazon's Prime Instant Video library is just 17,000 titles, but since its launch during 2011, they've added more than 12,000 titles to the collection. Percentage wise, that is a nice increase. Amazon also allows you to purchase or rent another 120,000 titles from Amazon Instant Video. We all know that Amazon's collection isn't as big as Netflix's. Prime is getting bigger, and that is something Netflix better start worrying about, and soon.
While I'm at it, I might also mention that just two weeks ago, Coinstar (NASDAQ:CSTR) announced a new deal with Universal Studios Home Entertainment to keep Universal's DVDs and Blu-rays available at Redbox locations 28 days after release. Coinstar's Redbox is doing exceptionally well now, and has been doing much better after Netflix decided to kill off its DVD business. Redbox is taking those customers, of which Netflix is losing hundreds of thousands, perhaps millions, per quarter. You also might remember Coinstar announced plans to launch a streaming service later this year, which could also take away more customers from Netflix.
Remember, Netflix is bleeding DVD subscribers currently, and its costly international expansion is sending Netflix into the red this year. Even with a return to profitability expected in 2013, the company is still trading at 41 times 2013 earnings. For a company only expected to grow revenues at 14% this year (and lose money overall) as well as 16% next year, that valuation is way too high.
The hits just keep on coming for Netflix. Even if they don't take away subscribers in mass numbers at first, they will take away some. They also will force Netflix to spend more, whether it is increased marketing expenses or paying more for exclusive content, and right now, Netflix needs to lower costs, not increase them. The stock seems like it is about to break below $100 currently, and the next piece of bad news (from Netflix, not just more competitors' shots) should send it to $75.
Disclosure: I have no positions in any stocks mentioned, and no plans to initiate any positions within the next 72 hours.