The Portuguese stock market has had a negative performance over the last few months. Being a peripheral and small market even for European investors, the institutional investors have fled the investments in Portugal during 2011. Obviously, the bailout (€78bn - $108bn) received by Portugal last spring has made the feeling towards this market very negative. (For more analysis regarding the Portuguese economy see my article "Portugal: How Much it Differs From Greece".)
Given this background, it is not so surprising to see that the Portuguese market (PSI 20 Index) is down more than 25% over the last year. This is one of the worst returns of European markets, even when compared with other southern markets, such as Spain (-15.4%) or Italy (-19.4%). However, the performance of the Portuguese market is much better than the Greek market which fell 61%, showing that the market recognizes the differences between the two countries.
Although the macroeconomic outlook for Portugal in 2012 is everything but good, given that the forecast of GDP growth is a contraction of -3%, I think this negative feeling is already reflected in market prices and therefore the downside risk, over a medium to long term period, may be limited. For income investors, this may represent a good entry point through companies with resilient business models and that have exposure to other markets, namely the high growth Brazilian market.
Below are three companies from resilient sectors (infrastructures, utilities and telecommunications) that offer yields above 8%. Only Brisa is mainly a domestic company; Portugal Telecom and EDP have exposure to foreign countries, namely Brazil:
Portugal Telecom (PT): Offers telecommunications services. The Company offers domestic, long distance, and international telephone, mobile telephone, paging, Internet access, and data communications services. Portugal Telecom also distributes television programming over the Internet. The Company offers some of its services in Brazil, Africa, and Asia.
It has a market cap of €3.6bn ($4.75bn). The stock has a dividend yield of 16% (based on €0.65 dividend) and a P/E of 7.52x. Although you can see on Bloomberg a dividend yield of 38% for PT, this is because PT recently sold its stake in the Brazilian mobile operator Vivo to the Spanish company Telefonica (TEF). From 2008 to 2010 the company paid a dividend of €0.575 ($0.75), which increased to €0.65 ($0.85) in 2011. PT also paid €1.65 ($2.15) in special dividends since the end of 2010.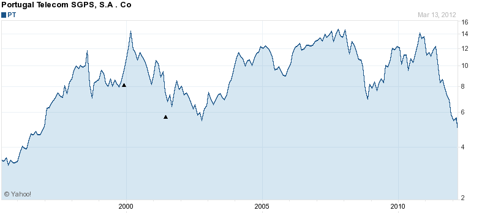 Brisa (BRSAY.PK): Designs, builds, operates and maintains a system of toll highways in Portugal under a concession from the state, to expire in 2035. The Company also provides services such as service stations operation, auto inspections, electronic toll collection, engineering projects management, electronic equipment maintenance, and roadside assistance. In the US, has less than 10 miles under concession in Texas.
It has a market cap of €1.4bn ($1.85bn). The stock offers a dividend yield of 13% and a P/E of 15x. The company has maintained the dividend paid unchanged over the last 4 years at 0.31€ ($0.4). For this year, the company recently announced the same dividend of 0.31€, despite the fall in earnings.
EDP (EDPFY.PK): Generate supplies and distributes electricity and the supply of gas in Portugal and Spain. Through subsidiaries, the Company is involved with electricity distribution, generation and supply in Brazil, and wind power promotion, construction and operations in Spain, Portugal, France and Belgium.
It has a market cap of €8.2bn ($10.6bn). The stock has a dividend yield of 8,2%, based on the last dividend reported of €0.185 ($0.24) and a P/E of 7.5x. The dividend has grown consistently over the last 5 years, with an annual growth rate of 8.1%. The Portuguese state recently sold its remaining 21% stake to a Chinese state-owned company, under its bailout program from the European Union and the IMF.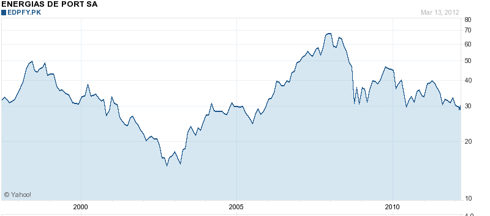 Disclosure: I have no positions in any stocks mentioned, and no plans to initiate any positions within the next 72 hours.