Pfizer (NYSE:PFE) is the largest pharmaceutical stock and a Dow 30 component. Can a drug company so large survive generic drug competition in the future? The stock had some problems after reporting disappointing sales and earning numbers, but as this Barchart provided graph of the stock price over the last 6 months vs. its moving averages shows, still has some support: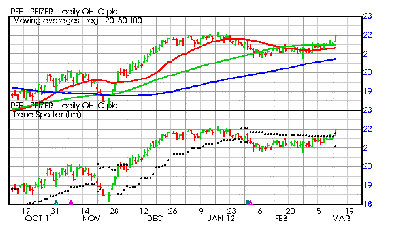 During the recent market rally the stock as measured against the Value Line Index has also recovered nicely with a 6 month return of 17% vs. the Index return of 18%: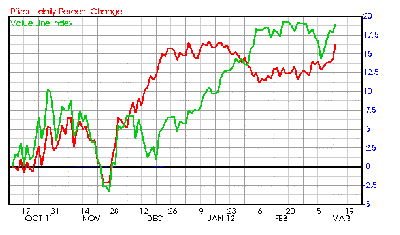 Pfizer Inc., a biopharmaceutical company, engages in the discovery, development, manufacture, and sale of medicines for people and animals worldwide. It primarily offers Celebrex, Chantix/Champix, Lipitor, Lyrica, Premarin, Pristiq, and Viagra pharmaceutical products in the therapeutic and disease areas of Alzheimer's disease, cardiovascular, erectile dysfunction, genitourinary, depressive disorder, pain, respiratory, and smoking cessation. The company also provides BeneFIX, Enbrel, Genotropin, Geodon, Prevnar/Prevenar, Rebif, ReFacto AF, Revatio, Xalatan, Xyntha, and Zyvox pharmaceutical products in the therapeutic and disease areas of anti-infectives, endocrine disorders, hemophilia, inflammation, multiple sclerosis, ophthalmology, pulmonary arterial hypertension, specialty neuroscience, and vaccines. In addition, it offers Aromasin, Sutent, Torisel, and Xalkori pharmaceutical products for addressing oncology and oncology-related illnesses; and other prescription pharmaceutical products, such as Arthrotec, Effexor, Medrol, Norvasc, Protonix, Relpax, and Zosyn/Tazocin.

Further, the company provides vaccines, parasiticides, and anti-infectives to prevent and treat disease in livestock and companion animals; and non-prescription products, including Advil, Caltrate, Centrum, ChapStick, Preparation H, and Robitussin in the areas of dietary supplements, pain management, respiratory, and personal care. Additionally, it offers various infant and toddler nutritional products, such as S-26 and SMA product lines, as well as formula for infants with special nutritional needs. The company sells its products to wholesalers, distributors, retailers, hospitals, clinics, government agencies, pharmacies, individual provider offices, veterinarians, livestock producers, and grocery and convenience stores. Pfizer Inc. was founded in 1849 and is headquartered in New York, New York. (Yahoo Finance profile)
Factors to consider:
Barchart technical indicators:
72% Barchart technical buy signal
Trend Spotter bearish hold signal - the recent upward momentum will change this to a buy if the trend holds
Above its 20, 50 and 100 day moving averages
5 new highs and up 3.15% in the last month
The stock trades at only .90% off its 1 year high
Relative Strength Index 65.17%
Barchart computes a technical support level at 21.50
Recently traded at 21.90 with a 50 day moving average of 21.48

Fundamental factors:
This Dow 30 stock has long been on most Wall Street brokerage firms' long term conservative buy lists and 17 firms have assigned 23 analysts to follow the numbers
Analysts predict revenue will decrease by 7.90% this year and another .20% next year
Earnings are estimated to decrease by 1.70% this year but increase 3.50% next year and continue to increase annually by 2.82% over the next 5 years
These consensus numbers still result in 8 strong buy, 11 buy, 3 hold, no under perform and 1 sell recommendations released to their clients
Analysts forecast an 8% - 10% annual total return over the next 5 years
The P/E ratio of 9.26 is a discount to the market P/E of 14.90
The dividend rate of 4.10% is only 55% of projected earnings and more than the 2.30% dividend rate of the market
The company enjoys an A+ financial strength rating
The major concern of analyst is whether the company can refill its product pipeline as major drugs like Lipitor, Viagra, Celebrex and Lyrica come off patent and the generic producers move in.
The company is trying something no other Pharma has done before as it attempts to distribute some of its drugs through its own pharmacy directly to the public through a mail order joint venture.

General investor interest:
The readers of Motley Fool are a good gauge of individual investor sentiment and 6,090 readers have expressed an opinion on the issue
The general readers have voted 90% that the stock will beat the market
The more experienced All Stars voted 93% for the same result
Fool notes that 95% of the firms and columnists they follow are still positive on this stock.
Some positive comments were made by Tobin Smith, Jim Cramer, Goldman Sachs, Argus, and Jefferies

Always compare a stock's price movement over the past year to its competition. While Pfizer gained 11% in the past year, Amgen (NASDAQ:AMGN) was up 29%, Biogen Idec (NASDAQ:BIIB) up 74% and Gilead Sciences (NASDAQ:GILD) was up 15%:
Summary: Pfizer is a Dow 30 component and as such is so big it has a hard time outperforming the market. Long term conservative investors might want the Dow 30 stocks for their strong financial positions and solid dividend rates. Aggressive growth investors need only look at the chart above to find some pharmas that are outperforming the market. If you continue to hold this stock and are unsure if the product pipeline can be refilled then monitor the 14 day turtle channel to determine an exit point: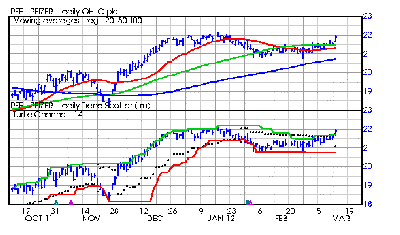 Disclosure: I have no positions in any stocks mentioned, but may initiate a long position in BIIB over the next 72 hours.