The recent swoon in gold and silver prices has dramatically increased the number of emails I receive from investors trying to figure what to do now.
There is no shortage of advice on the Internet. An investor can easily find contradictory advice from gurus. Instead of listening to gurus, astute investors may want to take a simple common sense approach.
A sharp reader may ask, "Why should I listen to you?" The answer is that you should not blindly follow anyone including me, but focus on learning how to find the right data and letting the data speak for itself without being influenced by prejudices.
My track record of on the spot calls on gold and silver is well documented and can be easily verified. The record ranges from a recommendation to back up the truck and buy silver when it was around $17, selling silver when futures were hitting $50, short selling silver around the $50 peak with a predicted target of low $30s, selling half of gold holdings at $1,904 and the other half at $1,757, and then short selling gold. Please see How To Call Twists And Turns Of The Gold And Silver Markets, Silver Demand Theory Debunked, and numerous other articles.
The diagram shows how gold is behaving according to our method.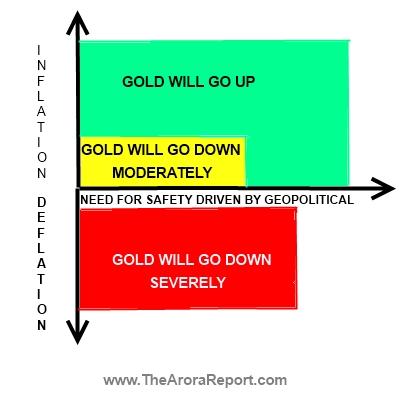 Gold and silver are now in the yellow zone.
Please carefully read the critical part from the Federal Open Market Committee statement from earlier this week.
Strains in global financial markets have eased, though they continue to pose significant downside risks to the economic outlook. The recent increase in oil and gasoline prices will push up inflation temporarily, but the Committee anticipates that subsequently inflation will run at or below the rate that it judges most consistent with its dual mandate. To support a stronger economic recovery and to help ensure that inflation, over time, is at the rate most consistent with its dual mandate, the Committee expects to maintain a highly accommodative stance for monetary policy. In particular, the Committee decided today to keep the target range for the federal funds rate at 0 to 1/4 percent and currently anticipates that economic conditions -including low rates of resource utilization and a subdued outlook for inflation over the medium run -are likely to warrant exceptionally low levels for the federal funds rate at least through late 2014.
There is no QE3, the Fed is begrudgingly accepting that the economy is getting better, and the Fed is determined to control inflation. Will the Fed be successful in controlling inflation? At this point, one part of the answer is clear - the Fed will try its best to contain inflation.
Astute investors will not fall victim to the myths about Chinese and Indians buying gold in this swoon. Please see my previous articles.
The best course for an astute investor is to take a careful look at the actual trading data in gold and silver from across the globe including India and China. Those investors without ready access to such data can still benefit by looking at the readily available tick data going back over the last several months on gold ETF (NYSEARCA:GLD), silver ETF (NYSEARCA:SLV), miner ETF (NYSEARCA:GDX), junior miner ETF (NYSEARCA:GDXJ), Newmont Mining (NYSE:NEM), Barrick Mining (NYSE:ABX), Silver Wheaton (NYSE:SLW), Pan American Silver (NASDAQ:PAAS), Hecla Mining (NYSE:HL), and Coeur d'Alene Mines (NYSE:CDE).
I have designed algorithms that dissect the trading data along with a variety of other indicators to make a qualitative estimate of buying by the smart money and momo moms and pops. In our parlance, smart money means collective actions of ultra-sophisticated investors who know more, who know early, and who have more analysis power at their disposal than most of us.
The data shows that in the run up in gold from $1,450 to $1,910, 70% of the buying was by momo moms and pops. Only 7% of the buying was from the smart money.
In the subsequent run up, 85% of the buying was by momo moms and pops between $1,600 and $1,760. The smart money was a net seller.
In the latest run up, 92% of the buying between $1,500 and $1,790 was from momo moms and pops. The smart money was again a net seller.
In the present swoon, smart money has been aggressively selling while moms and pops have been buying.
Market observers have long been attempting to measure the internals of trading. Market technicians have developed hundreds of methods over years to this end. The most famous such indicator is Joe Granville's On Balance Volume (OBV) indicator. OBV was originally named Cumulative Volume by Woods and Vignolia. In 1946, Granville rechristened it with the name OBV.
Joe Granville is known for his accurate market calls in the 1970s and 1980s. In my lifetime, I have not known any other market technician who could move markets like Granville could.
When Granville popularized On Balance Volume in 1963, he did not have the advantage of the computing power we possess today. The indicators discussed in this article are simply refinements of Granville's work made easy by readily available computing power. OBV is an open source indicator readily available on most platforms. An investor without the advantage of our proprietary indicator smart money may consider applying OBV to tick data over a long period of time.
From a traditional technical analysis point of view, in the very short-term, gold and silver are oversold and may attempt to bounce. On the other hand, the mom and pop momo crowd is not known for its resiliency and is known to sell close to the bottom of a swing.
When the mom and pop momo crowd sells, that will be the bottom of the current swing.
Those short gold and silver may continue to hold short.
Those not holding gold and silver short may wait for a bounce to short.
Those holding gold and silver long as an insurance policy in a well-diversified portfolio may continue to hold if the time horizon is very long-term.
Those who are holding gold and silver long simply as a speculation or a short-term trade may consider lightening the position on a bounce.
Disclosure: I am short GLD, HL.
Additional disclosure: I, my hedge fund, and subscribers to The Arora Report are short GLD and HL. We also have an arbitrage trade on PAAS and SLW in progress.