It's probably the biggest complaint of cable and satellite television subscribers. I pay $80 for this package, but I really only want a handful of the stations. Interestingly, I don't hear owners of mutual funds and ETFs come with the same gripe.
I received a comment from a reader on a recent article where I offered an aggressive new media portfolio for long-term investors:

First off, I would probably tread carefully with stocks like Amazon.com (NASDAQ:AMZN) and Pandora (NYSE:P) at "five years from retirement." That aside, the commenter brings up a situation I assume a good number of investors find themselves in. They like particular stocks and want to find some sort of fund to get at that specific bullishness. Although the reader did not mention this specifically, it makes sense to consider what else you're getting when you find a fund that owns a considerable amount of one or more of the stocks you want exposure to.
In this article, I focus on ETFs, as they represent an area Seeking Alpha devotes entire sections of the operation to. I will consider Rogers Communications (NYSE:RCI), Bell Canada (NYSE:BCE), Time Warner (NYSE:TWX) and Disney (NYSE:DIS) because they represent stocks that are less speculative in nature than AMZN and P. I will also include Apple (NASDAQ:AAPL), primarily because there's no question that many investors want a piece of the stock, but do not feel they have adequate capital to buy it directly.
(I disagree with this sentiment, but I go with it because I know lots of folks have an issue with "only" getting 8.3 shares for $5,000. Just think - back at $300, $5,000 would have snagged 16.6 shares. At $600, they would be worth $10,000. Not too shabby).
That aside, while I think ETFs have a place, I don't view them as alternatives to stock-picking for several reasons. Consider RCI and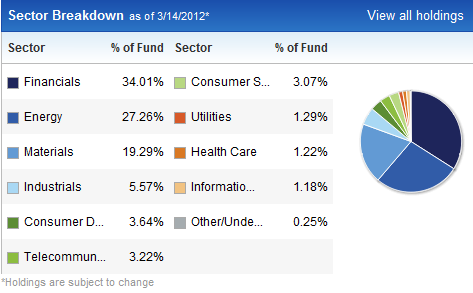 BCE. I own both stocks. I am also long the iShares MSCI Canada Index Fund (NYSEARCA:EWC). If you're buying EWC to get exposure to RCI or BCE, good luck. As of March 14, 2012, RCI accounts for 1.26% of the fund's assets, while BCE comes in at 0.83%.
With EWC, you pick up exposure to a wide variety of Canadian stocks, but the focus clearly centers on financials, energy and materials. That's fine by me, but, scanning the universe of ETFs beyond EWC, I see no real way to get true exposure to RCI and BCE. I own EWC because I believe in Canada as a space for investment across sectors.
The logical step then would be to get more specific. I scoured some media and telecom ETFs and narrowed it down to PowerShares Dynamic Media Portfolio (NYSEARCA:PBS).
Both DIS and TWX fall into PBS's top 10 holdings at concentrations of 5.19% and 4.71%, respectively, as of March 14, 2012. But you also get exposure to quite a few other media stocks that I want nothing to do with. And that can be a key problem with ETFs. I am generally bullish Canada, therefore EWC works for me. I would buy most of the stocks in that ETF individually, but I cannot afford to do that. I simply do not have the necessary time and resources. That's one reason why funds exist.
I am not bullish media; rather I love following the space. I am only bullish those companies that I see leading the industry going forward. Consider the slate of holdings in PBS. The ETF holds several stocks that I want no part of, ranging from Clear Channel Outdoor (NYSE:CCO) to McGraw-Hill (MHP) to Gannett (NYSE:GCI) to Bankrate (NYSE:RATE).
AAPL presents an even more interesting situation. While it's a bit unfair to use performance as a gauge here, there's really no other choice. At the end of the day, performance is what matters. And you'd be hard-pressed to find an ETF that holds AAPL that has outperformed an investment in AAPL alone. Feel free to correct me if I am wrong, but I do not think one exists, save some incredible Internet ETF that holds only Google (NASDAQ:GOOG), Priceline.com (NASDAQ:PCLN), AAPL and other top dogs.
Of course, you could buy a fund that tracks some segment or all of Nasdaq. But, here again, do you really want even a tiny bit of exposure to stocks like Research In Motion (RIMM) or Netflix (NASDAQ:NFLX) in a passively-managed ETF?
Forbes recently ran an article listing the Vanguard ETFs that have the most exposure to AAPL. Here's how each stacks up against AAPL over the course of the last year:
Click to enlarge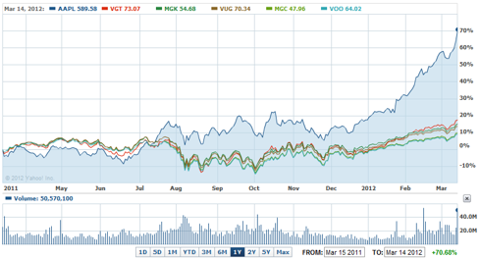 There's no comparison. This hardly makes the case for diversification. Of course, past performance does not portend future results. That said, if you've done your homework on a few stocks and you feel strongly about them, why jump in the sack with a whole bunch of filler? Do not take this as an argument against funds. I use them. I think they have a place in most portfolios. Even broad index funds. I just do not believe you can chase a stock like AAPL and expect to generate monster returns.
For stocks like DIS, TWX, RCI and BCE, I would rather be directly invested and enjoy all of the perks, primarily dividends and dividend reinvestment, that go along with being a shareholder. I do not want a mere piece of a much larger pie.
Disclosure: I am long AAPL, BCE, EWC, P, RCI, TWX.
Additional disclosure: I am long NFLX June $40 put options.