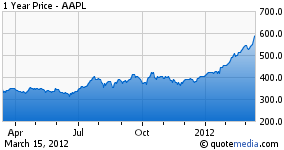 Apple (NASDAQ:AAPL) is the darling stock of the post-crisis era. Yes, there are many reasons to love the stock, but in this article I will present a small dose of reality.
Apple has created a new paradigm, and like the new "paradigms" of the 1990s tech bubble this has me worried. I like Apple for everything they have done to make personal computing and entertainment more engaging and useful, but I wonder if the stock price has outrun reality.
Unlike the tech companies that blew up in 2000 Apple is earning money for shareholders. However, profitability-alone is not reason enough for never-ending stock price appreciation.
I think there are a number of reasons to stop eating up Apple stock - at least for the short term. As with many value managers of the 1990s I could be laughed out of the room for being a dinosaur, but the best bulls always consider the bear case. In fact, if the bear case is viciously rejected without fair consideration I will only become more bearish.
Here are three reasons to consider spitting out your Apple stock:
1. Market capitalization is outrageous: Since March 2009, Apple's market cap has quintupled and is now $507b (March 12, 2012), making it the largest company in the world. That's bigger than Exxon Mobil (NYSE:XOM), which has a market cap of $404b. Heck, Apple's market cap is larger than that of Wal-Mart (NYSE:WMT) and Microsoft (NASDAQ:MSFT) combined. I realize I'm ignoring earnings, etc. in this statement, but do we really live in a world where the maker of fun electronic gadgets is worth more than the largest energy producer? Even if Apple is worth that much because it has a stranglehold on the global communications business, it's only a matter of time until smaller competitors start eating away at market share.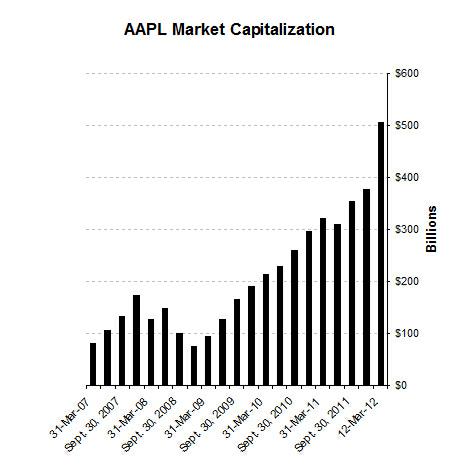 2. Earnings growth is unsustainable: Earnings per share has grown from $8.15 for the period ending March 2009 to $35.12 for the period ending December 2011. While that intuitively sounds bullish - and is probably why the stock has risen so much - it does have bearish undertones. Earnings growth of that speed must eventually slow. If earnings were to continue growing at the same pace, they'd roughly match the earnings of the entire S&P 500 by March 2015. In other words, AAPL would be the market. Consider your expectations for aggregate economic growth and profit growth - even if Apple did somehow become the market, what in the world would fuel its growth? It just makes sense that at some point Apple's earnings growth will slow as the company grows. Given that Apple's market cap is growing much faster than earnings, I suspect investors have not priced in slowing earnings. Given all the buy ratings on Apple stock, I suspect the professional community isn't anticipating slowing earnings either. When earnings do slow, Apple could go through a painful re-pricing.
3. Apple stock has gone parabolic. Since the beginning of 2012, AAPL is up about 36%. In comparison, the S&P 500 (NYSEARCA:SPY) is up just over 9%. Not only is Apple dramatically outperforming, its stock price is 38% above its 200 day moving average. At the very least, Apple stock deserves to consolidate until its moving average catches up. However, a quick reversion to the mean would require a steep 27% decline.
Do your own due diligence and come to your own conclusions about Apple. Prove me wrong. I'd love for Apple stock (and the stock market in general) to keep rising. But for goodness sake, consider the potential downside risk before you invest. Like I said before, the best bulls always consider the bearish case.
Disclosure: I have no positions in any stocks mentioned, and no plans to initiate any positions within the next 72 hours.
Additional disclosure: Data sources: Ycharts, Finviz, Google Finance. This is not advice. While Plan B Economics makes every effort to provide high quality information, the information is not guaranteed to be accurate and should not be relied on. Investing involves risk and you could lose all your money. Consult a professional advisor before making any investing decisions.