ETF Spotlight on PowerShares QQQ (NASDAQ:QQQ), part of an ongoing series.
Assets: $33.1 billion.
Objective: The PowerShares QQQ tries to reflect the performance of the Nasdaq-100 Index, which includes 100 of the largest domestic and international nonfinancial companies listed on the Nasdaq Stock Market based on market-cap.
Holdings: Top holdings include: Apple (NASDAQ:AAPL) 17.2%, Microsoft (NASDAQ:MSFT) 9.4%, Google (NASDAQ:GOOG) 5.4%, Oracle (NASDAQ:ORCL) 5.3% and Intel (NASDAQ:INTC) 4.8%.
What You Should Know:
Invesco PowerShares sponsors the fund. [Why QQQ is Beating the Market]
QQQ has an expense ratio of 0.2%.
The fund holds 100 securities.
Sector allocations include: consumer discretionary 15.2%, consumer staples 2.5%, health care 10.9%, industrials 2.1%, information technology 67.9%, materials 0.5% and telecommunication services 0.9%. [ETF Chart of the Day: Nasdaq-100 Index]
"One dynamic benefiting large-tech players has been the strong demand growth for smartphones, both in the developed world and in emerging markets, driven by better products and improved mobile Internet applications," according to Morningstar analyst Robert Goldsborough. "Apple is the clear leader in the smartphone business."
"Over the longer term, cloud computing and virtualization are expected to be the next industry game-changer," Goldsborough added.
The Latest News:
Tech stocks are performing after a series of positive fourth-quarter earnings reports, coupled with improving economic conditions, according to The Wall Street Journal.
"Large-cap technology stocks have exceeded our expectations with better revenues, earnings, margins and cash flows," Michael Sansoterra, a sub-adviser for the Ridgeworth Large Cap Growth Fund, said in the WSJ article. "You just can't find that elsewhere in the large-cap growth space."
The Nasdaq 100, a market-cap weighted index, is becoming heavily influenced by the growth in large tech names, reports Ryan Vlastelica for the Huffington Post.
Apple, which had its weighting cut to 12.3% from 20.5% of the Index back in April 2011, has been pushing higher, and now accounts for 17.2% of the Index as other big names also see their share prices rise.
"Apple has a huge impact on the performance of the fund, and if it corrects that will impact total Nasdaq performance," Paul Brigandi, vice president of trading at Direxion Funds, said in the report. "That's a valid concern, and not one we can do anything about."
PowerShares QQQ ETF

click to enlarge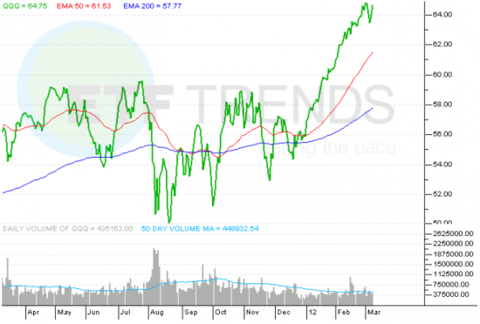 Max Chen contributed to this article.
Full disclosure: Tom Lydon's clients own AAPL.