Time Warner Inc (TWX) is one of the world's largest media conglomerates. It operates Time Warner Cable, TV programming and magazines. As many other businesses have suffered from the economic downturn, falling advertising revenue and movie theatre attendance has been a challenge for the company the last couple years. AOL (AOL) and Time Warner Cable (TWC) were both spun off into separate companies in 2009. The majority of its revenue comes from Film Entertainment (40%) and Networks (46%).
Like all companies that need to reorganize and adapt to changing times, Time Warner has been remaking itself for the last couple years.
Network Segment
There are three areas here that the company focuses on: sports, original programs, and acquired programming. Men's college basketball started with the company in 2011 and did exceptionally well. It will debut new shows on its networks coming off record viewership-truTV and Adult Swim. CNN viewing was up 20%. TBS became the number one rated primetime cable station with smart moves like putting "The Big Bang Theory" into its regular spot.
Entertainment
The company continues to build upon the Harry Potter franchise with attractions coming to Orlando and Los Angeles. Licensing fees will increase starting in 2014 generating more revenue. This year, major movies like: "The Dark Knight Rises," "The Hobbit" series starting and a remake of Dark Shadows as a movie staring Johnny Demp and Tim Burton.
Time Warner has grown by adapting and changing as it has needed to. 2012 should bring in single digit growth in advertisements as the economy still poses a challenge for companies to spend money. Having the best home video release of the year, biggest syndicated hit on television and one of the most successful game releases in Batman, 2012 will be hard pressed to duplicate 2011 in revenue. Overall, 2012 is expected to be a challenge for generating revenue. The first two quarters are supposed to be soft.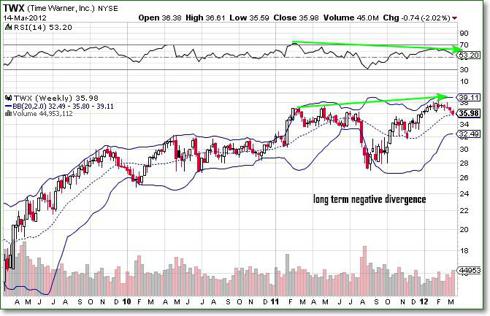 With this in mind, we are looking at a possible leveling out the stock sometime this year, especially in the second and third quarter of this year. We have no doubt the stock will continue its healthy move up but believe that the first two quarters will slow down growth. We can see a long term negative divergence in the RSI on the weekly top. This could be signaling us that growth may stall in the near future.
Time Warner is a strong dividend stock and it is committed to giving strong dividends to its investors. As for a growth stock, we do not think the company will be worth putting money in until possibly the fourth quarter of this year.