Gold miner exchange traded funds are trailing gold prices downward as the more optimistic outlook upends the safe-haven aspect of the precious metal, pushing investors to riskier areas.
Market Vectors Gold Miners ETF (NYSEARCA:GDX) and Market Vectors Junior Gold Miners ETF (NYSEARCA:GDXJ) are both on a four-day losing streak and have recently dipped below their 50-day moving averages.
The large-cap gold miners ETF is down 0.7% over the past week, but the small-cap gold miners ETF still maintains a 2.2% gain over the past week, which seems like a bullish sign.
Gold miner stocks are following gold prices lower as traders dump the precious metal in light of the Fed's optimistic policy-setting statement Tuesday, reports Tatyana Shumsky for the Wall Street Journal.
"The statement had clearly a positive tone regarding the economy, triggering another heavy round of sales of gold, which rapidly fell onto the defensive," James Steel, precious metals analyst with HSBC Securities (USA) Inc., said in the report.
Gold futures were down 3% Wednesday as the metal traded around $1,645 per ounce.
At Canada's annual Prospectors and Developers Association convention, gold mining executives griped about their historically low stock values relative to the rise in gold prices, reports Helen Thomas for the Financial Times.
One executive calculates that current valuations translates to long-term gold prices of $1,200 per ounce. Gold stocks use to trade above a multiple of twice their net asset value but they are now at below 1.5 times.
The top executives contend that share prices are deflated because of a series of poor gold company deals and the shortage of new, high-grade gold deposit discoveries, glancing over loose monetary policies and inflationary concerns. However, others believe that gold prices and stocks are uncoupling due to a fundamental shift in the way people invest in the sector.
Market Vectors Gold Miners ETF
click to enlarge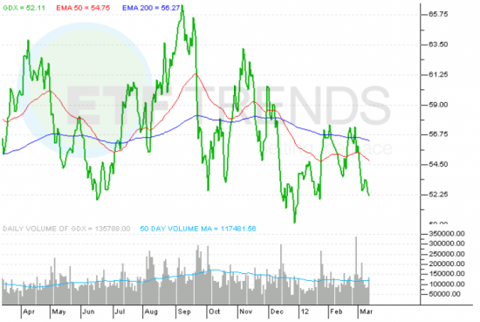 Max Chen contributed to this article.
Disclosure: I have no positions in any stocks mentioned, and no plans to initiate any positions within the next 72 hours.