I wrote an article at the end of January about two stocks trading around $4, SciClone (NASDAQ:SCLN) and Giant Interactive (NYSE:GA) that I thought could go much higher. SciClone has been on a tear and is up some 45% since that piece. GA has not been too shabby either, up some 20% since late January. I took profits Wednesday on SciClone as it approached my short term target of $7 a share and that sort of profit in six weeks is good enough for me. Here are two more stocks selling for around $4 a share that I think could go much higher.
Power-One, Inc. (NASDAQ:PWER):
Power-One, Inc. engages in the design, manufacture, sale, and service of power supply products for the renewable energy (NYSE:RE), servers, storage and networking, telecommunications, industrials, and network power systems industries worldwide. Its products convert, regulate, purify, store, manage, or distribute electrical power for electronic equipment. (Business Description from Yahoo Finance)
4 reasons PWER has significant value at around $4 a share:
The company has a solid balance sheet with net cash amounting to more than 30% of its market capitalization.
It has easily beat earnings estimates the last two quarters and consensus estimates for FY2012 and FY2013 have steadied over the last month. It sells for less than 6.5 times forward earnings.
The stock is selling at the bottom of its five year valuation range based on P/E, P/B, P/CF and P/S.
The median analysts' price target on PWER is $6 for the 14 analysts that cover the stock. It also is selling a low five year projected PEG (.53).

RRsat Global Communications (RRST):
RRsat Global Communications Network Ltd. provides content management and distribution services to television and radio broadcasting industries. The company, through its proprietary RRsat Global Network comprising satellite and terrestrial fiber optic transmission capacity and the public Internet, offers distribution services for content providers. Its content distribution services consist of worldwide transmission of video and audio broadcasts. (Business Description from Yahoo Finance)
4 reasons RRST is a bargain at just under $4 a share:
Almost 50% of its market capitalization is in net cash on its balance sheet.
The stock looks like it is bottoming at the price levels (See Chart)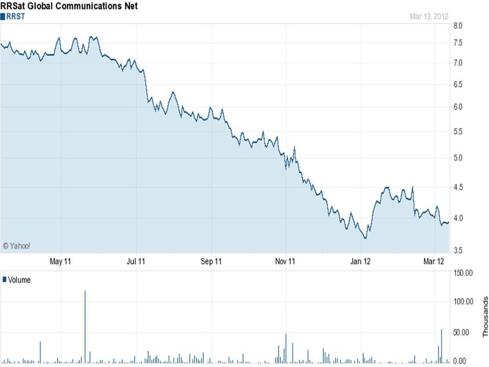 RRST sells for less than 9 times forward earnings and around 4 times operating cash flow.
The stock appears cheap at 60% of annual revenues and a five year projected PEG of under 1 (.6). The stock was also roughly double these levels a year ago.
Disclosure: I am long PWER.