The Integrated Oil and Gas sector is cheap right now, with a P/E of 10.2 and a current yield of 3.2%. BP is even cheaper with a forward multiple of 5.76, even after rising 74% from its 2010 lows. But does BP (NYSE:BP) represent value with acceptable risk after the $7.8billion settlement, or should an income investor in the sector look elsewhere in the sector, accepting a lower yield for lower risk?
BP
April of 2010 - The Deepwater Horizon blowout in The Gulf of Mexico produced the largest accidental marine oil spill in U.S. history. The Transocean-owned Deepwater Horizon drilling rig which had been leased to BP was approximately 40 miles off the coast of Louisiana when it was struck by an explosion. BP operated the Macondo well, and owned a 65% stake. Partners included Anadarko (25%) and Japan's Mitsui (10%). M-I-SWACO, (60%/40% joint venture of Smith and Schlumberger) handled drilling fluids. Cameron manufactured the blowout preventer purchased for the rig; Transocean (NYSE:RIG) was the drilling contractor; Halliburton (NYSE:HAL) performed cementing operations. The wave of litigation in the wake of the explosion, fire, worker deaths, and subsequent sinking of the Deepwater Horizon is unprecedented in the industry. Deepwater Horizon has been described as one of the largest and most complex legal proceedings in recent times, so I will try and simplify the main events and liabilities - known and unknown.
Known:
2010 - BP set up $20bn compensation fund.
2010 - BP initiates $38bn asset disposal programme.
2010 - Dividend suspended Q1-Q3
2010 - Moody's cuts all BP's long-term debt securities by three notches to A2 from Aa2.
June 2010 - Fitch cuts BP's debt 6 levels - BBB from AA.
October 2010 - Tony Hayward replaced by Robert Dudley as CEO
2011 - BP take $37.2 billion charge against earnings.
May 2011 - Mitsui agrees to a $1.065 billion settlement with BP.
October 2011 - Anadarko agrees to a $4 billion settlement with BP.
October 2011 - BP agrees to drop claims against M-I Swaco
Jan 2012 - U.S. District Judge Carl Barbier upheld BP's obligation to indemnify Transocean and Halliburton for compensatory damage claims under their drilling contracts. However, it was ruled that BP had no obligation to indemnify Transocean or Halliburton for punitive damages, or civil penalties imposed by the U.S. government under the federal Clean Water Act.
Feb. 24 - Moody's reaffirms BP's A2 debt rating. Stating, 'BP would be able to absorb as much as $40 billion of costs related to the spill and still maintain a stable outlook.'
March 2nd - The company agreed a $7.8bn pre-trial settlement of the lawsuit filed by thousands of individuals from the Gulf of Mexico oil disaster. Before the settlement, BP already had paid out $ 6.1 billion on more than 220,000 claims.
March 5th - Fitch affirms A Rating on BP's senior unsecured debt. Stating 'BP has adequate financial resources to meet its remaining oil spill related obligations currently estimated by the agency at USD20bn between 2012 and 2014'
Unknown:
Despite March 2nd out of court settlement, the civil trial could still proceed. This does not represent further financial liability on behalf of BP in this regard. The sole motivation for proceeding would be to apportion blame for the spill among BP and its fellow defendants. Outcome may influence other pending claims against BP, and future litigation.
Claims against BP made by the US Department of Justice and other federal agencies. Ongoing investigation by the Department of Justice will determine if BP violated US civil or criminal laws. Claims against BP in this regard would be made under the Clean Water Act, and for Natural Resource Damages under the Oil Pollution Act.
If BP is found grossly negligent, ratings agencies have estimated BP's maximum total liabilities could be between $45-65 billion.
Although settlement negotiations between the Justice Department and BP have been ongoing for several months, it could still go to trial. If successful, under the Clean Water Act, the government under could impose fines up to $ 1,100 per barrel of the 4.1 million barrels spilled. A maximum fine of $4.5 billion. However, if gross negligence or willful misconduct is found, the fine rises to $ 4,300 a barrel. The resulting bill would be $ 17.6 billion.
In an election year, any settlement/trial outcome risks being politicized. The Obama administration will not wish to be seen letting a 'foreign oil company' off lightly. U.S. Attorney General Eric Holden's decision launch a criminal investigation after the spill in 2010 was in itself considered 'political.'
The U.S. government is undertaking a multi-year study of the ecological damage caused by the spill in a process called a Natural Resource Damage Assessment. It could take many years before the damage assessment is complete. Estimates say BP could be liable for the cost of environmental damage and recovery up to $5 billion.
Risk of doing Business
Prior to Deepwater Horizon in 2010, Exxon's 1989 Valdez spill was the largest ever in U.S. waters. Whether because of negligence, human error, or just plain bad luck, accidents will also occur in the future. The extraction, transport and storage of fossil fuels involves risk, it is the risk you assume as an investor in the sector.
As big as the 1989 Valdez spill's impact was relative to Exxon's size at the time, Deepwater Horizon hit BP harder in 2010. And although Exxon has paid $287 million in compensation to Alaskan fishermen, $1 billion in state and federal settlements and a further $2.2 billion for the clean-up; in the 23 years since the Exxon tanker ran aground and spilled 11 million gallons of crude into Alaska's Prince William Sound, XOM have successfully reduced or avoided major damages relating to the disaster. Environmental politics are more highly charged now than in 1989. BP's legal team will not have the same containment options to manage their liabilities as XOM had after the Valdez spill.
Cautious Optimism
After Deepwater, BP's stock price lost over 50% of its value in 9 weeks. Today, almost 2 years after the disaster it is still 21% under pre-crisis levels. If an investor had bought BP at the June 2010 lows they would have realised a 70% gain. However, liabilities were unquantifiable in June 2010. Now, BP has their liabilities largely mapped out and the share price has recovered. Stuart Joyner, an analyst at Investec Securities Ltd commented after the March 2nd announcement: "It's by no means over, but by settling with the largest group, BP is in a stronger position to negotiate with the government." He may be right. In what may not be a coincidence, both parties have released positive statements since the March 2nd settlement. A spokesman for the Justice Department stated U.S. officials are open to the possibility of "a fair and just settlement," and BP CFO Brian Gilvary has gone on record saying the company is prepared to settle with the U.S. and state governments on "fair and reasonable" terms. Even though BP may still pay the full $17.6 billion civil pollution fines if it goes to trial - any settlement will come in lower. Compensation figures as high as $14 billion were mentioned for the civil lawsuit before a $7.8 billion settlement was agreed.
BP vs. XOM
Moody's and Fitch in maintaining their ratings on BP in 2012 are indicating that BP's total liabilities, while containing certain variables, are not open ended. Further, the company has sufficient financial resources to meet its remaining Clearwater obligations. A large degree of uncertainly has been removed, and the stock is recovering. But if we buy BP at these levels, how much value are we getting for assuming the risks that remain? Below is a comparative with low beta 'non-disaster' ExxonMobil.
| | | |
| --- | --- | --- |
| In USD | BP | XOM |
| Market Cap USD (Bill.) | 147 | 397 |
| P/E | 5.82 | 10.01 |
| Price/Book(MRQ) | 1.33 | 2.6 |
| EPS | 8.06 | 8.43 |
| Annual Dividend/Share | 1.74 | 1.88 |
| Dividend Yield | 3.74 | 2.2 |
| Dividend Yield - 5 yr Avg. | 4.44 | 2.04 |
| Dividend Yield - 5 yr Growth Rate | -6.12 | 7.64 |
| Payout Ratio | 16.66 | 21.97 |
| Payout Ratio - 5 Avg. | 35 | 26 |
| Revenue-5 Yr. Growth Rate | 7.39 | 5.19 |
| EPS-5 Yr. Growth Rate | 4.24 | 4.95 |
| Gross Margins | 17.51 | 27.13 |
| Gross Margins 5 Yr Avg. | 16.68 | 29.63 |
| Operating Margin | 10.3 | 15.06 |
| Operating Margin 5 yr Avg. | 8.14 | 15.32 |
| Return on Assets | 9.27 | 13.32 |
| Return on Equity | 24.89 | 27.26 |
| Stock Performance 52 Week | 1.94 | 0.53 |
| Stock Performance YTD | 7.37 | 0.08 |
| Beta | 1.2 | 0.5 |
Clearly, the recent Gulf oil spill skews some performance comparisons in XOM's favour. But it is BP's valuation and yield metrics that stand out. Compare BP's yield - 70% higher than XOM, even though XOM's payout ratio is 31% higher than BP's. Although short term aberrations in BP's valuation metrics are expected, what is more surprising is BP's income performance relative to XOM over 5 and 10 year periods. An equal dollar investment in both stocks on Jan 2nd 2002, held until Dec 30 2011, gave BP a 36% higher payout over the 10 years. Also for the period 2007-2011 - a period where the company suspended its dividend for 3 quarters, and reinstated the dividend at 50% of 2009 levels, BP's payout was still 35% higher than XOM over the 5 years.
Prior to Deepwater BP had consistent long term dividend growth. The table below compares dividend growth for the 3 largest US integrated oils by market cap in the period 2000-2009, using ETF (NYSEARCA:XLE) as a benchmark. I have used this time frame to strip out Deepwater Horizon's impact from the data for a truer like for like comparison. Only (NYSE:COP) increased its dividend by more than BP over the 10 year period.
| | | | |
| --- | --- | --- | --- |
| Div. Payout | 2000 | 2009 | % Change |
| XOM | 0.88 | 1.66 | 88.64 |
| CVX | 1.3 | 2.66 | 104.62 |
| COP | 0.68 | 1.91 | 180.88 |
| XLE - ETF | 0.47 | 1.03 | 119.15 |
| BP | 1.349 | 3.36 | 149.07 |
BP resumed dividend payments in Q4 2010, but with a low payout ratio of under 16%. Investors should of course do their due diligence, but I believe this is an opportunity to buy into BP's income stream before the payout ratio reverts to its long term average of 35%, and before the share price recovers further. If we are to believe the recovering share price, the market is clearly signalling BP's future liabilities, while significant, are quantifiable. Strong cash generation from higher oil prices have put the costs of the disaster within BP's earnings potential.
Technically, BP has broken above the neckline of a head and shoulders continuation pattern on the daily(NASDAQ:UK) chart. The neckline should provide near term support at the 465p level. Accumulate on any retracement to these levels.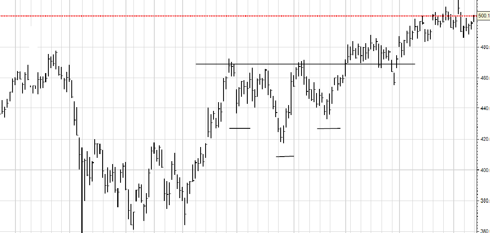 Click to enlarge
Disclosure: I am long COP.