With OpEx Friday upon us, it's time to make some moves in the $100,000 portfolio. First, let us update the status, as of Thursday's close:
Cash balance of $14,245.
200 shares of Amazon.com (NASDAQ:AMZN). Current value: $36,542. (-$362)
2,000 shares of Pandora (NYSE:P). Current value: $20,900. (-$1,100)
5 Netflix (NASDAQ:NFLX) January 2013 $130 puts. Current value: $18,575. (+$825)
1 Apple (NASDAQ:AAPL) January 2014 $600 call. Current value: $11,650. (+8,370).
Given this run in AAPL and the subsequent pullback, I really cannot justify doing anything other than cashing out and taking profits. If I could sell one-half of an option contract I would, but that's just not the way it works.
So, with that move (executed using Thursday's closing bid price of $116.50), the $100,000 portfolio's cash balance comes in at $25,895. The total value of the portfolio stands at $101,912. Again, that's all, as of Thursday close.
Following Interactive Brokers' margin requirement guidelines, I am initiating a short position in Sirius XM (NASDAQ:SIRI) from Thursday's closing price of $2.28. Shorting 5,000 shares and securing the position with $12,500 worth of account equity.

Click to enlarge
Have a look at SIRI's chart. There's a familiar pattern taking shape. Pay attention to last year's peaks, the moving averages and the MACD. Compare them to SIRI's most recent peak.
Click to enlarge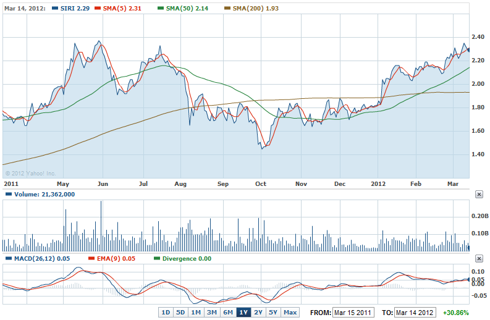 Click to enlarge
Semi-casual Seeking Alpha readers know my near- and long-term views on Sirius XM, the company, and SIRI, the stock. With that being the case, we'll leave it there. I intend to cover at least half of the position at around $2.00. I will stop myself out of it somewhere in the neighborhood of $2.50.
Outside of P, my biggest speculative play is Wendy's (NYSE:WEN). I cover the stock in my options newsletter and continue to scale into a position in WEN on a weekly to bi-weekly basis. Here in the $100,000 portfolio, I am getting ultra-aggressive and buying 200 WEN January 2013 $5 calls, using Thursday's closing ask price of $0.55. That sets me back $11,000 and brings the cash balance in the portfolio to $14,895.
A few things to consider on WEN. First, the company has a new CEO and he's kicked off a multi-year turnaround plan, which includes restaurant makeovers. In many ways, though not all, I see this as similar to the excellent turnaround executed at Domino's (NYSE:DPZ).
Second, insiders are buying up the stock. It's actually been quite remarkable when you take a look at the pace, consistency and size of the buying. Of course, Nelson Peltz and his Trian Management Fund account for most of the buys, but he is not alone. A Seeking Alpha Editors' Pick by Zack Miller nicely outlines what's going on at Wendy's and why it might just make the stock a buy.
While it's not part of my bull case, the chance certainly does exist that another company will buy Wendy's or, led by Peltz, they'll take the thing private. If that occurs, I would have to think it happens at more than $5.00 per share given that WEN's book value is north of that number at roughly $5.13 per share.
So, I took profits in AAPL, am long AMZN, P and WEN and short SIRI and NFLX (via long puts). I hope to close the AMZN position next week for a small profit and then put that cash to work on a short-term trade or two.
Additional disclosure: I am long NFLX June $40 put options.