Wall Street was filled with golden blood this week.
In what had already been shaping up as a lackluster March for gold (GLD) took a sharp turn for the worse this week. The excitement kicked off on Tuesday afternoon following the Fed meeting. Although the Fed statement hinted at the rising inflation risks, which should have been bullish for gold, it seemed that the suggestion that no further monetary stimulus would be coming any time soon had the yellow metal on the run.
Over the last two plus hours of trading on Tuesday, gold dropped by -1.9%. And more damage came on Wednesday with gold shedding another -1.7%. Given the sharp drop over such a short-term period of time, it is worthwhile to revisit the fundamental thesis for owning the gold position that I have had in place since the beginning of the financial crisis.
While I will be focusing on the SPDR Gold Trust in this article, the same principles apply to the iShares Gold Trust (IAU), the ETFS Physical Swiss Gold Shares (SGOL) and the Sprott Physical Gold Trust (PHYS).
It was just a few weeks ago in late February that gold was running strong. The yellow metal had rallied +17% from its late December lows and had broken decisively above its downward sloping trend line dating back to September 2011. It was also trading comfortably above its 50-day, 150-day and 200-day moving averages. But in two instances over recent weeks, the Fed downplayed the likelihood for additional monetary stimulus once the current Operation Twist program draws to an end in June. Of course, the latest salvo from the Fed came on Tuesday and the gold market reacted accordingly with the bears once again out in full force.
Following this latest pullback, it is reasonable to consider whether the bull market in gold is now ending. Or is this simply the latest example of the short-term volatility that is inherent in owning the yellow metal over the long-term?
The key step is to once again revisit the long-term fundamental reasons for why I own gold. I first presented these situations in a previous article posted back in late August and revisited the topic again in another article posted in mid December.
First, have we seen a decisive shift to a strong dollar policy in the United States? The answer here is NO. The U.S. dollar (UUP) has steadied itself relative to global currencies over the last year, but this shift is hardly due to any major U.S. policy change. Instead, persistent threat of crisis in Europe and signs of an economic slowdown in Asia have been the primary driver. In short, the U.S. dollar has lately been the best house in a bad neighborhood. Viewing this topic more broadly, U.S. policy makers shifted to a weak dollar policy back at the beginning of 2002. This is precisely when the bull market in gold began. And until we see a true shift back to a strong dollar policy here in the United States, the rise in gold is likely to continue.
click to enlarge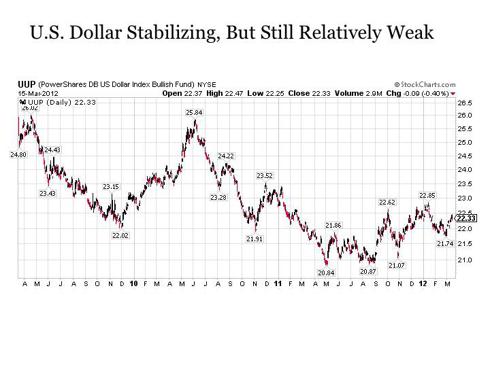 Second, have we seen a shift toward greater fiscal and monetary prudence? The answer here is absolutely NO. All of the political wrangling last summer over the debt ceiling debate disappointingly yielded nothing in the end. Fiscal spending remains as excessive as ever and neither party is showing the unified political conviction to begin truly addressing the problem. And while the Fed likes to periodically tease the market with the idea that they plan on stepping back from providing additional monetary stimulus, it is effectively a given that they will jump back in at a moments notice with aggressive money printing at any hint of potential trouble for the economy and markets.
Third, are we suddenly entering a period of steady economic growth and price stability? Once again, NO. The U.S. economy has shown some signs of recovery in recent months. But this strength is still in the fledgling stages and subject to debate. For example, how much of the recent improvement is attributable to the fiscal stimulus of accelerated depreciation that rolled off at the end of 2011. And how sustainable is the recovery with more fiscal stimulus set to roll off as we move through the coming year.
Furthermore, how will the current recession in Europe and the slowdown in Asia impact growth in the U.S. given that we live in a globally integrated economy. And with a deflationary global financial crisis that remains far from resolved that is being combated with inflationary aggressive money printing from global central banks, this is still far from an environment that could be described as stable from a pricing standpoint.
Thus, nothing has happened recently that has changed my gold thesis. On the contrary, my conviction for owning gold has strengthened as the situation in Europe continues to deteriorate and global central banks continue to print ever greater amounts of currency.
So what then is behind the recent sharp drop in gold? As mentioned in previous articles, gold is an investment that is prone to periods of extreme short-term volatility. It simply comes with the territory of owning the yellow metal. And such swings can be induced by events such as an increase in margin requirements from the exchanges or a major liquidation event. But these short-term impacts have almost always been fleeting over the last decade and have provided particularly attractive entry points to establish or build positions.
With all of this being said, such sharp sell offs in gold should not be dismissed and instead should be examined closely. And it would not be surprising to see it sell off even further in the coming days. But despite these short-term forces, the long-term fundamental thesis for gold remains very much intact.
Disclosure: I am long GLD.
Disclaimer: This post is for information purposes only. There are risks involved with investing including loss of principal. Gerring Wealth Management (GWM) makes no explicit or implicit guarantee with respect to performance or the outcome of any investment or projections made by GWM. There is no guarantee that the goals of the strategies discussed by GWM will be met.