Our good friend "Regarded Solutions" wrote a now-famous article on Seeking Alpha that talked about Apple (NASDAQ:AAPL) going too far too fast. At the time of that article, Apple was trading around $550 and since had another 10% run up to its current peak. This article uses the same title, with the original author's permission as the articles are very similar in nature. And thanks to Regarded Solutions for approving this.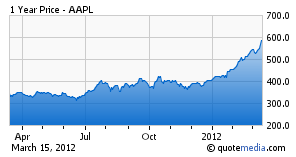 Apple reached another milestone Thursday by breaching $600/share, albeit briefly. But the shares have retreated to $585 as of this writing and one has to wonder whether there are at least some short term catalysts for further pullback. This quick article presents a few of those. We acknowledge Apple is still a wonderful stock with all the right long term catalysts but as frequent readers know we like the devil's advocate approach in our writing and investing.
A. Downgrade: Yes, a downgrade. Sort of. Deutsche Bank has just removed Apple from its short-term buy list. Their note says it's just profit taking and that the medium to long term prospects are still intact. The fact that analysts usually move in clusters tells us there may be more following suit. Remember, when the funds bought in bulk, the volume was monstrous in the upward direction and the same will apply when they decide to turn the other way around. Deutsche's tone slightly changed later though.
B. Insider Selling: While we acknowledge that insiders sell for a variety of reasons, a sell by one of the key individuals like the CEO in the midst of a monstrous run indicates the stock may be very close to the top. (Although in this case the stock ran more after Tim Cook sold, mainly on strengths of upgrades by institutions). Acknowledging also that Mr. Cook has plenty more options that expire way into the future.
C. Overbought Indicators: While no one can deny the fundamentals and growth stories are still good, one has to wonder whether the run from $500 to $600 was an over-reaction to being undervalued for a long time. The stock took 31 calendar days to reach $600 after reaching $500. Yes, 31 calendar days.
This nice article presents more data points on this and the RSI indicator.
click to enlarge

D. Historical PE: Apple's P/E Thursday breached the 17 range. Yes, that is still low compared to the other companies like Google (NASDAQ:GOOG) and Amazon (NASDAQ:AMZN). But Apple's history suggests it did extremely well for investors when its P/E was compressed in spite of good earnings. To use Jason Schwarz's slingshot example in reverse, maybe the sling now needs to pulled back a bit before it can power farther.
What We Did: We still love Apple. But no one ever gets hurt taking a profit. We sold half the shares and are letting the other half on the table. We presented in a recent article that Apple is set to reach at least $620 after the Q2 2012 earnings. Sure, the new iPad sales are going to be off the charts but the stock seems to be getting slightly ahead of itself in this monstrous run. Investors looking to establish new positions will certainly find a better entry point based on these indicators. And those who are the buy and hold types for Apple can certainly ignore the short term noises.
Disclosure: I am long AAPL.
Additional disclosure: We will scale further in on any drops to $550 or lower. As the long term story is intact, scaling in on drops will be a sound strategy.