Financial stocks have been some of the best stocks to buy in 2012 for price gains, as the once-dreaded Financial sector has been on a tear in 2012, outpacing all other sectors. It's been quite a turnaround in 2012, since this sector is still down -2.3% over the past 12 months: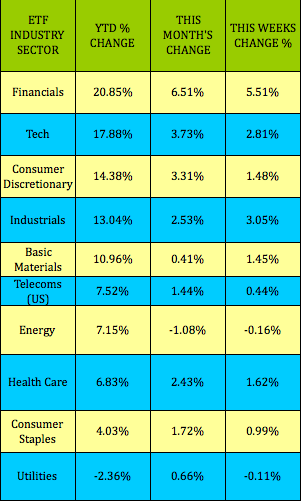 Part of the boost for Financials has come from the Greek debt crisis agreement, and this week, the Fed's stress tests for major banks also helped, but one of the main drivers has been this sector's improved 2011 4th quarter earnings: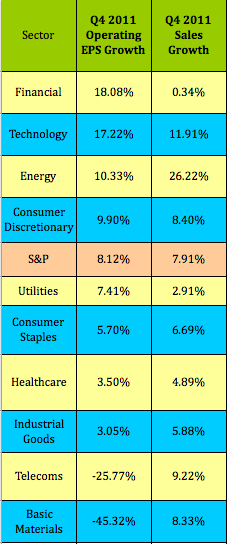 (Data Source: Standard & Poor's)
Which dividend paying stocks in the Financial sector are the big boys buying? It turns out that brokerage firms and certain exchanges are getting institutional support, particularly one small cap stock, Interactive Brokers, (NASDAQ:IBKR):

Dividends: Although these dividend yields aren't as high as some of the High Dividend Stocks we've written about in the past, they all have above-average dividend yields for their industry. *CME Group (NASDAQ:CME) also had a special $3.00/share dividend that went ex-dividend in March, and increased its quarterly payouts by 22%, to $1.40, from $1.15, in 2011.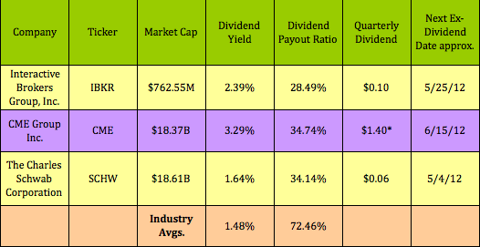 Valuations: Why are Institutional buyers so hot on IBKR? It has a very low PEG ratio, outstanding EPS and Sales growth in its most recent Fiscal Year and quarter, and Price/Book and Price/Sales valuations that are way below industry averages.
CME also has a low PEG, low Price/Book , and good EPS growth, but buyers are probably worried about potential government fallout from the MF Global scandal. Schwab (NYSE:SCHW) also has a low PEG, but like CME, its recent quarterly sales slowed vs. Q4 2010: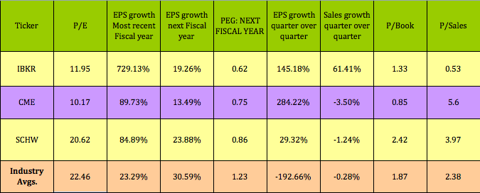 Financials: All 3 firms are way above industry Management Efficiency Ratio averages and Operating Margins, and have significantly less debt than average for their industry: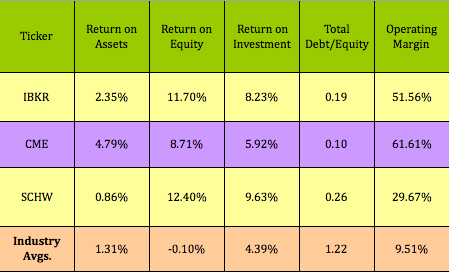 Covered Calls: If you want to earn more income now from these dividend stocks, and still participate in some potential price gains, selling covered call options may interest you.
Covered Call sellers get paid an often lucrative call premium, in return for committing to potentially sell the underlying stock at a given strike price by expiration time. (Each option contract corresponds to 100 shares of the underlying stock.)
If you're more bullish on a stock, you'd sell covered call options further above its current price/share, thereby giving up some immediate call option premium for potential future price gains. In all of the trades below, the call option premiums are up to 7 times the dividend payouts.
The Annualized Total Potential Assigned Yields listed below are made up of 3 income streams. Here are the $ amounts for CME:
1. Dividends: $2.80/share, ($280.00 per option contract sold).
2. Call option premiums: $18.80/share, ($18.80 per option contract sold).
3. Potential Assigned Price Gains: $3.75/share, ($375.00 per option contract sold).
(You can discover additional details for this and over 30 other high options yields trades in our Covered Calls Table.)

Cash Secured Puts: With the way these stocks have rallied in 2012, you may wish you could turn back the clock and dive in at a lower price. One way to do this, is to sell cash secured put options at a strike price below the stock's current price.
You'll get paid a put premium that is often much higher than the stock's dividends over the next 2-3 quarters, in return for committing to buy the stock at the put strike price. We've listed CME and SCHW put trades below.
In the SCHW trade, you'd be paid $1.10 for committing to potentially buy SCHW at $15.00 by Sept 22, 2012, if SCHW's price goes below $15.00 at or near expiration time.
But, if you end up buying SCHW at $15.00, your cost will only be $13.90, (the $15.00 strike price, less the $1.10 you were paid for selling the put option.
(You can find more details on these and over 30 other high yield Cash Secured Puts trades in our Cash Secured Puts Table.)

Company Profiles:
Interactive Brokers : Over the last 35 years, IBKR has grown internally to become one of the premier securities firms with over $4 billion in equity capital following payment of a special cash dividend of approximately $1 billion pre-tax.
Interactive Brokers conducts its broker/dealer and proprietary trading businesses on over 90 market destinations worldwide. In its broker dealer agency business, IB provides direct access ("on line") trade execution and clearing services to institutional and professional traders for a wide variety of electronically traded products including stocks, options, futures, forex, bonds, CFDs and funds worldwide. In its proprietary trading business, IB engages in market making for its own account in about 6,500 different electronically traded products. Interactive Brokers Group and its affiliates execute nearly 1,000,000 trades per day. (Interactive Brokers was named #1 online broker again in 2011 by Barron's.)
CME Group : An exchange which builds on the heritage of CME, CBOT, NYMEX and COMEX, CME Group serves the risk management needs of customers around the globe. CME provides the widest range of benchmark futures and options products available on any exchange, covering all major asset classes.
Charles Schwab : Launched in April, 1971, as First Commander Corporation, to conduct a conventional broker-dealer securities business and publish the Schwab investment newsletter, Schwab grew to become one of the leading discount brokerage firms, focusing on individual investors.
Disclosure: I have no positions in any stocks mentioned, and no plans to initiate any positions within the next 72 hours.