DryShips, Inc (NASDAQ:DRYS) reported their 4th quarter and full year financial results which were just below analysts' estimates on EPS but well above on revenue.
The company earned $0.07/share excluding special items in the 4th quarter vs $0.30/share in the 4th quarter of 2010. DRYS had a net loss of $0.21 per share for the full year. Revenue for their deep water drilling subsidiary, Ocean Rig UDW Inc was up 132% to $237 million in Q4. The company spun off 22.1% of this subsidiary last October and it is now publicly traded under the symbol ORIG on NASDAQ.
As reported in February, 2012 DRYS secured a contract with a Brazilian partner to charter five deep water rigs to Petrobras (NYSE:PBR), the Brazilian State owned oil company. DRYS will supply five rigs at $548,000/day for fifteen years which is about $200 million per year.
Discounting this at 10% which is about their cost of capital, the net present value of the revenue alone to ORIG is $1.5 billion and to DRYS is $1.1 billion. In my opinion there should be little construction or financing risk to build these out given Brazil's economic and financial strength as well as Petrobras. I believe 90% financing should be available.
In January and February they reported an additional $733 million in drilling fees would be received over time. The big deal was a charter of the Leiv Eiriksson for nearly three years at a rate of $622,000/day at $548,000/day for fifteen years, which is about $200 million per year.
The total net present value of the additional charters, discounted at 10%, is an additional $460 million to DRYS.
click to enlarge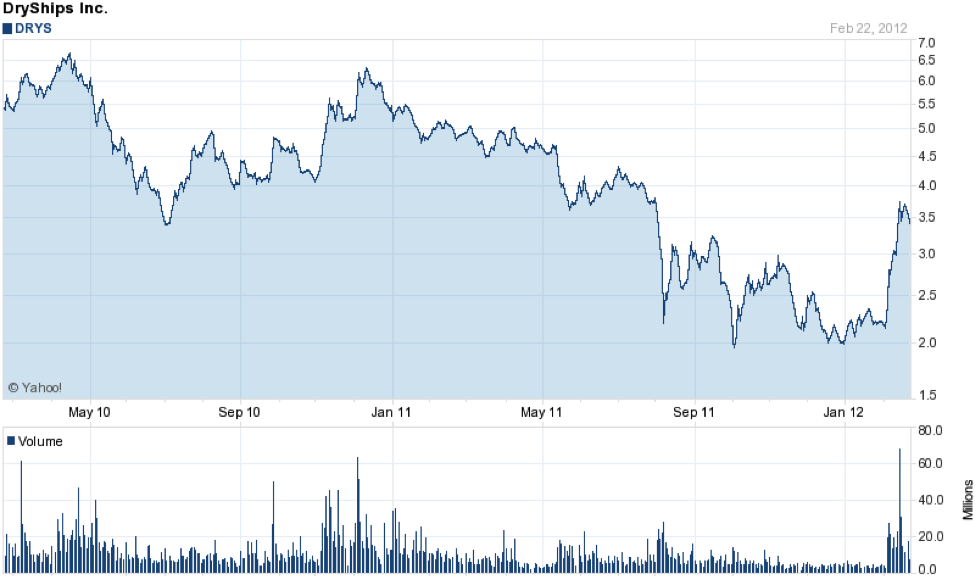 I made a quick discounted cash flow analysis of the incremental revenue and expenses of the new rig business. Basic cash flow assumptions are $200M/yr revenue, 50% gross margin, 5% additional SG&A, 10% discount rate and 15 year depreciation. I assumed $800 million per rig based on four year payback, 90% debt financing and 10% from a new equity offering ($400 million) at an assumed $4.00/share price. The net present value of the cash flows is $1.3 billion. With the new offering the share count will increase by 1000 million to 508 million so the added value is $2.56/share.
The stock ran up from $2.10 to $3.50 in February on the news or an increase of only $1.40/share. If the total business was worth $2.00/share, adding the incremental rig business gets you to $4.50.
The base bulk cargo business is down but slowly recovering. The company announced $290 million in financing deals. DRYS sold two older vessels and have contracts to buy nine new build ships so are upgrading their fleet.
The Brazilian deal is a real coup. It covers Petrobras drilling plans not only in Brazil but West Africa and the Gulf of Mexico for a very long period.
The company added $1.8 billion of debt in 2011 but the debt/equity ratio is about 1 so it's reasonable. The interest rate is about 7%. The 52 week high is $5.12. DRYS is selling for 60% of book value.
The company is levered to cargo rates which are set by general economic demand, and deep water drilling rates are set by oil prices, generally. DRYS has high financial leverage but it seems manageable. The company has new ships under construction which will be coming into service over the next few years. In short, this is a value stock with good growth prospects both short and long term.
Disclosure: I have no positions in any stocks mentioned, and no plans to initiate any positions within the next 72 hours.