Kohlberg Kravis Roberts & Co. (NYSE:KKR) is a private equity and venture capital firm. It specializes in acquisitions, leveraged buyouts, management buyouts, special situations, growth equity, mature, and middle market investments. This is a venerated firm that has suffered in the recent recessionary times. However, it is on the rebound, as most of its businesses are. It provides marketing, management, manufacturing, and budgeting expertise to the companies it associates itself with.
Historically, those companies benefit greatly, and KKR benefits along with them. KKR is good at its job. It trades at a P/E of 1,431 and an FPE of 6.39. In these still troubled times its FY2012 average analysts' EPS estimate has risen from $1.91 to $2.04 in the last three months. Analysts expect 179.50% EPS growth this year, and 20.83% EPS growth per annum over the next five years. That is great by almost any standard, but it is fantastic for a financial. On top of that KKR pays a great $1.28 (8.94%) dividend.
Some of its recent actions give reason to believe that it is again making great moves. It has teamed with Chesapeake Energy (NYSE:CHK) to invest in mineral and royalty interests in US oil and gas basins. KKR will contribute 90% of the capital for the partnership. Chesapeake Energy will contribute 10% of the capital, and it will be assigned finding, acquiring, and managing royalty interests. Chesapeake Energy has had almost unprecedented success in finding great new oil and gas fields, especially new unconventional oil fields. If CHK has had a flaw it is in the financing and management of such ventures. A team of one of the great experts in the oil and gas industry and one of the great management teams seems like a dream venture. They both should profit immensely. Plus, KKR should help to make Chesapeake Energy a better company overall.
Another KKR venture is with Quicksilver Resources Inc. (NYSE:KWK). KKR will collaborate with KWK on the development of natural gas midstream services in British Columbia and the northwest region of Canada. KKR paid $125 million to KWK for a 50% ownership in the venture. The natural gas industry is hurting right now because natural gas prices are so low. Nymex futures are at $2.26/mmBTU at the time of this writing. However, this deal is long term with initial 10 year delivery contracts for the gathering line and compression facilities. Natural gas prices are sure to go up. The NatGas Act in Congress to subsidize natural gas use for trucking is gaining momentum. Obama put natural gas in his US energy policy strategy in his State of The Union address this year. The NatGas Act could be approved as early as this spring.
In addition, there are planned natural gas liquefaction LNG terminals (export terminals) being built. The earliest of these are scheduled to go online in 2015 (or possibly 2016). This will allow the US to export natural gas to countries that are currently paying much more per mmBTU. For instance, Japan has recently been paying $15+/mmBTU for LNG. US natural gas companies would love to be able to get half of that much for their natural gas. Prices should go back up longer term. Longer term this looks like a fantastic venture. The revenue model for needed midstream natural gas resources is excellent, and the new developments in unconventional fields ensure that these resources should be needed for a long time.
I could go on, but KKR doesn't really need me to tout its accomplishments. It has a long track record of great deals. Getting this stock on the rebound could be a great deal for you. Of course, you will have to monitor this trade. If the coming EU recession becomes much worse than people currently envision, it could drag the US right back into recession. This would be temporarily bad for KKR. You might want to then get out before the US economy worsened. You could get back in later.
Alternatively, you could stay in. Then you could collect the dividend while the price of the stock likely went down before likely rising again. If the EU manages to avoid a more serious recession, the US and KKR should both do well even in the near term. Longer term the company has been a great one, and it is likely to remain great.
The two year chart of KKR provides some technical direction to this trade.
click to enlarge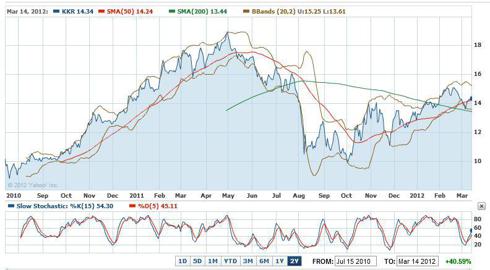 The slow stochastic sub chart indicates that KKR is neither over bought nor over sold. The main chart shows that KKR's 50-day SMA has recently crossed its 200-day SMA moving upward. This is usually a buy signal. KKR has been in an uptrend since Oct. 2011, and it appears ready to maintain that trend. In contrast the overall market is far over bought. It is ready to pullback at any time. Such a pullback would likely pull KKR down with it. It is probably a good strategy to average in.
Longer term, you can't beat investing in a great company with a great dividend. FYI, KKR's distribution history since its combination with KKR Private Equity Investors LP (KPE) is impressive: $0.39 in 2010, $0.71 in 2011, and $0.32 already in 2012 with a projected full year dividend of $1.28. One has to like the trend so far.
Note: Most of the fiscal data and estimates are from Yahoo Finance.
Good Luck Trading.
Disclosure: I have no positions in any stocks mentioned, but may initiate a long position in KKR over the next 72 hours.