California-based LRAD Corporation (NASDAQ:LRAD), a maker of directed sound products, ended Wednesday at $1.58 per share, down 1.25%. Trading the last few months primarily comprised a downtrend; however, there are numerous reasons to believe that LRAD is being undervalued by investors.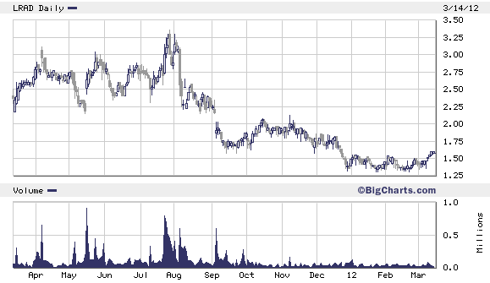 click to enlarge
1) LRAD is a prime example of a thinly traded stock.
Normally exchanged in low volumes, LRAD's price becomes volatile when there are fluxuations in volume traded (as seen above). Roger Ibbotson, a 67-year-old finance professor at Yale University and founder of Zebra Capital Management, studied stock returns dating back to 1972 and concluded that thinly traded stocks beat highly liquid ones of equal market values in all four quartiles ranked by size. Thinly traded equities tend to be priced at a discount to compensate for the added risk of liquidity. Consequently, liquid issues tend to trade a premium.
Interestingly, investors awarded LRAD a higher price-to-earnings multiple in the first half of 2011, where baseline volume was more than twice the average over the last 3-months.
2) LRAD's current shareholder composition and its movement over time show no signs of distress.
LRAD's Insiders hold a respectable 12.39% of shares issued and outstanding, with no change in composition over the last 6 months. Institutions hold a reassuring 27.1% of the company, where the last 6 months have brought about a net increase among institutional investors.
3) LRAD encompasses predominately highly liquid assets.
For the quarter ended December 31th 2011 LRAD boasted a current ratio of 18.2, where cash and equivalents made up the vast majority of assets. The company appears structured in a manner to easily meet debt obligations, have the ability to finance by issuing debt, and be able to expand business by means of acquiring new technologies, competitors, or establishing ground in a new market. The composition of the firm's finances largely averts risks associated with balance sheet liquidity.
4) Projected EPS for FY 2012 suggests higher valuation
In fiscal year 2011 (period ending September 31st 2011), LRAD reported record revenues for the fourth straight fiscal year. Resultantly, LRAD has seen a steady growth in earnings. Through extrapolation, we can estimate LRAD's EPS (fiscal year ending September 30th 2012) to be approximately $0.23/share, using a conservative average between the polynomial projection (high estimate) and linear projection (low estimate), as presented in the graph (below).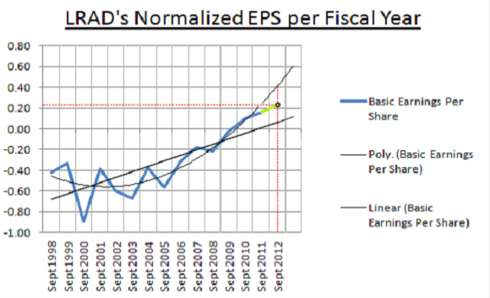 FY2012 $0.23 EPS (estimate) multiplied by LRAD's current P/E ratio of 8.55 would imply a $1.97 price per share. Further, as can be deduced by studying LRAD's trading patterns, investors are willing to value the company at a higher multiple (in line with industry and sector) when, and if, LRAD becomes a more liquid issue (as had been the case in the first half of last year). In sum, today's price implies a forward P/E of less than 7 (based on our estimate). In line with this analysis we would expect to see bullish movement in the near future.
5) Positive market and analyst sentiment
Short interest stands at 0.4% (as of 2012-02-15) indicating optimism on the part of investors and the broader market. LRAD's level of short-interest has been on the decline since mid-November 2011. As well, a majority of financial analysts rate LRAD as either a "Buy" or "Strong Buy".
6) Possible sources of future income and competitive edge
LRAD continues to find new markets and applications for its products. They have gained footholds in markets spanning from security, to disaster control, to wildlife/asset preservation, to anti-piracy measures, and beyond. This track-record of emerging markets and applications justifies a premium associated with potential untapped markets. A terrific example of new revenue sources would be a $12.1 million order from an undisclosed foreign government in FY 2011 that bolstered LRAD's international business 254%.
LRAD has capitalized on this international recognition by investing in a worldwide distribution channel consisting of partners and resellers that have significant expertise and experience selling integrated communications solutions to various target markets. LRAD has increased investment in its research and development budget every year for the past three fiscal years.
Disclosure: I am long LRAD.