It has certainly been a difficult week for the U.S. Treasury market. And the pain was particularly pronounced on the long end of the yield curve, as the 30-Year U.S. Treasury yield spiked 27 basis points higher from a low of 3.14% on Monday to 3.41% by Wednesday's close. As would be expected, this dramatic increase in yields have caused many bears to declare that the end of the road for Treasuries has finally arrived and that record low interest rates are set to explode higher.
The following are excerpts from two notable articles on this very point.
Interest Rates Have Nowhere to Go But Up
New York Times - Nelson D. Schwartz
Even as prospects for the American economy brighten, consumers are about to face a new financial burden: a sustained period of rising interest rates.

That, economists say, is the inevitable outcome of the nation's ballooning debt and the renewed prospect of inflation as the economy recovers from the depths of the recent recession.

The shift is sure to come as a shock to consumers whose spending habits were shaped by a historic 30-year decline in the cost of borrowing.

"Americans have assumed the roller coaster goes one way," said Bill Gross, whose investment firm, PIMCO, has taken part in a broad sell-off of government debt, which has pushed up interest rates. "It's been a great thrill as rates descended, but now we face an extended climb."
Bond Market Flashes Inflation Warning
Wall Street Journal - Mark Gongloff
Long-term rates have been gradually moving higher in response to an improving economy and rising commodity prices. But in recent days the increases in yields accelerated, a move many say is due to the worry that the Federal Reserve may be underestimating inflationary pressures in the economy, and may act too slowly to tame them. Inflation is bad for bondholders, eroding the value of their fixed returns and sending the prices of their bonds lower.

While raising alarm bells about inflation, the bond market is also indicating it sees no signs that the Fed will intervene.
Both articles are timely representations of the challenges currently facing the U.S. Treasury market. But here's the thing. The first article from the New York Times was published on April 10, 2010. The second article from the Wall Street Journal was published on February 7, 2011. In short, this is not the first time we've heard this story. And it is probably not going to be the last.
The U.S. Treasury market has been hearing these doomsday calls for several years now. And the justification for the bearish view on the U.S. Treasury market makes a great deal of sense given historically low yields, the deepening long-term fiscal problems facing the country in the years ahead and the potential for massive inflation associated with unprecedently aggressive money printing by global central banks. But it seems that every time we arrive at the point where the market is finally ready to declare the end for the Treasury market, it rallies back to life. The following chart illustrates this point.
click to enlarge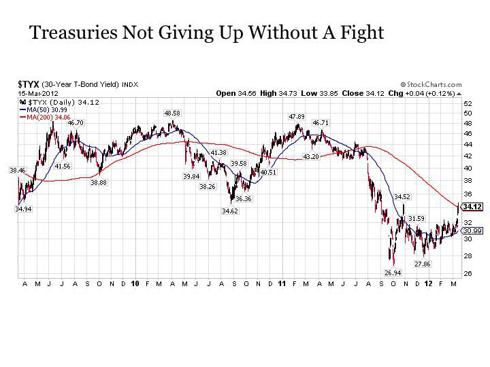 Back at the end of March 2010, the 30-Year U.S. Treasury market peaked at a yield of 4.86%. By late August 2010, Treasuries had rallied sharply and yields had fallen to lows of 3.46%. And after rising once again to peak at 4.79% by February 2011, U.S. Treasuries rallied once again with yields dipping as low as 2.69%. Yields have clearly risen since to Wednesday's close of 3.41%, but it is far from clear that this week's move is signaling anything about the U.S. Treasury market other than just the latest shift in the cycle that has been going on since the beginning of the financial crisis.
One key point is notable about the inflection points for the U.S. Treasury market discussed above. U.S. Treasury yields have peaked either nearing the end or precisely at the end of a Fed stimulus program. And U.S. Treasury yields have bottom essentially at the very moment a new Fed stimulus program is set to get underway.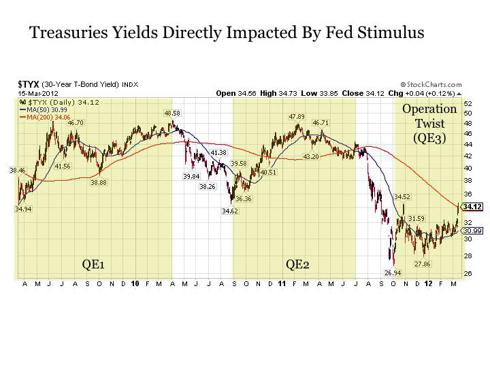 What has been most notable about the current Operation Twist stimulus program is that the Fed appears to have finally figured out how to keep U.S. Treasury yields suppressed while at the same time pumping monetary phencyclidine into the stock market (I will be returning with more on this latter point about the stock market in a coming article).
And now that the Fed is up to their eyeballs in long-term Treasury debt with the objective of trying to keep mortgage rates low while at the same time heading into what could best be described as a particularly tricky period politically to carry out monetary policy in the second half of the year, it is likely that the Fed is going to go to great lengths to prevent any sudden and sharp spike in yields. For that matter, they may not let them rise very much at all if they can help it.
At present, the 30-Year U.S. Treasury yield is now up against long-term support at its 200-day moving average. As a result, it would not be a surprise to see yields retreat back lower from here. However, if recent history is any guide, it would also not be surprising to see these yields grind another 40 basis points higher toward the 3.80% range over the next couple of months before peaking as we drift toward the end of Operation Twist in June.
Any new developments on the monetary policy front coupled with the persistence of stock market ebullience from here will go along way in determining this outcome. It should be noted, however, that long-term U.S. Treasuries are now oversold relative to U.S. stocks. The last two times this has occurred since the beginning of the financial crisis marked peaks in the stock market rallies in 2010 and 2011.
But this leads to a final point. The long-term U.S. Treasury market remains one of the last remaining instruments where you can secure a consistently negative correlation to stocks for your investment portfolio. Since the beginning of the financial crisis, Long-Term U.S. Treasuries have usually rallied when stocks have fallen into correction. But when stocks have rallied, Long-Term U.S. Treasuries have held generally steady with only modest declines. Robust upside with relatively less downside is an ideal combination for any hedging instrument.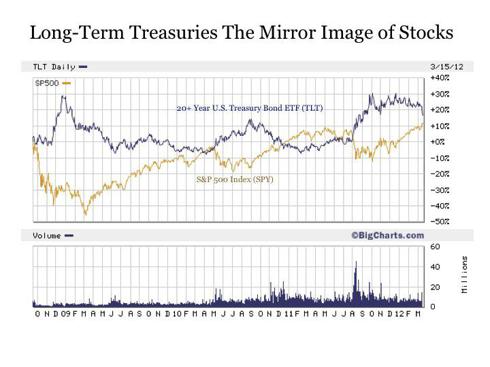 The 20+ Year U.S. Treasury Bond ETF (NYSEARCA:TLT) is a highly liquid way to establish this exposure. So if you are seeking to effectively short the stock market, or if you would like to incorporate a hedge into your portfolio to protect against a stock market correction, the TLT represents an ideal way of doing so with relatively less risk than directly shorting the stock market. And long-term U.S. Treasuries provide the added plus of generating income for your portfolio along the way. Other even more aggressive alternatives under this same theme include the Vanguard Extended Duration Treasury ETF (NYSEARCA:EDV) and the PIMCO 25+ Year STRIPS ETF (NYSEARCA:ZROZ).
The end of the three decade long bull market in U.S. Treasuries will eventually come to an end. And it's likely that this end will come sometime in the next few years. But as long as global economies remain at risk of falling back into a deflationary recession, as long as the persistent threat of financial crisis overhangs the market, as long as global monetary policy makers continue to aggressively print money in order to combat lingering deflationary pressures, and as long as the Fed remains a primary holder of this very debt, we are unlikely to see the end of the road for Treasuries any time soon.
In the meantime, long-term Treasuries are likely to remain an effective and potent hedge for investment portfolios despite the inevitable short-term flare ups such as what we have seen this week.
Disclosure: I am long TLT.
Disclaimer: This post is for information purposes only. There are risks involved with investing including loss of principal. Gerring Wealth Management (GWM) makes no explicit or implicit guarantee with respect to performance or the outcome of any investment or projections made by GWM. There is no guarantee that the goals of the strategies discussed by GWM will be met.