In a world in which fixed income yield is scarce, investors have increasingly been turning to dividend paying domestic stocks as an alternative source of income.
But with much of the dividend corner of the US equity market – including US utility stocks in particular — now crowded and expensive, investors might want to consider looking abroad for dividend income, as I write in my recent Market Update piece. Here are three reasons why.
More Reasonable Valuations: Outside of the United States, dividend paying stocks still appear cheap and are trading at a significant discount to the broader equity market. For example, the Dow Jones EPAC Select Dividend Index – primarily composed of companies domiciled in Europe and Asia – is currently trading at a bit below 12x trailing earnings. In comparison, the MSCI World Index of developed countries is trading at more than 14x earnings.
More Attractive Yields: Non-US dividend companies are offering more enticing yields than their US counterparts. Currently, the Dow Jones Industrial Average yields 2.5%, while the broader S&P 500 yields 2%. In comparison, international markets currently providing yields in the 3% to 5% range include Germany, the Netherlands, Norway, Australia, Hong Kong, Singapore, New Zealand and Brazil.
Outperformance in a Slow Growth Environment: As pointed out in a recent BlackRock Investment Institute paper on the pros and cons of investing in dividend stocks, high dividend paying stocks tend to outperform during periods of slow growth like the one we're experiencing this year. As the chart below shows, while international dividend paying stocks have generally outperformed a broader global benchmark since 1999, the median outperformance of the international dividend index was more than 18% in years in which global growth was below average. In contrast, in years when global growth was above average, the international dividend index's relative outperformance fell to around 3.5%.
click to enlarge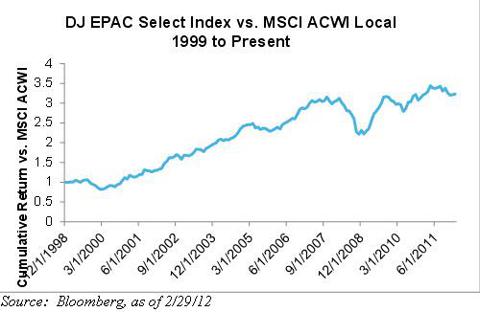 In short, there's a strong case for why investors in search of equity income should consider international dividend paying stocks, which are accessible through instruments like the iShares Dow Jones International Select Dividend Index Fund (NYSEARCA:IDV) and the iShares Emerging Markets Dividend Index Fund (NYSEARCA:DVYE).
Source: Bloomberg
Disclaimer: Index returns are for illustrative purposes only and do not represent actual iShares Fund performance. Index performance returns do not reflect any management fees, transaction costs or expenses. Indexes are unmanaged and one cannot invest directly in an index. Past performance does not guarantee future results. For actual iShares Fund performance, please visit www.iShares.com or request a prospectus by calling 1-800-iShares (1-800-474-2737).
In addition to the normal risks associated with investing, international investments may involve risk of capital loss from unfavorable fluctuation in currency values, from differences in generally accepted accounting principles or from economic or political instability in other nations. Emerging markets involve heightened risks related to the same factors as well as increased volatility and lower trading volume. There is no guarantee that dividends will be paid.