JDS Uniphase (JDSU) has done fairly well for itself since I wrote about it 3 months ago. Now trading at close to $14, its 35% rise from my last missive has done better than even this rather buoyant market. So why would I not just claim my laurels as visionary market beating pundit, and write again about JDSU, thus resetting the bar at a higher stock price? Because I think there are changes in the landscape and in JDSU that warrant a fresh look.
It's worth taking a look at JDSU from three perspectives both backward and forward looking: what's gone as it should have, new news of note, and most importantly wildcards with upside
What's gone as it should have. Since the disaster at Thailand's Chokchai campus the street revalued JDSU and the other opticals as if floods were a secular problem with the industry. We knew there weren't, and they weren't. Chockchai is back online as is JDSU in that regard. In addition, the recent Mobile World Congress has made it clear that the wireless internet and social network traffic is increasing the pressure (and willingness) of operators all over to accelerate their investment in LTE. This is good for JDSU both from a test equipment and (indirectly) from a backhaul perspective.
New news of note: threat or opportunity. For the past few years, the optical space has been the space for middleweights (such as JDSU and Finisar (NASDAQ:FNSR)) and lightweights such as Oclaro (NASDAQ:OCLR) and Oplink (NASDAQ:OPLK). Now Cisco buys Lightwire and a heavyweight re-enters the fray. Finisar took a nosedive after reporting unimpressive earnings on Feb 29th. Is this more competition for the same pie, or more pie? As Jefferies points out, this might be negative for FNSR, but indicative of greater service provider spend which is actually positive for JDSU.
Wildcards with upside. This is the bit that really intrigues me. Over the last 6-12 months, JDSU has quietly made a market in counterfeiting solutions, and its important enough to JDSU to be a core business (see Figure 1 below). With the growth of high quality printers, counterfeiting has turned into quite the growth industry (as Figure 2 alludes). Consider the recent Six Trillion Dollar counterfeiting scandal (yes Martha, that would be trillion with a "T") as a for instance. Consider also that counterfeiting is important enough national issue for President Obama to create a trade enforcement and anti-counterfeiting unit. And JDSU's recent analyst call explains why this is a recurring revenue business as currency notes are periodically refreshed.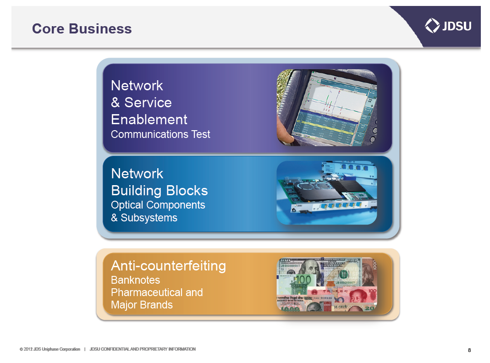 Click to enlarge
JDSU's three core businesses in 2012.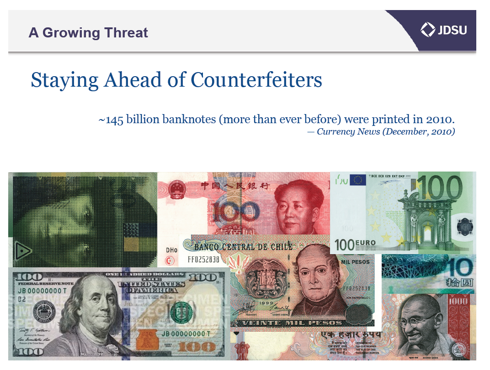 Click to enlarge
Large problem growing larger.
Now counterfeiting is still part of JDSU's smallest (Advanced Optical Solutions) business, and therefore not the near-term catalyst that carrier spend is. However, as a long-term investor, I look for ascendant markets that address an urgent and growing need. Counterfeiting in all its forms (currency notes, drugs, other physical goods) is that, and JDSU seems to have a position that could be a growth catalyst for sometime to come.
If you're a short-term investor, you can hang your hat on JDSU being a momentum stock with strong technical support at about $13, potential to run to $15.5 and a member of CNBC's "stocks to pop" list (with a potential target of $19.50). If you're a longer term investor, you can focus on the fact that in addition to 4G, LTE, Optical Components and Gestural Recognition, JDSU has associated itself with another money making proposition around a globally worsening phenomenon.
Disclosure: I am long JDSU.