In September 2010, Cisco (NASDAQ:CSCO) acquired Arch Rock Corporation. In April 2011, it acquired newScale Inc. In November 2011, it acquired BNI Video. Now, it is all set to acquire NDS Group Ltd for a price of around $5 billion. Not that small a price, eh? However, I guess a company, which can boast of a market size of $108.77 billion and net revenue of around $43 billion, might take a shot at that.
Let us look at the second-quarter report to get a lowdown on the current financial health of the company.
Net sales amounted to $11.5 billion last quarter, 10.8% over that in the previous year. Net income showed an increase of 43.5%. That's almost 50%, for God's sake! Needless to say, when earnings per share increase, it affects the dividend income of the investors.
Not only have the cash or equivalent assets grown by around $2.3 billion, but also the cash flow from operations showed improvement. This is partly accountable for the lesser number of days' sales outstanding (DSO), down to 31 days last quarter from 35 days, the same quarter in the previous year.
Overall, the second-quarter report does give me motivation to take further risks.
Now, looking at the recent acquisition. I can only say that the company is focusing on and capturing the video syndication market as hard as possible. Even the acquisition of BNI Video brings home the point.
However, why would a company focus so hard on the video marketing niche? Here is an image for you to consider: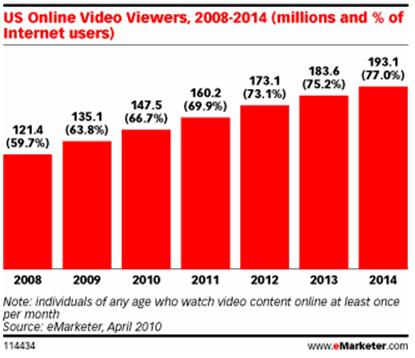 It seems more and more people are taking a liking toward online videos. If this is the case, I will say the company definitely is aiming at the right direction.
When companies such as Dell Inc. (NASDAQ:DELL) are striving to include internet security products to their software portfolio, Cisco is playing a clever game on raking up the other software products with best future marketability potential.
If you ask me, I support Cisco now.
Disclosure: I have no positions in any stocks mentioned, and no plans to initiate any positions within the next 72 hours.