The last time I wrote about Vale was in my February 22nd article, Trading BRIC Stocks. I had shown that the company had a negative avg+worst return of -7% for the past nine years. The avg+worst return simply showed the average return of stocks during February-April option expiration minus plus the worst return. For stronger stocks, I expect the average return to be better than their worst returns. For weaker stocks, I expect the average returns to be worse than the lowest return they'll have this year. Here is that chart again: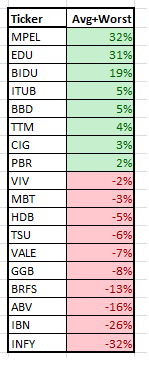 Now since I've identified that Vale has been a weaker stock (average return worse than worst return), I searched for the stock's individual returns and its estimated max high/low points.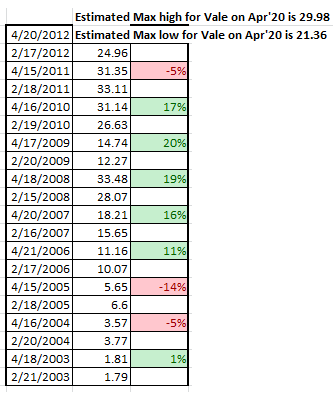 Here we see that the returns are not as bearish as once thought by just looking at the avg+worst return data. However, notice that the closing price of Vale on February expiration is 24.96. The current stock price is down from 24.96 at 23.38 (down 6.33%) during a strong market uptrend. The problem has to do with Vale's fundamentals. Vale has missed its EPS numbers for the past three quarters. Finviz.com shows the five-year forecasted EPS growth rate at 2.60% whereas e*Trade shows a negative annual EPS growth rate for the next four years. Vale is trading at a 5.41 P/E which seems cheap but there simply is no growth in this company at the moment. Investors may conclude that they might as well place their money elsewhere in stocks like BHP Billiton (NYSE:BHP) or Rio Tinto (NYSE:RIO), which offer more growth in the sector.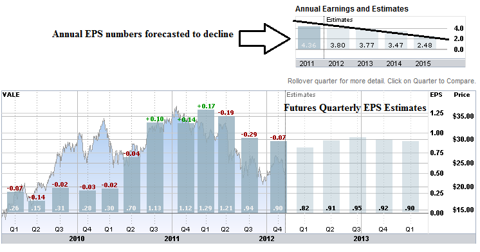 If we take a look at a daily chart on Vale we see that the stock has an ugly gap down at $24.74. I'm not sure whether Vale will be able to close this gap, and even if it does the Apr'20 25/26 bear call spread still looks attractive. We may initiate the following trade soon in the Option Spread Portfolio.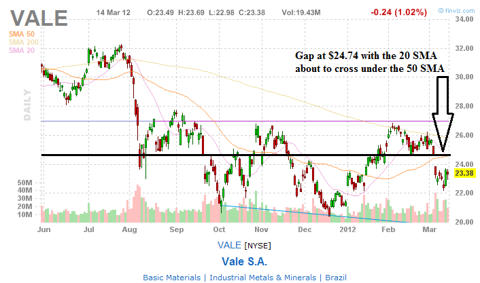 Notice how the market turbulence of last August was never shrugged off in this stock? Vale remains volatile and under downward price pressure.
Suggested Trade: VALE - Sell Apr'20th 25/26 Vertical Call Spread (Bear Call Spread)
(Sell 25 Call/Buy 26 Call)
Size - 4.62% of Giorgio's Corner Portfolio Size = (5 Spreads)
Entry: Sell Limit: 0.14
Stop Loss: 0.40
Exit Price: 0.00
Max Return: 16.27%
(Note: Return calculation does not include commission. Max Return is calculated as Return at Risk based on my entry not Return on Margin.)
Disclosure: I do not own any investments in Value. I own long shares of BIDU. I'm short shares of UVXY, GLL, GOOG and ZSL. I own bear call spreads on SPY, VXX, GLL and ZSL.
Charts are from Finviz.com. Earnings information is from both Finviz.com and e*Trade.com.
Additional Disclosure: I have no positions in any stocks mentioned, but may initiate a short position in VALE over the next 72 hours.