The Rise
Eddie Lampert's purchase of Sears Holdings (NASDAQ:SHLD) in January has made him hundreds of millions of dollars this year. In the two months following his personal purchase of the shares, the stock has risen from his purchase price of 29.20 to the 3/14/12 close of 79.96. In hindsight Mr. Lampert's timing was quite incredible. Not only did he purchase within thirty one cents of low, he saw his investment immediately pay off during a time when Sears Holdings announced a 2011 earnings per share of -29.40. The earnings announcement was made on February 23rd, 2012 and instead of the price lowering, it jumped up nearly ten points. Opening five points higher than the previous day and saw a six point jump on nearly half of the volume the following day. Fortunately for Eddie, these gains helped pay for his record breaking home purchase on a private island near Florida. In all fairness Lampert has enough money to purchase a home regardless of his recent gains, though the timing did not help his image with some. With others it was a display of confidence for the future of Sears, so what does Eddie know that the retail investors don't?
The first portion of this series, "Sears: The Poor Life at a High Price" addressed the widely lauded ideas that the potential of Sears real estate and branding was behind the sudden surge. Two concepts which in the past have either not been true or failed to deliver. Lampert has previously attempted to spin the reality of a failing business, which is selling stores and laying off employees, into the profitable revitalization of a distressed company. Has the public bought into the idea of Sears as profitable venture, or have funds converted Sears into a profitable trading vehicle?
There is no direct evidence to suggest that the unexpected upward movements are the result of insider manipulation, and neither is this article a direct accusation of such crimes. The goal of the article is to examine Sears as a simple case study for a stock which may appear to be manipulated by comparing relevant research studies to Sears's traits and activities.
Sears Holdings Ownership
It would be better to ask who owns Sears right now. Sears has 101.96 million shares in it's float, with nearly 90% reported institutional holdings. Sears is one of the most highly owned hedge fund stocks by proportion of it's shares. The two most prominent holders are Lampert and fellow hedge fund manager Bruce Berkowitz of the Fairholme fund. Lampert owns about 53 million shares and Fairholme owns 16 million shares.
Another major investor is Goldman Sachs (NYSE:GS), whose clients made a $3.5 billion investment in 2007. To put it in perspective, the Goldman Sachs investment was more than the market cap of Sears just three months ago. The December 27th Sears crash brought their market cap below $3.5 billion, though it now sits above $8 billion. Lampert, who got his start at Goldman Sachs, pulled off one of the largest fund raising operations in hedge fund history when he secured the investment. It saved Lampert the time of securing many smaller investors as they required a minimum of $25 million to invest in Sears through Goldman Sachs. In 2007 Sears saw its all time high of 195.18 in April, but finished the year with a 95 point collapse. The next year was even worse as Sears fell as low as 26 in December 2009. The five year investment, which is unusually long for a fund, ends this year.
Lampert's Choice
The purchases that Lampert made in January were either incredibly lucky or incredibly planned. How exactly did Lampert manage to acquire the shares at such an opportune time? After the December lows, Lampert's hedge fund, ESL, made an offer to their investors, they would buy back their investment in Sears. Once ESL had received the shares, Lampert decided to personally purchase the shares from his fund, bringing his total to 53 million shares. If Lampert merely believed that Sears was at a low which could go no further, then why take personal control of the fund as opposed to leaving them in ESL?
At the end of 2011 Lampert also distributed capital to his ESL shareholders by way of AutoZone (NYSE:AZO) shares, which was unusual as cash is considered the norm. Then, instead of taking management fees from his hedge fund, Lampert opted to take $17 million dollars worth of Sears shares. He is hoarding both cash and shares of Sears at a time when it has just come off a historic low. It could be argued that he merely saw a low point of resistance and bet that he would see positive returns in the future. Under normal circumstances this would not be seen as odd, but one could hardly call the last three months of Sears "normal".
Many have called the rise of Sears as a historic short squeeze. The short float is very high and shares to short have been difficult to find. When they are available to borrow, the rate has been very high and put options are expensive as well. During this historic rise Sears has been increasingly more expensive to bet against and those who own the stock have apparently chosen not to sell. If no one can short, not many are selling, and little shares are available, how is the stock supposed to fall? The perfect storm of a highly illiquid, hedge fund owned stock has propelled Sears over fifty points in less than three months. This would not be the first time this has occurred, but what makes it particularly unusual is that the company in question is on the verge of bankruptcy.
An Example Case Study
Sears Holdings is becoming a case study for a stock which has potentially been manipulated. There is no direct evidence to show that this has occurred but the public is not so naive to think that this kind of collusion never happens. It is especially relevant when a failing business who just reported a -$23.93 4th quarter EPS is up 151.60% YTD and 69.37% in the last month on old news in fresh ink. Lacking any direct evidence or accusations, what qualities or signs have historically manipulated stocks displayed?
A February 2011 study entitled "Do Hedge Funds Manipulate Stock Prices?" addressed the signs of a stock which is being manipulated. From the abstract:
"We find evidence of significant price manipulation at the stock level by hedge funds on critical reporting dates. Stocks in the top quartile by hedge fund holdings exhibit abnormal returns of 30 basis points in the last day of the month ... Using intraday data, we show that a significant part of the return is earned during the last minutes of the last day of the month, at an increasing rate towards the closing bell. This evidence is consistent with hedge funds' incentive to inflate their monthly performance by buying stocks that they hold in their portfolios. Higher manipulations occur with funds that have higher incentives to improve their ranking relative to their peers and a lower cost of doing so."
On February 29th, 2012 the last day of the month, the Sears stock price increased from 67.4 to 70.13 in the last ten minutes of the day on 692,020 shares, which was 37.5% of the days total volume. Most five minute periods that day averaged 2,000 to 5,000 shares, with the next highest being 75,000 which occurred in the five minute block prior to the last ten minutes.
The study goes on to say:
"Further, these patterns are strongest when hedge fund owners have incentives to manipulate: less diversified funds (for which manipulating is less costly), funds experiencing a poor month in terms of absolute returns, and funds that are among the highest year-to-date performers and wish to benefit by attracting investors' attention."
For the better part of this run there have been very few shares available for people to short and most shares are institutionally held, making Sears a very illiquid stock. Most of the shares are also consolidated amongst a few people and funds who were very poor performers in 2011. The personal and fund related reputations of Lampert and Berkowitz were highly maligned last year but now they lead the pack of hedge fund managers in 2012. On the other side Sears is the best performing S&P 500 stock of 2012.
"Ni, Pearson, and Poteshman (2005) report that stocks tend to cluster around option strike prices on expiration dates. Blocher, Engelberg, and Reed (2010) show that short sellers put down pressure on prices at the last moments of trading before the end of the year."
The last five expiration Fridays for Sears have closed at the following prices: 2/17/12: 54.53, 1/20/12: 49.00 (up 13%), 12/16/11: 46.16 (down 8.46%), 11/18/11: 64.27, 10/21/11: 74.95. Looking at the movements and reversals in the share price for the last three months, they appear to correspond with the end of the month or the end of the week (Sears has weekly options).
"We conjecture that manipulation is more likely for hedge funds with less diversified portfolios. For these hedge funds, the payoff for manipulating stocks has a higher impact on performance results."
ESL and Fairholme are both concentrated portfolios, Lampert more so than Berkowitz. As of 12/31/11 Berkowitz owns sixteen stocks while Lampert's fund owns stock in eight companies: Sears, AutoZone, Autonation (NYSE:AN), Gap (NYSE:GPS), Big Lots (NYSE:BIG), iStar Financial (SFI), Genworth Financial (NYSE:GNW), and Seagate (NASDAQ:STX).
As of the beginning of March, Lampert is up 44.1% and Berkowitz is up 36.0%. Berkowitz was the second worst manager of 2011, down 34.9% on the year while Lampert was down 12%.
Failure to Deliver
In 2010 the website Deep Capture did a piece on the possible manipulation of SHLD. They began by stating:
"A few months ago, an unusual trading pattern in shares of Sears emerged, in which large blocks of shares change hands within minutes of deep in-the-money call options equivalent to precisely the same numbers of shares in these blocks."
What they discovered was a pattern in unusually high failures to deliver for Sears stock. A failure to deliver can occur when someone buys shares of a stock from, and sells deep in the money calls to, the same entity. The options are then exercised the next day giving the appearance the purchase of the shares satisfied the option requirement, when in reality no shares were delivered. Deep Capture graphed the number of failure to delivers per day against the SHLD share price to produce the following chart.
The site Fails to Deliver will graph the failures against the stock price using the most recent SEC data. Inputing Sears reveals a large number of delivery failures which correspond to the last three months. The site can also create a table based on the raw data to view individual days. When viewing the data realize that the numbers are offset by approximately two days as the transaction is not reported as a failure on the day of the trades in question.
A possible example can be seen in the options activity on March 6th, 2012. An unusual number of nearly even blocked shares appeared in the March options. With the price of 73.42, the following blocks of options appeared: 2,000 @ 40x, 6,040 @ 45x, 2,400 @ 52.5, 12,005 @ 55x, and 3,220 @ 57.5. This represents 2,566,500 shares which were not present the next day. On 3/6/12 there were 1,539,001 shares traded and 3/7/12 saw 985,061, which together totalled 2,524,062 shares. If you rounded the option volumes to represent someone buying in perfectly even blocks (2k, 6k, 2k, 12k, 3k) the total of the options comes to 2,500,000 shares. The rest of the volume totals for the day were unusually even totals which can be seen in the following picture.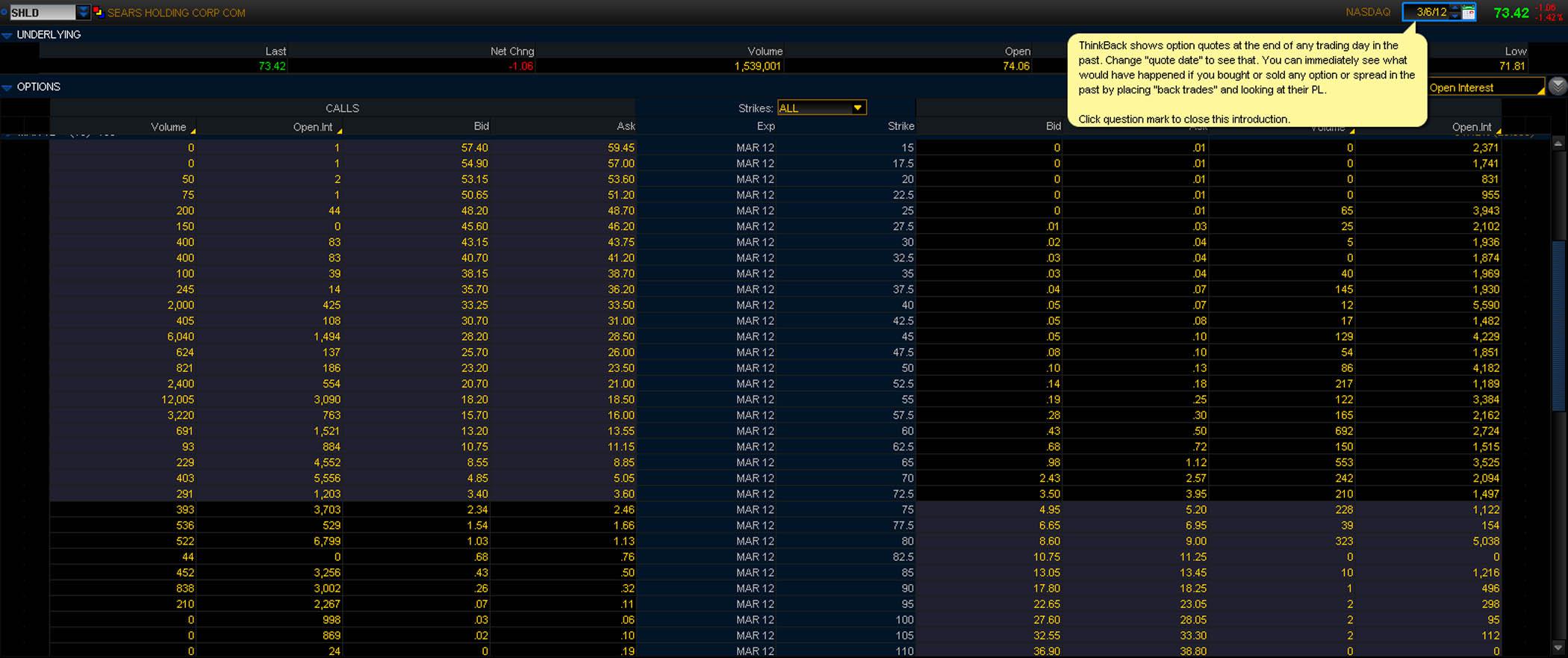 As previously stated, this is not direct evidence but an odd incident to compare against traits of manipulated stocks. The numbers above are not meant to suggest every share traded those days is only the result of those options. Obviously there are retail traders who are involved in the stock, though it is unlikely that the combination of their trades resulted in the uniformity of the numbers.
The paper "Distinguishing Manipulated Stocks via Trading Network
Analysis" describes a similar tactic which involves trading shares between the same accounts controlled by the same people:
"First, a manipulator controls hundreds of accounts in order to purchase or sell a large amount of shares at the same time in order to influence the stock price. Second, money transfers from one or several satellite accounts that are also controlled by the fraudulent trader to a central account. A manipulator trade shares from one account to another without changing ownership and this fraudulent trading leads to an image of active market. Therefore, price fluctuations of manipulated stocks do not reflect the demand fluctuations.

This means that there are more transactions between traders of the manipulated stocks. This phenomenon is attributed to some malpractices involving a group of traders acting and trading together to achieve a specific effect on the volume of a target security. In fact, manipulators trade among themselves in order to artificially increase the price and volume of a stock for the purpose of attracting other investors to buy the stock and they have a heavy trading volume among themselves. Manipulators earn a profit and investors incur losses. The anomaly in these distributions means that the manipulators are disturbing the market order."
The paper goes on to say:
"... Informed people from inner information of companies such as high managers of companies, brokers, stock subscribers, wholesale stock with highest possibility are regarded as price manipulators of stocks. Stocks with low possibility of liquidity have higher possibility of being exposed to price manipulation and price manipulation results in increasing price fluctuation. Also they concluded that price of stock increases during manipulation period and decreases after manipulation period."
While there is no direct evidence of manipulation, and many of the described traits above could have resulted from natural causes, the comparison remains interesting. Given the circumstances, one thing is clear, don't go short on an illiquid, hedge fund owned, high short float stock until you see confirmation of a serious trend reversal. It appears that Sears will suffer a strong pullback soon; the volume has drastically decreased and the eighties appear to be a resistance. The coming Monday, March 19th, will reveal if Sears continues to follow its post option expiration reversal or if Lampert really does have an ace up his sleeve.
Disclosure: I have no positions in any stocks mentioned, but may initiate a short position in SHLD over the next 72 hours.