Einstein's Hedge is a balance of nuclear and solar stocks. Nuclear is represented by an uranium ETF (NYSEARCA:URA) and Lightbridge Corp (NASDAQ:LTBR). Solar is represented by First Solar (NASDAQ:FSLR). This grouping was inspired by the polarized mis-reaction to Fukushima, represents a balance between centralization and decentralization, and is a vehicle of exposure for those who expect decision makers to one day take carbon emissions seriously.
The stocks are decidedly international as power generation extends through emerging economies. They continue to be contrarian picks as natural gas becomes a household buzzword. I am particularly bullish on Lightbridge at today's price because it defies commonly assumed investment criteria. CEO Seth Grae recently gave a talk which is available here. This chart is how Einstein's Hedge, which was introduced as a very long-term strategy, has been trending so far:
Click to enlarge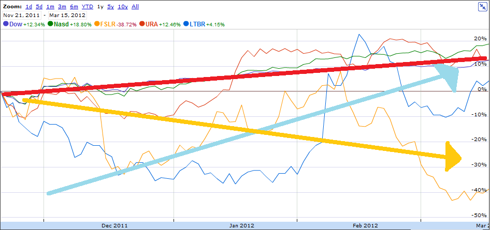 Click to enlarge
The Uranium ETF (red line) has been moving with the market. Lightbridge (blue) has been swinging upward. First Solar (yellow) has been swinging downward. With this simple snapshot, we see a lack of correlation. So while there is a unified bet being made with the hedge, it is not an entirely un-diversified one, so far.
Let's talk about the relationship between carbon emissions and Einstein's Hedge. Here at Seeking Alpha, Simit Patel is the resident uranium bull. One concern he has about uranium, however, is the end of global warming as something people believe in. If global warming turns out to be hype, nuclear power will be less enticing. Simit is a skeptic, and that's where the concern comes from. I'm a believer, so I think the more data that come out, the harder it will be to deny carbon's impact on the environment. So I think environmental science is ultimately good for nuclear.
If you share my conviction that global warming is not a hoax, then you may want to take a look at Einstein's Hedge and its variants. It's cheaper now than it was a few months ago. That's bad for a momentum trade, but good for a contrarian value investment. I'm buying losses. I may not have the insider information of politicians, but I have a longer attention span.
Disclosure: I am long LTBR.
Additional disclosure: I may initiate a long position in any stock, including FSLR, URA at any time.