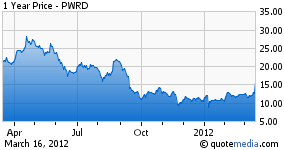 For investors in Perfect World (NASDAQ:PWRD), its stock performance has been far from anything close to resembling the company's namesake in the past year. At one point, the company's U.S. listed shares had fallen over 60% from valuations at the start of 2011. Much of the poor performance simply mirrored investor fears over Chinese companies after fraud allegations surfaced on a number of names. Panic may have peaked after PWRD shares dropped as much as 30% in a single day after an anonymous blogger in China accused the company and its CEO of fraud prompting a quick formal corporate response. At least in the near term, investors may catch a break after Perfect World announced its fourth quarter 2011 earnings report which not only exceeded Wall Street consensus but also included an announcement of a $2.00 per share special dividend.
As noted in my prior article reviewing Perfect World, most of the company's weak share performance in the past couple of years has been more a reflection investor perception than corporate reality. PWRD's results in the fourth quarter as well as fiscal year 2011 continued to remain strong. Quarterly revenues reached a record level at $123.4m, up 9.5% over third quarter levels and exceeded the company's top end guidance of 4% sequential growth. Annual 2011 revenues also hit record levels at $474m, up over 25% from 2010. Perfect World has maintained annual revenue growth every year since becoming a US listed public company in 2007 at a compound annual growth rate of 37.8%.
One aspect of Perfect World's growth that investors may find fault has been its lagging earnings growth relative to revenues. PWRD's earnings growth in the past five fiscal years has "only" been at a compound annual growth rate of 25.8%. More noticeably, annual earnings in the past three years has been more unstable with net income dropping 16% in 2010 only to rise back 22.5% in 2011. As detailed in a prior quarterly review of Perfect World's earnings, the company had embarked on an extensive internal development initiative which ballooned operating expenses disproportionately vs. revenues. With much of this strategy focused on long term results, near term operating margins took a dramatic hit. Nevertheless, PWRD was still making quite a bit of money and 2011 net income reached a new record at $156.3m or 3.06 in earnings per share("EPS").
Perhaps another misunderstood aspect of the Chinese online gaming industry is the extremely cash flow positive nature of the business. Perfect World stated in its Q4 earnings conference call free cash flow roughly equaled reported quarterly earnings. In other words, Chinese online game developers and operators are cash cows that generate much more cash than the companies can consume at an operational level. This has allowed other U.S. listed direct peers such as Changyou.com (NASDAQ:CYOU), Netease.com (NASDAQ:NTES), Giant Interactive (NYSE:GA), as well as Perfect World to buy back hundreds of millions of company shares back from the public. In the past three years, PWRD has reduced its total diluted share count by almost 20% including a 10% reduction in 2011 alone. In an extreme case, Shanda Interactive late last year announced a privatization offer at over a 20% market premium and ultimately delisted from the U.S. equity markets several months following.
While corporate dividends have been rare among U.S. listed Chinese companies, special dividends have not been uncommon especially among cash flow rich industries such as China's online gaming sector. For example, last year Giant Interactive announced a $3.00 per share special dividend which relative to its then stock price of $8.00 per share was a massive payout. Perfect World has stated during many of its past earnings conference calls that management does not make decisions based on the company's share price and has dismissed dividend possibilities. With Wall Street perception so negative over Chinese companies and perhaps in response to recent allegations against the company specifically, PWRD announced a special $2.00 per share special dividend in its fourth quarter earnings release. In total, this dividend would consume roughly $98m of the company's total $432m net cash balance. More significantly for long term investors, management stated the company would consider annual dividend payouts based on operating performance.
Under normal circumstances, Perfect World would appear incredibly cheap. At the company's $12.55 closing price prior to its Q4 earnings release, shares trade at just 4.1 times 2011 price to earnings("PE"). In addition, approximately $9.00 per share consists of a net cash position on the company's balance sheet. While quarterly earnings in the past couple of years have been more inconsistent due to higher levels of internal development spending, Perfect World has consistently made money represented by its $562m of retained earnings. Its $2.00 per share special dividend alone reflects a yield of almost 16% of the company's last closing stock price.
If the issue is merely perception, then misconceptions have often provided value investors the best market opportunities. Perfect World has not been alone among other U.S. listed Chinese companies. Many have been similarly hard hit due to investor jitters over Chinese fraud cases which may be more the exception than the norm. As noted in my prior PWRD articles, the company was taken public lead underwriters Morgan Stanley and Credit Suisse, unlike many fraud cases which were born from less vetted reverse mergers. Perfect World has also been audited by a global big four auditor, Pricewaterhouse Coopers. Again this differs from recent accounting issues at smaller U.S. listed Chinese companies audited by second or third tier firms. While not foolproof, large reputable global firms would less likely support less credible companies.
The panic an anonymous blogger could induce even for larger more established companies such as Perfect World is almost the inverse mirror universe of the internet hysteria a dozen years ago. Of course all investors must practice due diligence for any investment but the likelihood all companies in a certain group are justifiably penalized will likely be a fallacy of generalization. Perhaps only evident in hindsight will investors realize concluding all Chinese companies as fraudulent would be as justified as buying into the dotcom mania over a decade ago. PWRD is not without issues as discussed in my prior articles but even so it is almost impossible to rationalize the valuation Wall Street investors have put on the company or its peer group in general. At least with more proactive measures taken by the company in the form of special dividends, investors can get paid for waiting until perception reverts back from an extreme to the norm.