For those investors looking for high risk/high reward plays, the small cap space provides numerous opportunities. Companies with high growth and that are going through a transition from losing money to making money in the next 12-18 months are one area I like to dabble in as these companies can provide lucrative returns if they perform to plan. One stock that falls into this category is below.
7 reasons BIOLASE Technology (BLTI) is a speculative buy at $2.50 a share:
The company is expected to go from a net loss to positive earnings over the next two years. The company lost 15 cents a share in FY2011, but analysts expect 2 cents a share in earnings in FY2012 and 12 cents in FY2013.
Insiders are holding tight and the company has had net insider buying over the last year.
The stock is significantly below analysts' price targets. The three analysts that cover the stock have a consensus price target of $5.50 with the lowest price target being $5 a share.
The company has net cash on its balance sheet.
The company is experience rapid revenue growth. Analysts expect sales growth of just under 20% for both FY2012 and FY2013. It grew revenue 87% in FY2011.
Its new Waterlase system is selling well and made up 60% of sales in FY2011. The company also has a strong international business that makes up a third of sales.
The stock, which was just under $7 a share less than a year ago, looks like it is bottoming and has technical support at these price levels (See Chart).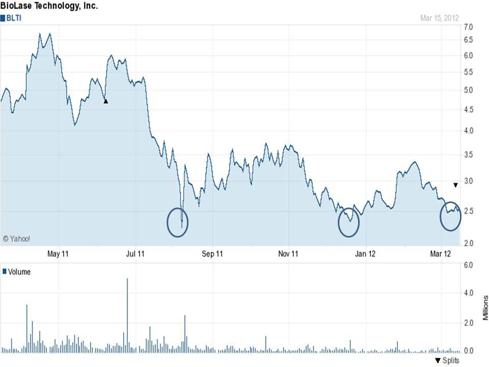 Click to enlarge
(Click to enlarge)
Disclosure: I am long BLTI.