Most market observers believe that stocks with the above attributes are difficult, if not impossible, to find these days. While I will concede that the market is somewhat over-valued right now, I do believe that there are still some quality utilities available for purchase. I have not arrived at this conclusion by happenstance. It is the result of a process that I will present in this article.
Utilities have long been a refuge for income investors. The basic business model is that a utility is a regulated, regional monopoly, allowed by the state regulatory authorities to earn a reasonable return adequate to maintain the extensive facilities, plus pay a dividend high enough to attract the necessary capital. Utilities are very capital-intensive, and they carry higher levels of debt than most corporations, but the reliable, steady revenues they generate allow for these high debt levels to be serviced.
To begin the search, I first scanned for utilities, with the only qualifiers being yield, which had to be at least 4.00%, and size, which had to be mid-cap or larger. I prefer the E*Trade scan tool, which requires an account at the brokerage, but there are literally dozens of free scanners available, such as at Google Finance, Yahoo Finance or MSN Money, to name three of the most popular. The scan identified 36 electric utilities and 15 gas utilities. I added six more that I wanted to consider, based on familiarity, for a grand total of 57 utilities. I then eliminated all Master Limited Partnerships (MLPs), foreign firms, and utilities yielding less than 4.25%, eliminating 12, 9 and 16 firms, respectively, after applying these criteria. I dropped MLPs to avoid all the tax complications inherent in these vehicles, since there are plenty of high-yielding utilities available that are regular corporations.
I dropped foreign firms because the relationships with regulatory authorities are difficult enough to gauge in the United States, much less foreign nations, and this is a critical factor when evaluating utilities. Also, U.S. firms have more ratings coverage available. As for yield, there are plenty of choices available above 4.25%, so there seemed to be no reason to consider firms yielding less. I did have second thoughts on this after concluding my initial review, and I subsequently reviewed 10 additional firms with yields over 4.00%, to avoid overlooking an attractive firm that is yielding only slightly less than the initial cut-off level.
Next, I excluded another seven firms with payouts of 80% or more. Even though utilities can safely sustain higher payouts than most other types of companies, above 80% is too high, even for a utility. One of the S&P analyst reports I read stated that utility management teams seek to avoid payouts higher than 70%, as a rule, so an 80% cut-off seemed reasonable.
I then considered the last five years of dividend history, eliminating any firms that had dividend cuts or no dividend growth during this time period. These criteria dropped two more firms.
All of the non-MLP, U.S. utilities eliminated are identified in table 1 and table 1A below, along with the reason for elimination. (Note: two tables were required because of table size limitations.)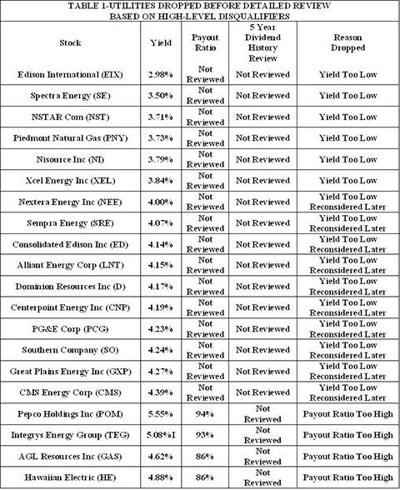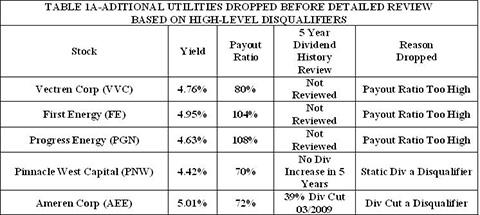 I then defined some additional criteria to be used to differentiate the 11 remaining firms. The firms were ranked within several major categories as defined, to determine the best choices. The results are presented in a series of tables, with the firms identified, and the criteria values shown. For each category, I will first provide some clarifying comments, and then will present the associated table. Note that the names and symbols are shown in Table 2, and Tables 3 through 7 only show the symbols. After all of the tables have been shown, I will provide my conclusions and recommendations.
DIVIDENDS (Table 2)
Yields and payout percentages have already been discussed. I calculated the dividend growth over the most recent five year period, with the oldest dividend rate being considered as the base. I also show the ex-dividend date of the most recent increase.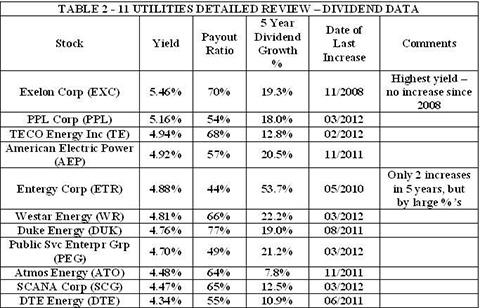 EARNINGS AND REVENUE (Table 3)
Earnings Quality - I reviewed the operating cash flow vs. net income for the last five years and the last five quarters, to see if cash flow exceeded net income, which would indicate high-quality earnings. This was the case for all of the firms, so it was not a differentiator - thus, no table column is shown for this factor.
Stability of Revenue and Earnings - I reviewed the 10-year histories, and found mostly stable results, with none exhibiting enough volatility to suggest dividends might be at risk from this standpoint. I don't have a simple metric for this factor, but what I want to see is a pattern of steady, gradual increases over the years, with an absence of significant variations.
Five-year Earnings Growth Estimates by Analysts.
S&P Stock Reports Quality Rankings for Earnings.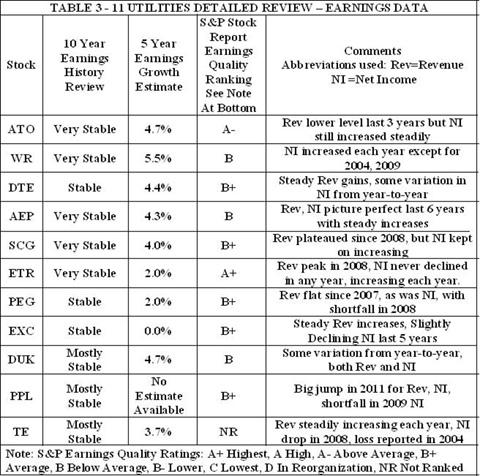 DEBT (Table 4)
Bond ratings for long-term corporate bonds from S&P, Moody's and Fitch were reviewed. None of the 11 firms had any bonds rated under investment quality, so that was not a differentiator. Debt ratios of leverage, debt to equity, interest coverage, long-term debt percentage of total capitalization, stockholder's equity percentage of total capitalization, were reviewed. The latter two items were calculated from the most recent balance sheet available.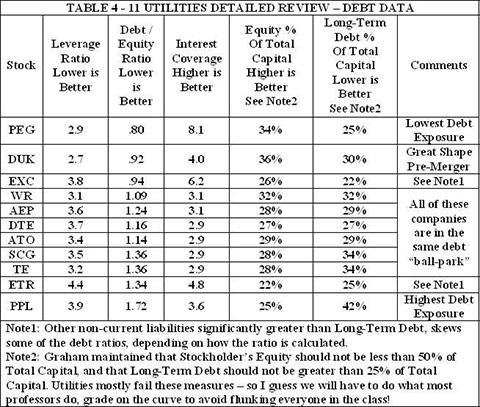 RETURNS (Table 5)
Return on Equity, Return on Assets were reviewed.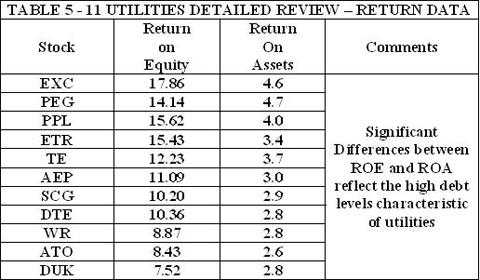 VALUE (Table 6)
Valuation ratios of price to earnings, price to book value, price to sales, and price to cash flow were reviewed, to see if any of the firms qualified as "value" stocks. All values are from the week of March 5, 2012, through March 9, 2012.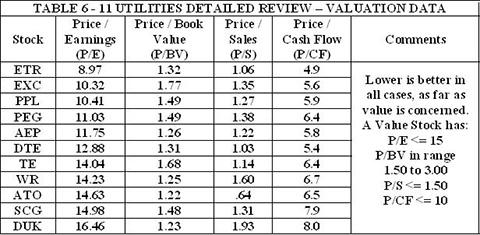 RATINGS (Table 7)
S&P Stock Reports are available from most brokerages. I considered the S&P star ratings and risk ratings, as well as the report narratives.
Morningstar Star Ratings, which are very much related to the market price vs. the "fair value" ascribed to the stock by their methodology, were considered. Also, the brief outlook synopsis provided in most cases was insightful.
Analysts' Composite Ratings were considered, with the number of analysts and the numerical average of the ratings shown.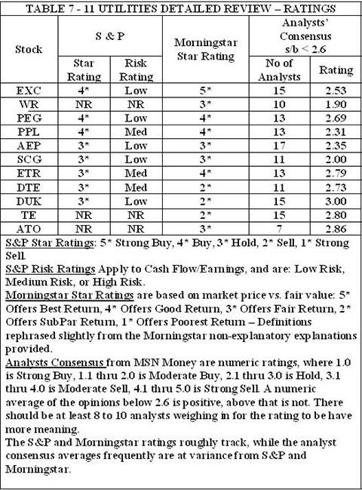 Conclusions and recommendations:
Duke Energy (NYSE:DUK) is merging with/acquiring Progress Energy (PGN), and the combined firm will then become the largest regulated electric utility in the country. This renders the data for DUK somewhat irrelevant, and until we see results for the combination, after several years of operation, it will be impossible to compare DUK/PGN to peers. Further, as an investor, I don't like mega-mergers as a rule, as there is always much that can go wrong. Further, regulators often extract promises in return for merger approvals, which may be good for the public, but not necessarily for shareholders. DUK is therefore eliminated.
PPL Corp (NYSE:PPL) has too much debt, as evidenced by coming in at the bottom, or nearly so, in several of the debt-related criteria. PPL is eliminated.
DTE Energy (NYSE:DTE) has the lowest yield of the 11 finalists, a low five-year history of dividend growth, a low stockholder's equity percentage of total capital, and is roughly in the middle of the pack on most other measures. My bias is that the Michigan economy will continue to struggle, and while one could do worse, I can't get excited about DTE. It goes on the drop list.
Teco Energy (NYSE:TE) has a high debt to equity ratio, a high long-term debt to total capital percentage, one of the lower analyst consensus rankings, and as a Florida-based utility, will be contending with a depressed economy and tough regulators for some time. Again, one could do worse, but nothing jumps out at me to favor TE. It goes on the drop list.
Atmos Energy (NYSE:ATO), the largest natural gas utility in the U.S., and the only one in our final group, is also a drop. ATO has one of the lower yields, has the lowest five-year dividend growth, has the lowest return on assets, and has the next-to-lowest analyst consensus rating. Like the previous two, ATO is not really a bad choice, but does not strike me as a really good one, either.
American Electric Power (NYSE:AEP) is one of the higher yielding candidates, has a high five-year dividend growth history, exhibits excellent valuation ratios, and is in the middle or better on nearly all criteria. No negatives and several positives make AEP a recommended utility.
Public Service Enterprise Group (NYSE:PEG) rates out at the top or close to it on all debt criteria, and is also one of the highest rated utilities by S&P and Morningstar. PEG, similar to AEP, rates in the middle or better on most of the other criteria, and is a recommended utility.
Westar Energy (NYSE:WR) is high on the five-year dividend growth list, highest on the analysts' estimates of earnings growth over the next five years, highest on the analysts' consensus rating, and in the middle on most of the other criteria. Maybe I just feel safer being back in Kansas again, with this utility based in Topeka. WR is also recommended.
Next up is Exelon (NYSE:EXC), the largest nuclear-plant operator in the U.S. EXC rates high on many of the criteria, such as return on equity and return on assets, is highly rated by S&P and Morningstar, and it would seem to be a no-brainer that EXC would be a recommended utility. And so it is, with one caveat - as noted, EXC is synonymous with nuclear. Even before Fukushima, and certainly after, EXC may be a value today because of the nuclear connection, which may have depressed the price. EXC is a recommended utility, although I suppose it has more risk because of the nuclear exposure.
Finally, there is Entergy (NYSE:ETR), another noted nuclear operator. The comments regarding EXC apply to ETR as well. ETR represents an extreme value today. The nuclear fears surrounding ETR were not helped by a February 14, 2012, announcement by the Nuclear Regulatory Commission (NRC) that an ETR nuclear plant in Michigan was downgraded to a lower safety rating, and will be subject to greater scrutiny going forward. ETR is a recommended utility based on the evaluation criteria, although I will grant that it is higher risk as well, same as EXC.
Keep in mind that nearly all major U.S. electric utilities have some nuclear exposure, including all of the 11 finalists except Teco Energy. To learn more, download an Excel spreadsheet of relevant data from the Nuclear Energy Institute, a website brought to my attention by Seeking Alpha contributor George Fisher, in his article "Does Your Utility Stock Own a Nuclear Power Plant?" Another interesting article I found with some information on the topic is a Barron's article entitled "Some Nuclear Fallout Reaches U.S. Shores."
Regarding the 10 utilities with yields above 4.00% that I decided should also be reviewed; I did review them, applying all of the criteria as discussed. I ended up with four stocks that I would consider, but alas, all four are somewhat overpriced today. A summarized table identifying these firms and some of the review results is presented below as Table 8.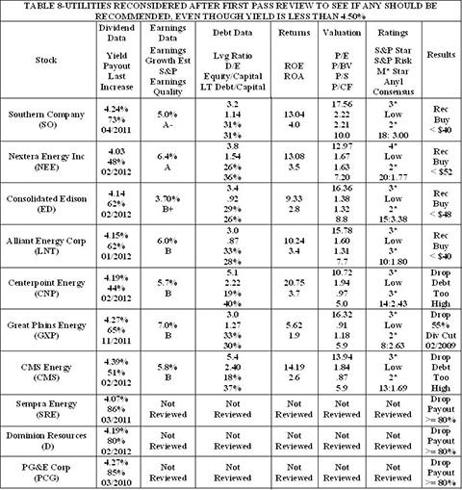 In conclusion, there are some utility stocks available at prices that are decent, if not great, which can deliver yield, safety and value. My rule of thumb is that I want utilities to make up around 15% of my portfolio, evenly divided up among five to eight stocks, certainly no more than ten. I want mostly super-safe names, with perhaps one or two of the higher risk candidates, if they provide higher yields, and can be acquired at attractive valuations.
Disclosure: I am long PEG, WR, EXC, FE.
Additional disclosure: Positions: In addition to the current positions in utilities noted, I am also considering initiating positions in AEP and ETR, and I am watching SO, ED, NEE, and LNT, awaiting better entry points. I have sold a call, strike $45, against my FE position, and will let it go if it is at risk of being assigned.
Data Sources: Most of the data presented in this article came from the MSN-Money website. Other sources were S&P Stock Reports, as made available via my brokerage accounts; Morningstar Star Ratings, provided without charge with registration, from their website (morningstar.com), along with a brief outlook synopsis - the complete stock reports require a paid subscription; TD Ameritrade's website, where I have an account, for dividend history; and the Financial Industry Regulatory Authority (FINRA) website, to get a list of all bonds for each firm, with the ratings by issue from S&P, Moody's, and Fitch. This is a very handy website for this purpose. For long-term debt, select bonds with maturities greater than five years out. Interestingly, different bond issues for a company often have different ratings.