One thing that I think confuses investors about Apple (NASDAQ:AAPL) is that it's difficult to envision a company, any company, that can possibly be worth $1 trillion, let alone $2 trillion.
After all, how could Apple be worth more than oil giant Exxon Mobil (NYSE:XOM)?
Well, stop thinking about Exxon and start thinking about Apple. Here's what I consider to be a fairly conservative scenario of how Apple gets to $2 trillion.
Revenues
First, here's a look at revenues by category for Apple since 2008

Obviously, the success of the iPhone and iPad has surprised even the most optimistic of analysts (well maybe not all).
I decided to assume that iPhone and iPad sales will grow, but at a gradually reduced rate over the next four years.
And I assumed the introduction of the iNBT (Next Big Thing). That could take the form of some TV product, or something else we don't even know about yet - and that iNBT sales will start growing at a rate similar to the iPhone and iPad when they were launched.
So here are my projected revenues.

Note that I consolidated some of the product categories to make the chart easier to read.
Margins and Expenses
Apple's gross margins have grown in recent quarters and operating expenses as a percentage of gross margins have dropped. I'm going to be conservative and assume that margins drift down a bit as there could easily be some margin pressures. And I'm going to assume that operating expenses rise a bit. This chart shows the assumptions I am using.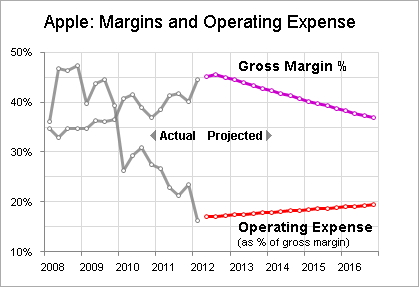 Yes, I'm making very linear assumptions. These could vary. My main objective here is to be somewhat cautious, not assuming that margins stay as high as they've been, nor that operating expenses keep falling.
Earnings
Apple's shares outstanding have been rising over recent years. I expect that to continue, probably surpassing 1 billion shares by 2016. But even assuming a rising share count, here's how I expect trailing 12-month earnings per share to grow based on my revenue and margin assumptions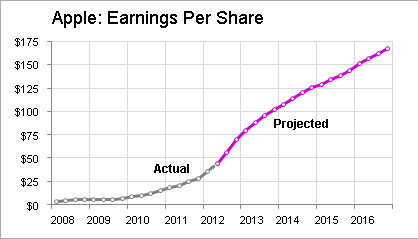 Although it may look overly optimistic, I'm actually projecting slower growth. This chart shows the year-over-year earnings growth rate based on that earnings projection.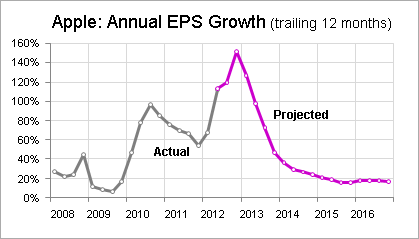 Well now it looks like I'm bearish. Not really. When you're talking about hundreds of billions of dollars, even 20% growth goes a long way. And I'll be the first to admit that I'm being too conservative. I'm merely pointing out that it doesn't necessarily take enormous year-over-year percentage gains to get to my $2 trillion target.
Stock Price
I'm going to make yet another assumption that's probably way too conservative. That the market gives AAPL a trailing PE ratio of 12. Even at that PE, which I would consider somewhat low. The stock price gets to $2,000 per share by 2016 and the market cap tops $2 trillion.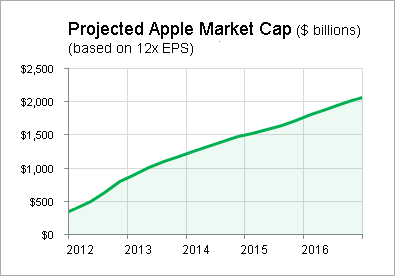 This scenario may not play out as I've outlined. In fact it probably won't. I just want to point out that you can easily make a conservative case for Apple becoming a $2 trillion company that doesn't require that the stock "go parabolic."
It boggles the mind. $2 trillion? No company has ever been worth even $1 trillion. But about 100 years ago, I'm sure nobody ever thought there'd ever be a $1 billion company.
Yet that arbitrary level was breached (I think it was U.S. Steel). I'm sure some people were amazed, but they got over it and the rest is history. There will certainly be a first $1 trillion company. And I think it will be Apple, not Exxon.