A protected covered call or collar search performed using PowerOptions tools seeking to find the highest returning position with a maximum potential loss of 8% for a company with a stock price in an upward trend and near the lower Bollinger Band produced Seagate Technologies (NASDAQ:STX) as shown below:
The position found for Seagate has an unchanged potential return of 3.3% (32.6% annualized) and a maximum potential loss of 6.9%. The unchanged potential return represents the return received at expiration assuming the price of the stock has not changed from entry. A protected covered call position may be entered by selling a call option against a stock and using some of the proceeds to purchase a put option for protection.
The 8% maximum potential loss parameter was selected, as experiencing a loss of 8% can typically be recovered from without too much difficulty using income generating investing techniques. Finding a position in an upward trend was performed by selecting to find a stock with a 200 day moving average greater than the company's 250 moving day average. The search for a position near the lower Bollinger Band operates as a contrarian parameter for finding stocks which have recently receded in price. The specific call option to sell is the 2012 Apr 27 at $1.47 and the put option to purchase is the 2012 Apr 24 at $0.63. A profit/loss graph for one contract of the protected covered call is shown below: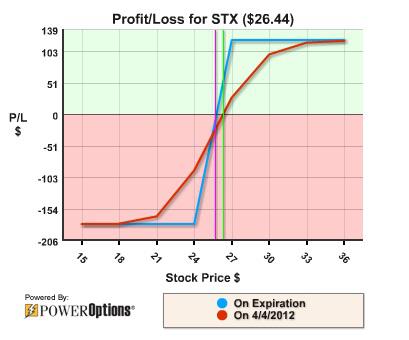 As a bonus, if the price of the stock is equal to or greater than the strike price of the call option at expiration in April, the position will return 4.7% (46.4% annualized).
With St. Patrick's day forthcoming, finding a Seagate protected covered call is perfect to consider as the company is headquartered in Ireland. Seagate is involved in the design, manufacture and marketing of computer hard disk drives. In Seagate's most recent Q2 2012 earnings call held on January 31, 2012, the company indicated they believe the low point for industry production of hard disk drives occurred in mid-December, a couple of months later than some industry observers had predicted.
According to the company, the flood disaster in Thailand was the fourth-largest natural disaster in history with a price tag of $45 billion. Due to the flooding, manufacture of hard disk drives in Thailand was severely impacted. Seagate indicated they opted to trade taking short-term profit from the supply disruption and instead make long-term commitments with customers in order to forge stronger relationships and more stable margins. The company also indicated they were auctioning off some hard drives which could result in a pleasant surprise in the company's next earnings release.
Seagate completed the acquisition of Samsung's hard drive in December of 2011 enabling the company to increase the volume of hard drives manufactured.
Competitors to Seagate include Western Digital (NYSE:WDC) and Fujitsu.
Seagate's stock price took a nice jump in price following the recent earnings release and conference call as shown below: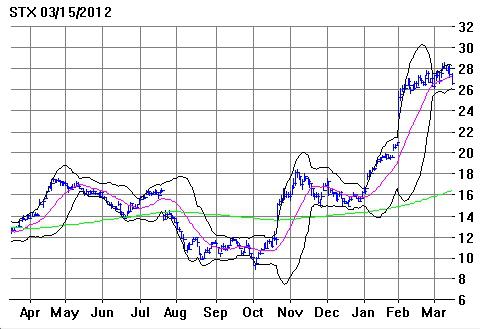 The protected covered call position is protected from a fall in price below the $24 price level due to the purchased 2012 Apr 24 put option.
Disclosure: I have no positions in any stocks mentioned, and no plans to initiate any positions within the next 72 hours.