When we look at ways to make money with weekly options, one of the most important things we need to address is how we approach time decay, which is a major factor since out options expire after seven trading days. A strategy that I have used and found successful is the credit spread. This type of play is also known as a vertical strategy. If done correctly, it uses time decay as an ally.
There are two types of directional plays. A Bear Call Spread can be used when a stock is neutral to bearish. A Bull Put Spread can be used when a stock is neutral to bullish. But, before either can be initiated, there are a couple of things a good investor should research.
Remember we are talking a very short term options play here so when we look at our stock we need to determine how we believe it will move in the next week. Let's take Apple as an example.
When I look at Apple's (AAPL) chart and how it has moved up, there are two things that stick out to me right away as I make my observations:
In its biggest move this year, AAPL moved from a low of 543 to 585. That is 42 points.
It is overbought and has been for 3 weeks.
There is a negative divergence in the RSI signaling a possible correction.
The Bollinger Bands are signaling a double top that also is a reversal sign.
As I am making my short term observations about market direction for Apple, I will take into account what I am observing on the charts and how far the stock has moved in the last week.
Remember, we are making a short term analysis of the stock through observation. All my observations are telling me that there is a good chance we are going to see a slow down in Apple's bullish movement in this next week-if not an out right correction. Since this is the case I will pick my strategy based upon making money when the stock is either neutral or going down. So I am going to use a Bear Call Spread.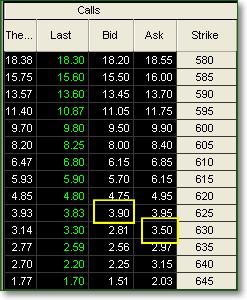 The next thing we need to do is pick the options we are going to sell and buy. Keeping in mind that Apple has moved as much as 42 points in a single week lately I am going to look around this level first. It will give me the best protection against a prolonged move up in the stock again. Since it is presently trading at 585.56, I will look at the 625 option level. That is 40 points out. Here's the play:
Sell the March 23rd '625' call option (priced at $3.90)
Buy the March 23rd '630' call option (priced at $3.50)
Net Credit to Start: $0.40 -or- 8%
This is how to initiate a weekly option strategy using time decay as an ally. Our strategy would be to allow the options to expire worthless by Friday, March 23rd. As with all options plays, it is important to have a predefined risk management plan to go along with your trade. Not every trade goes your way. A well prepared trader will know how to exit the strategy ahead of time if it does not go the way you want it to.