One of the few long positions in my portfolio that has not performed well so far in 2012 is small gold miner Aurizon Mines (AZK). However, it did conclude a very successful FY2011. I believe the company's best days are ahead of it, and it should have a very strong rest of 2012. In view of this, I added to my position in the company late Thursday.
Key highlights for Aurizon Mines in FY2011:
The company produced record revenues of $260mm in FY2011, a 45% increase over FY2010.
Profits came in at just under $44mm, a stunning 155% increase over FY2010.
Operating cash flow came in at over $121MM, a 138% increase over FY2010.
Aurizon produced almost 46,000 ounces of gold in FY2011 with an average cost of less than $500/oz.
Aurizon Mines: "Aurizon Mines Ltd. engages in the acquisition, exploration, development, and operation of gold properties in North America. The company focuses on developing its existing projects in the Abitibi region of north-western Quebec, Canada. It owns a 100% interest in the Casa Berardi gold mine, a production-stage gold property located near La Sarre, Quebec; and a 100% interest in the Joanna gold project, a development-stage gold property located in the Abitibi region of Quebec." (Business Description from Yahoo Finance)
Four reasons why the company is a bargain at $4.50 a share:
The stock has long-term technical support (See chart below).
Click to enlarge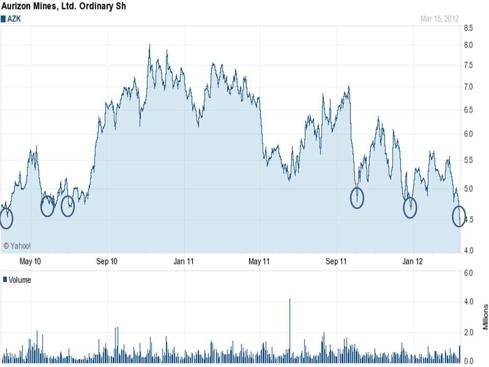 It ended its latest fiscal year with over $210mm in net cash on its balance sheet, which is over 25% of its market capitalization.
Earnings are expected by analysts to increase 50% in FY2012 on a better than 10% revenue gain.
The consensus price target of the five analysts that cover AZK is $7 a share.
Disclosure: I am long AZK.