Ability is a poor man's wealth.

- John Wooden
Part 4 (see part 1 and part 2 and part 3)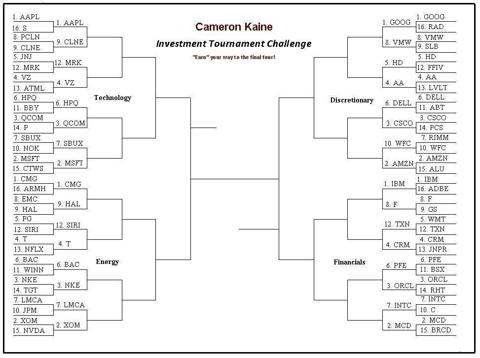 We have finally reached the point where the entire rremaining 32 teams have been set. In the first three articles we witnessed the thrills of victory as well as the agony that comes in defeat. Unlike tournaments of years past, so far this year each of the four top seeds in Apple (NASDAQ:AAPL), Google (NASDAQ:GOOG), Chipotle (NYSE:CMG) and IBM (NYSE:IBM) remain unscathed and showed why they were deserving of their No. 1 seeding as each advanced with relative ease against their over-matched opponents.
A few readers have sent me some notes expressing how they have enjoyed the investment tournament so far to the extent where a couple of readers were really surprised that Texas Instruments (NYSE:TXN) defeated Wal-Mart (NYSE:WMT). Remarkably, I was told that it was this victory that caused them to consider TXN as an investment. However, I reminded readers on the article that I recently sold out of my position in TXN feeling that it had gotten a tad expensive. But long term I still like the company a lot - one where I think it has a bright future in chips and is one of the best run companies around. I just expect in the near term it will be hard for them to compete with Qualcomm (NASDAQ:QCOM) and Intel (NASDAQ:INTC) and the valuation may suffer a bit. I'm a buyer at any price under $30, but not right now.
But overall, I appreciate the wonderful feedback that this series has generated. As I've said on part 3, there are a lot of parallels and similarities in investing to competitive athletics. Essentially, your portfolio is a team in and of itself that competes daily against other teams on the market where the prevailing objective is always trying to be on the right side of the trade. As the round of 32 is now under way heading into this weekend, let's take a look at the notable match-ups that investors should really keep an eye on.
Matchups to look for
Microsoft (NASDAQ:MSFT) Vs. Starbucks (NASDAQ:SBUX)
For the second round, as far as match-ups go, it cannot get any better than two industry leaders facing each other in software giant Microsoft facing off against coffee behemoth Starbucks. This one will be tough to pick but Microsoft will certainly have its hands full as Starbucks already has the advantage of its cups being in the hands of millions of coffee drinkers on a daily basis. I mean, what can be said about a company that can seemingly do no wrong?
As of this writing the stock has just reached another 52-week at $53.37 and appears to be heading toward the $60 mark. It seems as if investment firm Deutsche Bank agrees as it recently raised its price target of Starbucks to $61 after gathering feedback on the launch of the company's lighter-roast coffee option called "Blonde." The firm found the results encouraging given Starbucks' limited marketing spending. The question is will this be enough to fend off Microsoft?
The software giant has excited me all year but the excitement has been taken up an extra notch as it approaches its release of Windows 8 - an event that I have recently stated will add $8 to its share price. However, the biggest impact in my opinion is going to arrive with the company's cloud strategy - something that I think already sets it apart from other names such as Oracle (NASDAQ:ORCL) and IBM (IBM). Its cloud initiative has been ongoing as several of its most popular titles are becoming available on a subscription basis instead of the typical software box.
That said, I have come to realize that its cloud strategy comes in all forms, but none will be as significant as its Azure platform, one that is designed to be open and flexible that enables users to build, deploy as well as manage applications across global networks. From an investment standpoint, at $32 and trading at a P/E of 11, value investors with 12-24 month investment horizons should consider giving the company a long look at current levels and expect that Windows 8 and Azure to bring in some significant gains. This should be an excellent game to watch to see which one will make it to the sweet 16.
Dell (NASDAQ:DELL) Vs. Cisco (NASDAQ:CSCO)
This match-up faces off two technology bellwethers in networking giant Cisco and computer giant Dell. Interestingly, these two also are rivals off the court and in the corporate enterprise. Both firms have had their respective struggles recently but it appears as if the concerns are behind them and their recent performances have shown that they are once again ready to compete for market share against rivals such as Hewlett Packard, Juniper (NYSE:JNPR) and F5 (NASDAQ:FFIV).
Earlier this week, Cisco opened some eyes with a case study that demonstrated the growth potential of networking/data demand going as far as into 2016. It is hard to imagine another company that is in more equipment to capitalize on the opportunity than one that conducted the study. Cisco has operated in such a more efficient way that the company is now well positioned to grow its business while also tackling new markets. With the stock now trading right at $20 and a relatively small P/E of 15, it is clear that Cisco is not being valued as the tech bellwether that it is. The company will likely see a $25 - $30 price tag at some point during the year.
As much optimism as I have for in this tournament for Dell, I realize that Cisco will be extremely hard to beat. The company reported Q4 earnings that arrived with little fanfare as it missed several analyst estimates. Although the company did show considerably better numbers from its corporate business unit, those numbers were offset by weakness in the division that caters to public businesses. Net income for the quarter fell 18%, to $764 million, or 43 cents a share, compared with $927 million, or 48 cents a share, in the year-ago period. Excluding one-time items, it earned 51 cents a share, 1 cent short of the 52 cents analysts were expecting. Revenue rose 2%, to $16 billion, in line with the average analyst estimate of $15.96 billion.
The numbers were not that inspiring, but they were not horrible either. I think Dell continues to get unfairly punished because it is not Apple. But as long as it can demonstrate that it can run its business effectively, it will begin to regain the confidence of investors as well as that of Wall Street. Admittedly, I will say that I don't give it much of a shot against Cisco, but there has been a couple of upsets already in this tournament so anything can happen.
Hewlett-Packard (NYSE:HPQ) Vs. Qualcomm (QCOM)
As with Cisco, Hewlett Packard is another company that realizes the opportunity that will be presented by this increased network demand. HP advances after having knocked off electronics retailer Best Buy (NYSE:BBY) in dominant fashion in the first round. But it now has to get by chip giant Qualcomm which now stands in its way of a sweet 16 birth. For HP, not only is it well positioned from the standpoint of its network advantage with its Converged Infrastructure solution, but the company is also dominant in servers, printing, services as well as enterprise security. And when you add the fact that it has its own tablet device the touchpad, it makes HP even more intriguing as part of a long term portfolio play.
As great as HP looks, I continue to wonder if it will it have enough to hold off surging Qualcomm - a company with a tremendous business in a fast growing industry. Furthermore, as evident by the results in its latest quarter, it is clear that its management knows exactly what it is doing and should be able to sustain the level of performance. Though its sitting at its 52-week high analysts continue to want to send the shares higher and management would love nothing more than to oblige. One such analyst is S&P's James Moorman who recently reiterated a buy rating on Qualcomm while setting a 12 month price target of $77.
I took a lot of heat for doubting that the company would be able to sustain its momentum when I sold, but it has indeed proven me that it has just enough as it completely demolished music streaming giant Pandora (NYSE:P) in the opening round. This should make for an interesting match-up, but it is hard to think that HP would not be able to pull this one out.
Summary
We certainly have had a lot of intrigue in the first round, but these upcoming match-ups should prove that the real drama is yet to come. See you next week and we continue our march on to the final four.