Quite the story could be written if you take each and every article about Sirius XM (NASDAQ:SIRI) and Pandora (NYSE:P) and bind them all together into a book. My guess is it would be thousands of pages long, and give little kids nightmares and parents headaches. Although so many people have read it, it seems only an intelligent few can predict the end.
This is not to say I'm intelligent. More often than not I'm the adult with the headache, or sometimes even the child with the nightmares. To me it seems the writing is on the wall here, and even though there may be 100 pages left, it's fairly obvious to me who will be alive and kicking at the end, and who will lay motionless and still on the ground.
To make money you want to be on the side of a winner. To make even more money you want to invest in a loser's failure. Because of this, there are two plays right now that deserve your attention.
Sirius XM : Winning!
You can cue the Charlie Sheen battle cry right here. Sirius XM is on a solid and steady path forward and upwards. They have a promising year ahead of them, and have been on a steady climb since last October when they bottomed out in the midst of America's apparent credit crisis that never really was. Consider the factors that will make 2012 a great year for Sirius XM:
A modest price increase that should drive the bottom line.
An increasing subscriber base, at a pace of over a million per year.
Improving auto sales numbers and forecasts, driving additional possibilities for new subscribers.
Increased penetration into used automobiles, again, driving subscribers.
Roll out of Satellite Radio 2.0 (not speaking of new radios, but rather the evolution of satellite radio itself).
The "clamp" effect of Liberty (NASDAQ:LMCA) now being able to make a move, and thus making shorting with serious money a very dangerous affair.
Likely increases to guidance soon, either before the first quarter conference call, or within it.
Simply looking at the basic chart, anyone can clearly see the trajectory Sirius XM is on. It's up up and away, and I feel that there are great gains to be made moving forward.
Click to enlarge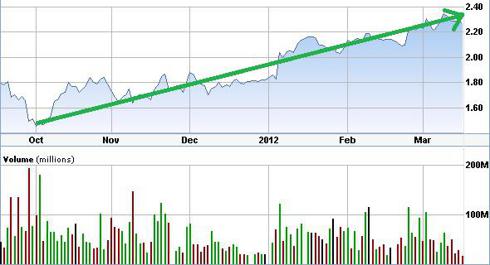 Click to enlarge
I continue to add to my position in Sirius XM as cash becomes available. I also invest monthly in call options to increase my exposure and potential gains. My suggestion? The stock is still a great buy as of the writing of this article at $2.27, and should be entertained as a strong buy as Sirius XM flirts with historical resistance around $2.35. Sirius XM is poised for a break out.
Pandora Media: A Crying Shame
I say crying shame here because it really is. For what is actually a cool little idea called the Music Genome Project, it just doesn't translate into a viable company today, and the stock has been reflective of the poor performance to date and poor guidance going forward. Consider the factors that will make 2012 a tumultuous year for Pandora:
Reliance on a mobile data infrastructure that just is not ready for them.
Reliance on audio advertising in a space which is generally untested.
A recent quarterly report of misses and lower guidance chock full of expected losses moving forward.
It is my opinion that the "free" model holds little to no customer loyalty. Ask yourself, what is the reason to stay if you are not invested in the product beyond the cool factor? What happens when something else is cool, and Pandora is not?
Likewise, there is no hook to keep users tied to Pandora. The Music Genome Project is not enough of a hook.
Low cost to entry for competitors. No walls, no moat, no barriers to entry for this company and thus, no safety in investment.
Looking at Pandora's chart since IPO, anyone can clearly see the trajectory that Pandora is on. It's down down down through the floor, and I feel that there are major losses coming very soon as the stock flirts with support at $10.
Click to enlarge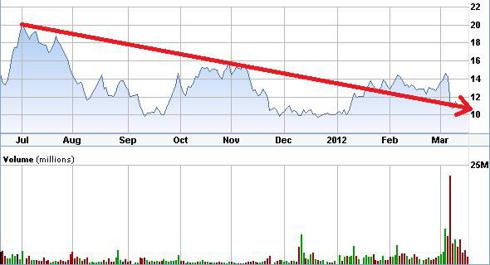 Click to enlarge
I continue to consider buying puts or shorting the stock. I can't count the times I have suggested doing so, and then looked at the drops in the share price and wanted to kick myself for not taking my own advice. I have conviction that Pandora will fail, and am watching for one more "up" day to again entertain a short position. If I were to open up a short position it would be through put options with a medium term (3 to 6 months out) and one step in the money.
Summary
Each stock above affords an opportunity to make money in opposite directions. The question is, do you invest your capital with Sirius XM, and aim to make money by shooting for the stars? Or do you invest your funds in Pandora's trip to the grave, and aim to make money on the burial of a failed experiment? I think either way, you can't lose, and these are great plays for Friday and looking ahead.
Disclosure: I am long SIRI.
Additional disclosure: I am long SIRI June $2 calls.