Wynn Resorts (WYNN) develops and operates casino resorts in Las Vegas, Nevada, and Macau, China. Its resorts are marketed luxury resorts and touted as expensive. The revenue breakdown is interesting. While Las Vegas brings in about 31% of the revenue; 70% of WYNN's assets are there. Macau brings in 69% of the revenue, only 30% of its assets are there. 57% of the company's costs come from Las Vegas. Macau is by far a more profitable location.
The rift between Wynn Resorts and Kazuo Okada (a former business partner of Wynn Resorts) that started in January has escalated with the dismissal of Mr. Okada (on grounds of shady business practices) and now is embroiled in lawsuits and counter lawsuits. Bad press for the resorts but will it have any affect upon the value of the stock?
The stock has been moving up since the end of 2011 when it found support at about 101. We have had a 28% growth since the beginning of the year. There is good reason for this. In a global economy where businesses are struggling, Wynn Resorts showed record profits year over year from 2010 and 2011. Suman Chatterjee wrote an article at Seeking Alpha and mentioned the financial report of Wynn Resorts:
The income from casino shot up to $4.2 billion in 2011, from $3.24 billion in 2010. Even hotel rooms fetched around $72 million more than that in the last year. Operating income improved to $1 billion in the last year, compared to $625 million in 2010. Net income rose to $825 million in 2011, against $337 million in 2010.
Considering the economy has been announcing good news in a slow recovery phase, there is no reason these profitable numbers should not keep climbing. For this reason, we are still bullish long term on Wynn Resorts and are looking for a short-term play this year using options to add income to our portfolio. We like spreads and here we would use a Bull Call Spread.
(Click chart to enlarge)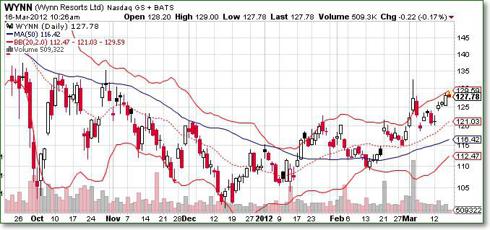 The Options Play
When we look at the daily chart of Wynn Resorts, we see a peak and valley pattern consistently moving to the top and bottom of the Bollinger Bands. Currently the stock is at the top of the band, and this increases the probability of a move down to the lower end. If this happens, it could drop as far as 115-117. If we are going to make a play right now that is bullish, we will need to keep this in mind to give ourselves plenty of time decay room. Currently trading at $128.20, here is our play:
Buy the September 2012 '130' call option (priced at $13.55)
Sell the September 2012 '135' call option (priced at $10.50)
Net Debit: $3.05
Maximum Profit: $1.95
Reasoning behind the Trade
With the banner financial years in 2010 and 2011, 2012 should be just as good since signs of economic recovery have consistently been showing up.