The Economic Cycle Research Institute (ECRI) - a New York-based independent forecasting group - released its latest readings for its proprietary Weekly Leading Index (WLI) today.
For the week ending March 9, 2012:
WLI is 125.1, up 0.5 from the prior week's revised reading of 124.6.
The lowest reading for WLI on record was 105.3 for the week ending March 6, 2009.
WLI growth rose to negative 1.4%, up from last week's revised higher reading of negative 2.1%
The lowest reading for WLI growth on record was -29.9% on December 5, 2008. It turned higher months before the stock market [S&P 500 (NYSEARCA:SPY)] bottomed on March 6, 2009, at 666.79.
WLI made a 31-week high. It has not been this high since August 5, 2011, when it was 128.5.
WLI growth made a 29-week high. It has not been this high since August 19, 2011, when it was a negative 1.0.
(click charts to enlarge)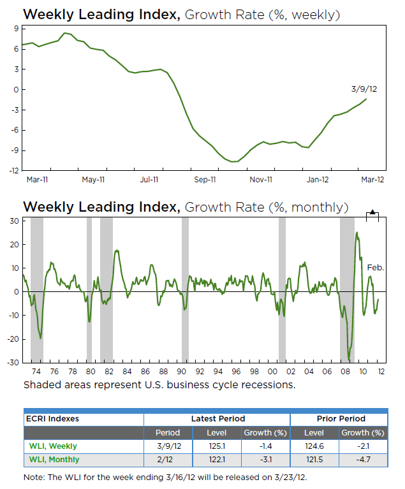 Click to enlarge
Yesterday in an article "Why ECRI Stands By Their Recession Call" ECRI explained why it remains bearish on the US economy and continue to predict a recession.
In contrast to the 3% GDP growth widely reported for the latest quarter, year-over-year growth in GDP, after peaking at 3½% in Q3/2010, has basically flatlined around 1½% for the last three quarters.
It says problems with seasonal adjustments to the data make it appear better than it is. ECRI says year-over-year data show the economy is much weaker.
Most data, both public and private, are seasonally adjusted. But the nature of the Great Recession seems to have had an unexpected impact on the statistical seasonal adjustment algorithms that are hard-wired to detect when the seasonal patterns evolve and change over the years. .... Our due diligence on this subject indicates a widespread problem, resulting in many recent economic headlines being skewed to the upside.
Two weeks ago ECRI's Co-Founder and Chief Operations Officer, Lakshman Achuthan, said a recession should begin by mid-year 2012. He says revisions in the data might say a recession has already started, just like the last recession. If the recession is starting now, then the consensus should figure it out in about six months (August.)
Chart of WLI and WLI growth vs. GDP Growth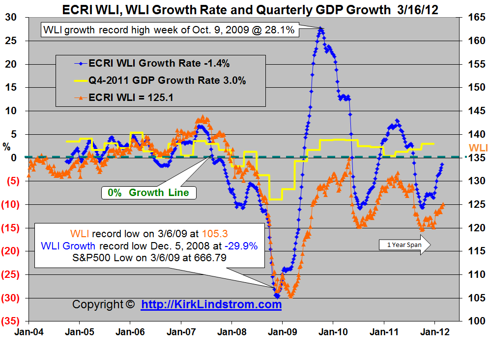 Click to enlarge
Since ECRI releases WLI numbers for the prior week, and the stock market is known in real time, you can sometimes get a clue for next week's WLI from the weekly change in the S&P 500 or its exchange traded fund, SPY. Notably, in the lead-up to the last two recessions, the WLI turned down months before the stock market did.
Chart of S&P500 vs. ECRI's WLI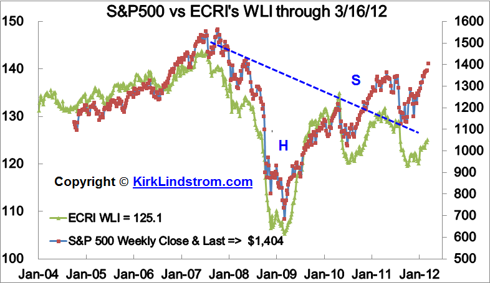 Click to enlarge
Note that the chart above of the S&P 500 vs. WLI shows a breakout of the S&P500 above the dashed blue line that represents the neckline for a "Head and Shoulders Bottom" pattern. This is a very bullish pattern. A pullback to this neckline during a global slowdown projected by ECRI would not invalidate the bullishness of this pattern but it appears we already had a test of this support line from above last year and the market has moved on.
It would be something if future calculations of GDP show Q4-2011 and Q1-2012 were recessionary, and then the economy recovered as the stock market seems to be predicting.
Whatever the case, I continue to believe caution is in order. I continue to take profits in equities as the market rises so my "explore portfolio" is about 2/3rds in equities and 1/3 in fixed income now and up 10.6% YTD. I think it is never wise to be "all in" the stock market with no cash cushion to buy corrections and bear markets. Likewise, anyone "all in" fixed income is probably losing to inflation unless all in TIPS (NYSEARCA:TIP).
I am not alone in liking to have cash to take advantage of opportunities. Warren Buffett, CEO of Berkshire Hathaway Inc. (NYSE:BRK.B), ended 2011 with $37.3 billion in cash on hand (link), which is 19% of its current $201 billion market cap.
Notes:
Occasionally the WLI level and growth rate can move in different directions, because the latter is derived from a four-week moving average.
ECRI uses the WLI level and WLI growth rate to HELP predict turns in the business cycle and growth rate cycle respectively. Those target cycles are not the same as GDP level or growth, but rather a set of coincident indicators (including production, employment income and sales) that make up the coincident index. Based on two additional decades of data not available to the general public, there are a couple of occasions (in 1951 and 1966) when WLI growth fell well below negative ten, but no recessions resulted (although there were clear growth slowdowns).
For a better understanding of ECRI's indicators, read its book, "Beating the Business Cycle."
SPY is the exchange traded fund for the S&P 500 Index.
Disclosure: I am long SPY.