Chesapeake Energy (NYSE:CHK), which originally started as a small company with only 10 employees, has grown into a natural gas giant. Founded in 1989, the Oklahoma City-headquartered Chesapeake is the second largest natural gas producer in the U.S. It is also among the top 15 oil and natural gas liquid producers.
Chesapeake has vertically integrated its business model through its subsidiaries. Chesapeake Midstream Partners (CHKM) is among the most well-known affiliates of Chesapeake Energy. Recently, CHKM announced that it will acquire the Marcellus Shale assets from its major partner, Chesapeake Energy, for $865 million. The recent acquisition is a part of Chesapeake Energy's long-term plan to expand the partnerships' pipeline assets. As Chesapeake's CEO, Aubrey K. McClendon states:
Combined with our Springridge Haynesville asset sale of $500 million in December 2010, we have now dropped down gathering assets of approximately $1.4 billion into CHKM.
Chesapeake is among the leading producers in the Barnett, Haynesville, Bossier, Marcellus, and Pearsall natural gas shale plays. The company also has significant investments in unconventional liquid plays. Thanks to the rising natural gas prices, the company has enjoyed double-digit growth rates between 2003 and 2008. At its peak valuation, the stock was trading for $70, which suggests a market cap of almost $50 billion. However, due to the sharp reduction in natural gas prices, Chesapeake's market cap has been slashed by 70% since 2008.
As of the time of writing, Chesapeake stock was trading at $24.44 with a 52-week range of $20.41-$35.75. It has a market cap of $16.3 billion. Trailing twelve-month P/E ratio is 11.06, and forward P/E ratio is 8.28. P/B, P/S, and P/CF ratios stand at 1.2, 1.6, and 3.1, respectively. Operating margin is 25.1% and net profit margin is 13.5%. The company has some debt issues. Debt/equity ratio is 0.9. Chesapeake is an okay dividend payer. Based on a quarterly dividend of 8.75 cents, the current yield is 1.4%.
Chesapeake has a 4-star rating from Morningstar. Out of eight analysts covering the company, three have a buy rating, one has outperform, and four have hold. Wall Street has diverse opinions about the company's future. The average five-year annualized growth forecast estimate is 9.8%. Given the company's extensive assets and aggressive growth policy, I think this is an attainable target.
What is the fair value of Chesapeake given the forecast estimates? We can estimate Chesapeake's fair value using discounted earnings plus equity model as follows.
Discounted Earnings Plus Equity Model
This model is primarily used for estimating the returns from long-term projects. It is also frequently used to price fair-valued IPOs. The methodology is based on discounting the present value of the future earnings to the current period:
V = E0 + E1 /(1+r) + E2 /(1+r)2 + E3/(1+r)3 + E4/(1+r)4 + E5/(1+r)5 + Disposal Value
V = E0 + E0 (1+g)/(1+r) + E0(1+g)2/(1+r)2 + … + E0(1+g)5/(1+r)5 + E0(1+g)5/[r(1+r)5]
The earnings after the last period act as a perpetuity that creates regular earnings:
Disposal Value = D = E0(1+g)5/[r(1+r)5] = E5 / r
While this formula might look scary for many of us, it easily calculates the fair value of a stock. All we need is the current-period earnings, earnings growth estimate, and the discount rate. To be as objective as possible, I use Morningstar data for my growth estimates. You can set these parameters as you wish, according to your own diligence.
Valuation
Historically, the average return of the DJI has been around 11% (including dividends). Therefore, I will use 11% as my discount rate. In order to smooth the results, I will also take the average of ttm EPS along with the mean EPS estimate for the next year.
E0 = EPS = ($2.21 + $2.95) / 2 = $2.58
Wall Street holds diversified opinions on the company's future. While analysts tend to impose subjective opinions on their estimates, the average analyst estimate is a good starting point. Average five-year growth forecast is 9.8%. Book value per share is $21.20. The rest is as follows:
Fair Value Estimator

V (t=0)

E0

$2.58

V (t=1)

E0 (1+g)/(1+r)

$2.55

V (t=2)

E0((1+g)/(1+r))2

$2.52

V (t=3)

E0((1+g)/(1+r))3

$2.50

V (t=4)

E0((1+g)/(1+r))4

$2.47

V (t=5)

E0((1+g)/(1+r))5

$2.44

Disposal Value

E0(1+g)5/[r(1+r)5]

$22.21

Book Value

BV

$21.20

Fair Value Range

Lower Boundary

$37

Upper Boundary

$58

Minimum Potential

52%

Maximum Potential

140%
I decided to add the book value per share so that we can distinguish between a low-debt and debt-loaded company. The lower boundary does not include the book value. According to my 5-year discounted-earnings-plus-book-value model, the fair-value range for Chesapeake is between $37 and $58 per share. At a price of $24.4, Chesapeake is trading at a significant discount. The stock has at least 50% upside potential to reach its fair value.
Peer Performance
With a return of -28.58% in the last 12 months, Chesapeake performed worse than all of its peers. Among the natural gas and oil producers, Cabot (NYSE:COG) was the top performer with an annual return of 40.96%. Its performance is followed by EOG Resources (NYSE:EOG) which returned 11.40% in the same period. Devon (NYSE:DVN) and Apache (NYSE:APA) dissappointed their shareholders with negative returns of -14.43% and -5.45%.
Performance Report

Company

Week

Month

Quarter

Half Year

Year

YTD

Apache

-0.40%

-0.42%

16.04%

13.66%

-5.45%

18.28%

Chesapeake

-0.57%

7.62%

4.71%

-21.92%

-28.58%

10.09%

Cabot

-5.73%

-5.63%

-13.12%

-5.65%

40.96%

-12.89%

Devon

0.82%

8.74%

14.78%

12.66%

-14.43%

17.32%

EOG Resources

1.07%

1.65%

17.57%

32.24%

11.40%

17.56%
My FED+ valuation suggests that Chesapeake is not the only undervalued company among natural gas companies. Apache, which trading at single-digit P/E ratios, is deeply undervalued with significant upside potential. Devon looks like fairly valued with a forward P/E ratio of 9.8. Cabot Oil & Gas and EOG Resources seem to be overvalued. These stocks have rich valuations compared to other natural gas & oil stocks in the business.
Technicals
Click to enlarge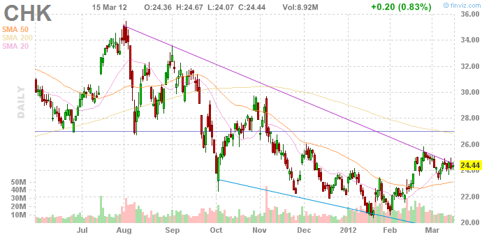 Click to enlarge
From a technical perspective, Chesapeake is trading in a downward channel. While $22 looks like a solid support, it has been broken several times in the past. The stock recently crossed its 50-day moving average, which could be interpreted as a bullish sign. If SMA50 crosses SMA200, then we might observe a huge bull run. Those, who trade on technical indicators, should look for the stock's behavior near $27, as this price is a strong local resistance point.
Summary
Natural gas stocks are among my favorite plays. The world is bullish on natural gas, yet its use is limited to households in the U.S. There is an increasing trend to transform traditional vehicles into natural-gas vehicles. Mercedes and Chrysler have already expressed their interest in selling natural gas vehicles in the U.S. markets.
As Stone Fox Capital suggests, there is a significant discrepancy in the price of natural gas between the U.S. and the rest of the world. Natural gas prices have fully recovered in Japan, and have been increasing steadily in the U.K. Contrary to the world trends, the gas prices did not show any sign of recovery in the U.S. Recently, Blackstone announced a $2 billion investment in Cheniere Energy Partner's (NYSEMKT:CQP) gas-liquefaction plant in Sabine Pass. That is a bold move by Blackstone, as Cheniere has generated less than $300 million in revenues in last year. Apparently, Blackstone's investment managers realized the price discrepancy in global natural gas prices.
With the establishment of international trade, the natural gas prices in the U.S. will start converging to with world prices. Even the expectation of higher natural gas prices can push natural gas producers, such as Chesapeake Energy, to significantly higher valuation levels. Besides, after losing two-thirds of its market cap, the stock looks like a bargain. Based on my FED+ valuation, it is undervalued by 35%. The stock has at least 50% upside potential to reach its fair valuation range.
Disclosure: I have no positions in any stocks mentioned, and no plans to initiate any positions within the next 72 hours.