While not many people are familiar with the name Unilever (UL) , most people are familiar with brands such as Axe, Knorr, Lipton, and Dove among many others that belong to Unilever. The British-Dutch company is known for a large variety of consumer products and it continues to post strong growth despite its already large size.
Well Known Brands
The company has 12 brands with a revenue over $1 billion and many other brands with less revenue. In savoury, dressings, tea, ice cream, spread and deodorant markets, the company enjoys the top spot. In laundry and hair-care markets the company's brands are number 2 in the world. At the end of the day, the company is among the top 2 companies with market share in the world in 80% of the business segments it operates.
Revenue Diversification
The company has a very well balance of sources of revenue. Even though Unilever is based in Europe, only 29% of the company's revenue come from the continent. Overall, a third of the revenue comes from North and South America, and another third of the revenue comes from Africa and Asia including Russia. This is why an economic slowdown in any one part of the world will not hurt the company much. Currently only 46% of the Unilever's revenue comes from developed nations whereas 56% come from developing and emerging countries. Since 1986, the share of emerging markets in Unilever's total revenue has been increasing every year. Everyday, 2 billion people from 190 countries use at least one of Unilever's products.
Future Opportunities
In the next decade, the company's goal is to double up its size by increasing profit margin, free cash flow and unit sale volume significantly. The company has an "innovation rate" of 30%. In other words, Unilever is able to come up with 3 products every year for every 10 products in its portfolio.
In deodorant market, Axe/Lynx is growing strongly. This brand is being sold in nearly 100 countries, and every year at least one new product is released to the market in over 50 countries. Axe/Lynx products receive strong demand all over the world and will continue to do so in the future. Rexona Men is another well-known brand of Unilever's deodorant segment. In 2011, this brand's market exceeded 50 countries. Similarly, Dove Men & Care is another brand with a market in over 40 countries. In the next decade, these brands will be available in well over 100 countries, driving growth for the company.
In the oral care segment, the company's toothpaste brand Signal is doing very well. Signal Sensitive Expert is one of the company's latest products. This product treats tooth sensitivity, strengthens gums and offers strong cavity protection. In the countries it is released, the product is seeing strong demand, which indicates that it will see similar demand in additional countries in the near future.
The company's ice cream segment launched its Magnum brand in U.S. This is a well-known brand with a lot of demand overseas. Also, the company launched Cornetto Enigma in Europe. These two products will drive growth in these two markets.
Partnerships & Acquisitions
Unilever spent significant capital to buy personal care brands from Sara Lee, Concern Kalina and Alberto Culver companies in order to increase its product portfolio. In 2012, the company will launch at least 100 new products all over the world.
The company has ongoing partnerships with some of the largest chain stores in the world, such as Wal-Mart (NYSE:WMT), Tesco (OTCPK:TSCDY), Ahold (AHONY.PK) and Carrefour (OTCPK:CRERF). Unilever's products are distributed evenly in all of these stores to make sure customers have continual exposure to these brands.
(Click to enlarge)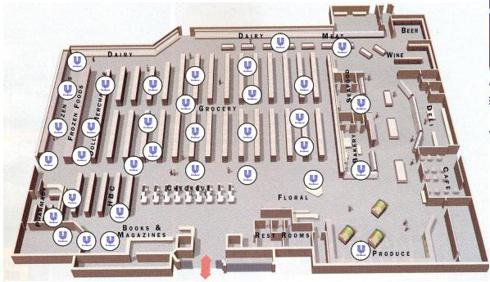 R&D for Growth
The company has 6 locations all over the world called "Customer Insight and Innovation Center." One of these locations is in U.S., another one is in Brazil, two are in Europe, and two are in Asia. These centers do extensive research in order to find out what customers want and how to improve the company's current products to meet those needs. These centers also focus on marketing efforts in order to figure out the best practices to increase the image of Unilever brands.
Emerging Markets
By 2020, the number of washing machines in BRICS is expected to grow by 230%, the number of fridge freezers is expected to grow by 190% and the number of microwave ovens is expected to grow by 130%. This relates to Unilever because many of the company's products relate to either one or another of these things. Usage of Unilever products should grow in a similar pattern to growth of usage of these items.
While many international companies are too busy with Asian market to look beyond, Unilever sees a lot of potential in Africa. The company has been investing in the continent for more than 100 years. In Africa, population is growing faster than everyone else, and because many African countries are in early stages of development, there is a lot of room for growth. In South Africa and Kenya, Unilever enjoys a market share of 50% in most of its products. In other African nations like Nigeria, the company's market share is about 25-30%. In the last 5 years, Unilever's African revenue increased by 53% from €1.5 billion to €2.3 billion.
A Word on Dividends
The company's dividends have been raising almost every year since 1979 and in the rare years it didn't increase, it did not decrease either. However, keep in mind that Unilever's dividend distributions are in euro currency and exact amount an American investor will receive will depend on the exchange rates at the day of payment. The company's current dividend yield is a handsome 3.70%.
A Word on Competition
Because Unilever produces so many products in so many sectors, it has many competitors from all sizes. Some of the larger competitors of Unilever include Johnson and Johnson's (NYSE:JNJ) consumer health segment and P&G (NYSE:PG). The company also competes with Colgate-Palmolive Company (NYSE:CL) particularly in oral hygene products.
I believe that all these companies are strong with good opportunities. I already have posted articles about P&G and Johnson & Johnson. In the growing consumer health market, there is room for growth for all the major players.
Conclusion
Currently the company is enjoying a P/E ratio of 17.79, which is lower than P&G's 19.91 and Colgate-Palmolive Company's 19.31. I believe that Unilever is a stock with a lot of potential. I would particularly recommend it to dividend investors. Moreover, Unilever can also be your safe exposure to African markets in case you are interested in this particular market but don't know any good African companies to invest in. While Unilever is not an African company, it will obtain significant portion of its growth from African nations in the next decade.