In a disturbingly bizarre move, SMF Energy (NASDAQ:FUEL), a company I previously discussed on Seeking Alpha announced that it was suspending its dividend program until further notice "in light of a substantial reduction in projected sales and earnings for the current fiscal quarter and future periods." The explanation is vague and includes reference to the company's "considering an overhaul of its business model to permit it to drastically reduce its back office and interest expense in order to better match the Company's total expenses with its revenues."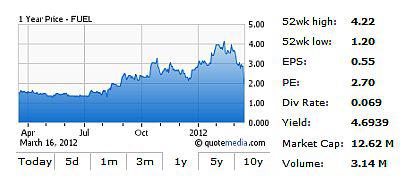 OK. That hurts but it's not the end of the world. Stuff happens. This isn't the first disappointment I've seen and it won't be the last.
What's bothersome here, however, is the fact the 3/16/12 announcement comes so quickly after a 15% dividend increase on 1/12/12, a move that at the time was said by the company to underscore "our confidence in the financial strength and growth prospects of our company."
This surprising chronology, coupled with the resignation of an outside director who came aboard on 2/7/12 and the need for a board committee to "examine the discontinued pricing structure and will report its findings to the shareholders when that examination is complete," is highly troubling. As to the director's resignation, the news release stated that it was grateful for his brief service but "acknowledges the unfairness of burdening him with the additional time and effort that Board service will entail over the next several months as the Board seeks to offset the anticipated downturn in revenue and earnings" (so my assumption, here, is that even as recently as February 7th, key SMF executives and its directors were under the assumption that all was normal and all was fine).
Here's another disturbing consideration, one I find most difficult to digest: When companies experiencing downturns need to improve their operations, it's a job for managers and executive officers, not the board of directors. Hence the appointment of a board committee to do this scares the heck out of me.
I have no fear of business disappointments. Over the years there have been many times I've held stocks through long periods of trauma and often wound up emerging well at the end of the day. And sometimes, I had to give up and bail. Either way, I don't typically make snap judgments. But this situation is different. When a newly-installed outside director turns tail so as to avoid being buried with way more than he bargained for, and when directors rather than officers and managers are the ones who need to review a pricing strategy, that's something I'd rather observe from the grandstand.
Disclosure: I had been long, but sold in response to the developments discussed here.