Again Apple (NASDAQ:AAPL) breaks a record. The company with a market capitalization of $542 billion is bigger than the entire U.S. retail sector. Wal-Mart, the retail leader with $208 billion, is just a small fish compared with Apple.
Not bad at all for a company that has only a few fancy products.
As an experienced investor you would run away from this type of investment because hyped products could harm your portfolio in the end; especially when those fancy products become low margin commodities.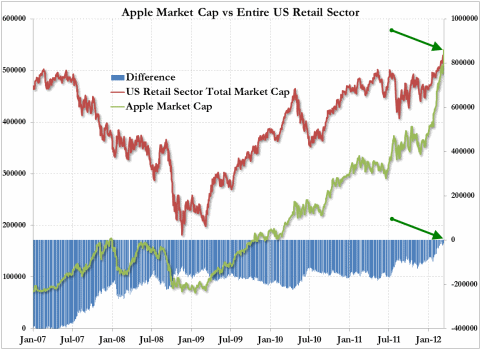 High yield?!
But, there are many experienced investors that have Apple in their portfolio. Today, The Wall Street Journal mentioned that many investment funds have a position in Apple that they were strictly not allowed to have. Several mid and small cap funds, but also high yield funds have Apple in their portfolio. This despite the fact that Apple hasn't yet paid any dividends to their investors.
It gets even crazier. Analyst Katy Huberty of Morgan Stanley sent a note to investors on Tuesday informing them that Apple had been added to the firm's Best Ideas list. The analyst continues to believe that investors "underestimate" Apple's strong position, raising her price target from $515 to $720. She also said the stock could climb as high as $960 by next March in a bull case scenario.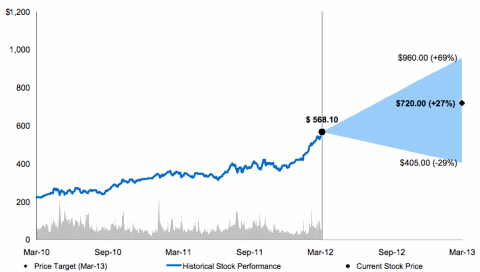 16, 6x earnings
These price targets are very wild, but Apple is still not very expensive according to Eddy Elfenbein from Crossing Wall Street. Despite the fact that Apple has the biggest market cap in the world, you could argue that it will get to one trillion one day. Elfenbein has put the earnings in a graph and here you can see why Morgan Stanley thinks $720 is a nice price target.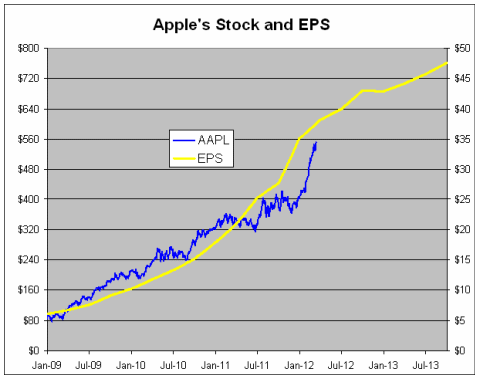 There is only one threat:
Users get bored and want something else than Apple. We all know what that means for the stock price. If we look to the analyst consensus, we can conclude Apple is top of the bill.
Buy: 33

Hold: 0

Sell: 0

Average price target: $618.83
Disclosure: I have no positions in any stocks mentioned, and no plans to initiate any positions within the next 72 hours.