It has been a long wait, but on Thursday, March 15, 2012, Activision Blizzard ATVI announced the release date for its new blockbuster computer game Diablo 3. The game is set to hit stores on May 15th 2012. Diablo 3 is a PC game only, and has been in development for over 10 years. The release date has been very highly anticipated by gamers worldwide.
Activision Blizzard and Gamestop GME are the two companies which could realize the highest amount of revenue from this game.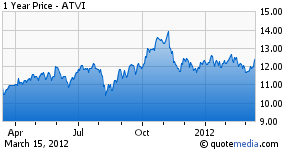 As the manufacturer, Activision Blizzard will profit not only from the traditional sales revenue through its distribution network, but also from selling the game electronically for the first time. This new form of sales directly to the consumer (cutting out the retailer) will allow the company to realize higher average profit margins. The costs of producing a physical game in a box is higher than selling it in an electronic format. Furthermore, by selling the game directly to the consumer, Activision Blizzard is able to cut out the middleman. This is not possible on other gaming platforms such as Microsoft's (NASDAQ:MSFT) Xbox and Sony's (NYSE:SNE) Playstation gaming consoles, where the customer needs the physical game to insert into the system. As such, Diablo 3 is purely a PC game thus a large percentage of sales will come directly through Activision and not through retailers such as Gamestop.
Although nobody can say for certain what 2012 sales will be, I am forecasting that at a minimum, at least 8 million copies of the game will be sold in the first year. A year after the release, I intend to write a follow up article and I believe that the 8 million customer target is reasonably accurate. I came up with the 8 million user number because of the success of Diablo 2. According to Wikipedia.com, Diablo 2 was "awarded a spot in the Guinness Book of World Records 2000 edition for being the fastest selling computer game ever sold, with more than 1 million units sold in the first two weeks of availability. As of August 29, 2001, Diablo II has sold 4 million copies worldwide. The game has received the "Computer Game of the Year", "Computer Role Playing Game of the Year", and "Game of the Year" awards from the Academy of Interactive Arts and Sciences at the 2001 Interactive Achievement Awards."
The video game industry is bigger than Hollywood! This game is truly epic and people have been waiting a full decade for the release. The market share consists of new younger gamers who were born years after Diablo 1 was released and were too young to play Diablo 2. The demand for Diablo 3 also consists of older gamers who played the first and second versions of the game. The gaming industry has expanded at an exponential rate since 2001. Furthermore, the largest market is China, and the demographic consumer market there is greater in size today than it was 10 years ago when Diablo 2 was released.
The first time sale to the consumer of Diablo 3 is not the only revenue stream for Activision Blizzard. For the first time, ATVI has produced a game with "real money" being incorporated in the game. But before explaining the economics of the real money within the game, let me explain what Diablo 3 is.
Known as a MMORPG (massive multi-player online role playing game) players create characters who gain stats, levels, and items. These items traditionally could be traded between players. Now for the first time, a real money system has been integrated into the Diablo series.
As of right now, the real money fee is $1.25 per item (which is a transaction fee that players pay to use real money to sell in game items.) The game has incorporated Pay-Pal as the third party vendor which facilitates the transition of real money being allocated into the game. ATVI doesn't charge players to play the game online like WOW (World of Warcraft). As such, ATVI has come up with this alternative revenue stream as opposed to charging players a monthly subscription fee.
Nobody really knows how profitable this new trading system will be. At $1.25 per item, Activision Blizzard is eliminating the real money market in the game for most of the items, as each item would have to sell for more than $1.25 per item for gamers to see a profit. As such, only the highly valuable items will go through the real money network, which are fewer in supply.
I am estimating conservatively that the revenue from the in-game real money trading will be $11 million dollars per year. I am basing the $11 million on an average of 25 thousand items being sold in the real money market system within the game every day.
Diablo 3 is retailing for $60 for the regular version and $100 for the collectors version. To put some financial metrics together, if the one year sales of the game reach 8 million copies, then ATVI will have additional revenue of at least $480 million (minus expenses). That equates to a per share value of $.42 (480,000,000/1,144,220,000) plus whatever revenue the in game trading amounts to (minus costs of production shipping and other costs.) These numbers are approximate at best. However, the $100 collectors edition as well as the shirts, hats, cups, videos, and real money system within the game probably will end up equating to profits of $60 per customer on average.
If my numbers hold up, then ATVI will earn .42 cents per share on Diablo 3 sales. This would represent an increase of 45% (=.42/.92) to earnings. The current EPS is $.92
Activision Blizzard announced the release of Diablo 3 two months in advance. The company is offering special promotions to retain World of Warcraft subscribers and offering pre-orders online for Diablo 3. Activision Blizzard will sell (as a percentage) directly to the consumer, the highest volume that it has at any time in the past.
As a long-term strategy, ATVI produces other games and you can bet that it will come up with an expansion pack a few years after the initial release of Diablo 3.
Balance sheet
The financial picture for ATVI is interestingly positive. The company has a book value of $9.16 if you include goodwill and $2.95 without it, (which represents a substantial variance.) ATVI has EPS of $.92 and trades at a P/E of 13.57
Total Assets: 13,277.00 Goodwill: $7,111

Total Liabilities: 2,785.00

Total Shares Out: 1,144.22
Considering that the emerging markets (who love video games,) the domestic markets, and the financial position of Activision Blizzard, I believe that a purchase of the May $13 call options are a good strategy. Currently, the price of the $13 calls are $28, while the price of the $14 calls are $10. I closed a position of 25 May $13 call options Friday at a price of $28 per contract.
Buy 25x $13 May Calls @ $ 28 = $ 700
As Diablo 3 is released on Tuesday, May 15th, and the call options expire on Friday May 18th, I think that the shares will trade up in anticipation for the game, and spike after the game is released. I feel it wise to enter an opening position early at these levels.
Gamestop
With regards to Gamestop, the company is a gem. I fully intend on putting my unborn children through college on this stock. The issue is the short interest on the stock which is staggering. According to shortsqueez.com the total number of short interest is 54,847,900 shares. The company has 155,820,000 shares outstanding. A full 35% of the stock is short interest.
This company is either a value play or a value trap. The reason that over a third of the shares are shorts is because there are those who feel that its products are becoming obsolete. Increased costs across every industry do not spare Gamestop. Furthermore, the company has lost market share in a few of its divisions. The used game market was a big loss for the company. Computer game manufactures releasing blockbuster games like Diablo 3 being available as an electronic copy through the manufacturer is another.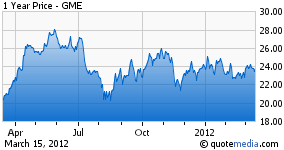 Other than computer games, hard copies of video games need to be purchased. As long as that is the status quo, Gamestop is going to make loads of money. There is no indication that the Xbox or Playstation will allow a user to purchase games without going to the store for the hard copy. Furthermore, the likelihood that the next generation of gaming consoles not needing physical games seems very small. This is due to the sheer sophistication, size, and types of data needed to run these games. The financial picture for Gamestop is as follows:
Total Assets: 5,432.60 Goodwill: 2,060.30

Total Liabilities: 2,469.50

Total Shares Out: 155.82
According to the financial data above, Gamestop has a book value of $19. If you eliminate goodwill, GME has a book value of $5.79. The company has EPS of $2.73 and a P/E ratio of 8.74x. The value that each reader places on goodwill for both ATVI and GME can be tweaked to configure an appropriate book valuation.
For Gamestop, the story of Diablo 3 is interesting. Gamestop bought out Electronic Boutique and is now the only major stand alone, game-only store (unlike Wal-Mart (NYSE:WMT), which sells everything.) If you ask your kids where they buy their video games, I bet they say EB Games or Gamestop. Serious gamers and amateurs alike do not shop for their merchandise at Wal-Mart, they go to the video game store. That store is Gamestop/ EB games, and they have cornered the market. In fact, under an economic analysis you could argue they could fall under oligopoly status.
Assuming that 8 million copies of the game are sold and Gamestop sells $1 million copies at a profit of $20 per game, would give the company profits of $20 million per year. That equates to $.13 cents per share. As such, for every million copies of Diablo 3 that Gamestop sells, this earns it $.13 cents per share on a $20 profit margin. A $40 profit margin would equate to $.26 per share. Therefore, if Gamestop sells a million games at $20 per game, it earns $.13 cents. Or, it could sell two million games at $20 or one million copies at a $40 profit to earn $.26 cents per share.
After further examination if we take the higher range of Gamestop profit against the revenue earned by Activision Blizzard (which is owned by the French conglomerate Vivendi SA (OTCPK:VIVEF), the appropriate course of action is to buy the $13 May call options in ATVI and trade them out for later expirations in May, while purchasing shares of GME for its value and enviable timing when the shorts get squeezed. Eventually the shorts will get squeezed, or will realize that people will not stop buying physical video games for a very long time and cover their shorts.
The difference in ATVI vs. GME is that Gamestop has guaranteed supply from the manufacturer's of video games. Diablo 3 isn't the only blockbuster that will be announced in 2012. As long as physical copies of games are needed, Gamestop will be a winner. Activision Blizzard is going to lose some paying subscribers who play WOW who trade up for Diablo 3. Diablo 3, and the expansion most likely to follow, will keep ATVI shareholders happy while GME is arguably one of the best value plays- if the shorts have it wrong.
Disclosure: I am long ATVI.