So far in 2012, several of the worst-performing shippers during the last two or three years have considerably outperformed the broader market. The shipping industry is one of the best-performing industries through the first seven to eight weeks of the year.
Nonetheless, this does follow a period of significant contraction. During 2011, several shippers fell by as much as 80 percent, and several started off 2011 at a significant reduction to their valuations prior to the onset of global economic concerns in 2008 and 2009. Many shippers have high levels of debt and betas, with extreme sensitivity to changes in global demand, making shipping one of the most volatile industries
Below are equity performance review statistics for six publicly traded, high beta, low price shippers: DryShips (NASDAQ:DRYS), Eagle Bulk Shipping (NASDAQ:EGLE), Excel Maritime Carriers (NYSE:EXM), Genco Shipping (NYSE:GNK), Navios Maritime Holdings (NYSE:NM) and Overseas Shipholding (NYSE:OSG). Several other comparable shippers certainly do exist. I have included their 1-week, 2012-to-date, 6-month and 1-year equity performance rates.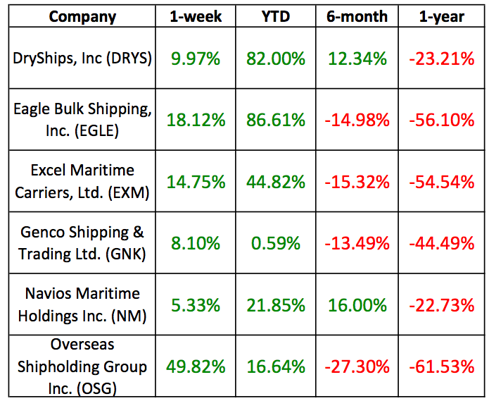 So far in 2012, these listed shippers have appreciated by an average rate of 53.51 percent, making it one of the best performing industries within Q1 of 2012. Nonetheless, the group is down 7.86 percent from a six months ago and is still down 43.77 percent from one year ago. These extreme moves highlight the capricious valuations of these shippers, and the potential for them still appreciate considerably or possibly again descend.
Economic stability will likely bode well for these companies, but any economic problem on the horizon will likely push these companies right back down to their pre-2012 levels. Issues that could affect shipping include potential continued European Union fiscal problems, Asian recessions and possible Middle East instability, among other factors.
There is also still a significant shipping overcapacity issue due to fleet expansions that were largely made three to five years ago, and which are now largely unwanted. Much of this overcapacity development was leveraged, leaving many shippers with high levels of debt and an aging yet relatively unused fleet. For many years, several analysts have noted that a few shippers may go bankrupt.
These companies offer significant risk and potential returns. Their ownership should be limited, though exposure to shipping and transportation is generally considered appropriate in a broadly allocated portfolio.
Disclosure: I have no positions in any stocks mentioned, and no plans to initiate any positions within the next 72 hours.
Disclaimer: This article is intended to be informative and should not be construed as personalized advice as it does not take into account your specific situation or objectives.