Caterpillar (NYSE:CAT) has just had one of the best year over year sales and earnings reports since 1947. In '47 the world was in recovery from WWII and needed to rebuild its infrastructure. We now seem to be in a similar position and as the world comes out of recession there is a lot of deferred maintenance and new infrastructure growth that needs to happen. CAT is well-placed to provide the equipment and engines to do just that.
The stock price is growing steady and upward as this graph provided by Barchart shows: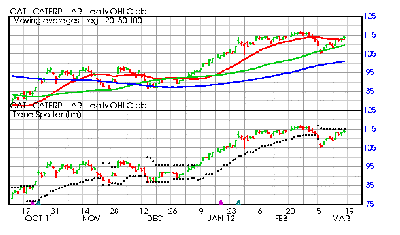 Growth in price momentum should always be put in perspective and CAT's price momentum over the past 6 months has outpaced the market as measured by the Value Line Index by a wide margin: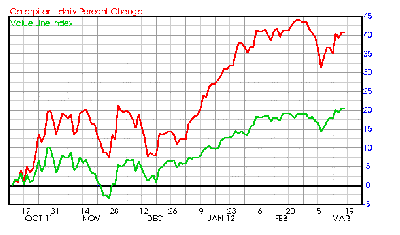 Caterpillar Inc. manufactures and sells construction and mining equipment, diesel and natural gas engines, industrial gas turbines, and diesel-electric locomotives worldwide. It offers backhoe, skid steer, multi-terrain, track-type, and wheel loaders; track, wheel, and mini excavators; select work tools; track-type tractors; motor graders; pipelayers; and related parts for the heavy construction, general construction, mining and quarry, and aggregates markets. The company also provides electric rope and hydraulic shovels, mining trucks, wheel dozers, draglines, electric drive mining trucks, compactors, tunnel boring and underground mining equipment, drills, forestry products, highwall miners, off-highway and articulated trucks, paving products, wheel tractor scrapers, electronics and control systems, and machinery components for mine, quarry, forestry, paving, and tunneling applications.
In addition, it offers reciprocating engine powered generator sets; integrated systems for the electric power generation industry; reciprocating engines and integrated systems and solutions for the marine and petroleum industries, and industrial applications; turbines and turbine-related services; and diesel-electric locomotives and components, and other rail-related products and services. Further, the company provides retail financing for its equipment, machinery, and engines, as well as for vehicles, power generation facilities, and marine vessels that incorporate its products; wholesale financing to its dealers and customers; and insurance services. Additionally, it offers component manufacturing, remanufacturing, and logistics services, as well as distributes other companies' products. Caterpillar Inc. markets its products through its sales force, distribution centers, dealers, and distributors. The company was formerly known as Caterpillar Tractor Co. and changed its name to Caterpillar Inc. in 1986. (Yahoo Finance profile)
Factors to consider
Barchart technical indicators:
56% Barchart technical buy signal.
Trend Spotter sell signal - this will turn to a buy signal somewhere in the neighborhood of 115.
Above its 20, 30 and 100 day moving averages.
25 new highs and up 30.25% in the last quarter.
Relative Strength Index 56.16%.
Barchart computes a technical support level at 112.41.
Recently traded at 113.58 with a 50 day moving average of 109.71.

Fundamental factors:
This is a Dow 30 component and a long time Wall Street favorite where 18 brokerage firms have assigned 24 analysts to monitor the numbers.
Analysts predict revenue will increase by 18.30% this year and another 10.20% next year.
Earnings are estimated to increase by 28.50% this year, an additional 19.00% next year and continue to soar at an annual rate of 26.50% for the next 5 years.
The consensus numbers resulted in analysts issuing 6 strong buy, 10 buy, 8 hold and not a single underperform or sell recommendation to their muppets.
This is a double digit growth stock that has a P/E of 14.53 in a market that has a P/E of 14.90 - looks like a bargain.
The dividend rate of 1.62% is only 20% of projected earnings and is less than the market dividend rate of 2.30.
The company enjoys an A+ financial strength rating.
The integration of the Bucyrus acquisition is complete and successful and the acquisition of ERA Mining Equipment looks good, too.
The equipment is used in farming, mining, earth moving and road building - perfect place to be in a world-wide recovery.
Tractors, engines and turbines are having a great year.

General investor interest:
I use Motley Fool as a barometer of the thoughts of the individual investor and 5,782 readers have expressed an opinion on this stock and it's very positive.
94% of the general readers who expressed an opinion think the stock will beat the market.
The more experienced and savvy All Stars give it a 96% thumbs up.
Of the columnists and analysts Fool follows 92% made favorable comments.

Always compare a stock's price to the competition - the market is the final judge of value. The whole sector is on fire and while Cat was up 41% in the last 6 months, CNH Global (NYSE:CNH) was up 45%, followed by Komatsu (OTCPK:KMTUY) up 37% and AB Volvo (OTCPK:VOLVY) up 33%: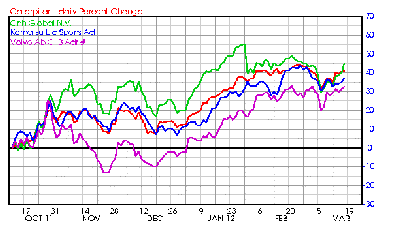 Summary: I think Caterpillar is one of those stocks you just have to have in a recovering economy. The products are essential, analysts project double digit increases in revenue and earnings and the stock can be purchased at a P/E ratio no higher than the general market. Better jump on board and monitor the 14 day turtle channel for support levels: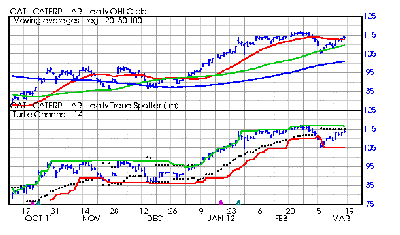 Disclosure: I have no positions in any stocks mentioned, but may initiate a long position in CAT over the next 72 hours.