When I was a kid, must-watch TV in my house meant watching Buck Rogers in the 25th Century. Buck Rogers, played by the always cool Gil Gerard, was frozen for 500 years only to be awoken in the year 2491. The series followed him as he tried to fit (not always successfully) into 25th century culture. I can remember many first father son bond moments I had with my father from that show. Trying to decipher what Twiki was saying, admiring Erin Gray in her always perfect fitting spacesuit, and being amazed by the cool technology in the show. Including the devices they used to optimize energy management and consumption.
Who would've thought it wouldn't take 500 years for this to be reality, as the smart grid has emerged a lot sooner. Comverge (NASDAQ:COMV) is the leading provider of intelligent energy management solutions for residential and commercial and industrial customers. The company's IntelliSource platform helps utilities offer incentives to business owners to curtail their facilities energy use during times of peak demand. The incentive helps utilities manage their energy supply and demand, which affects utilities around the globe.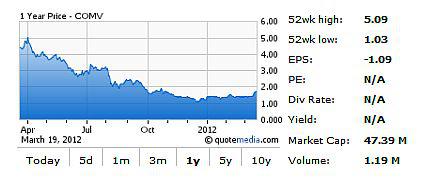 Comverge recently reported its fiscal year and fourth quarter 2011 earnings, which were the strongest operational and financial performance in the company's history. Its 4th quarter, EPS were 18 cents a share compared to analysts' estimates of break even. Fourth quarter revenue was just $36.7 million versus analyst estimates of $38.8 million. Despite this, the company still guided up 2012 revenue to $145 million- $170 million, compared to current estimates of $154.6 million. Comverge's fiscal year 2011 revenue was $136 million, so if I take the average of its guidance, Comverge is expecting revenue growth of 15% year over year.
I am expecting Comverge's guidance to be conservative because its commercial & industrial business grew a remarkable 130% year over year this past year. This tells me its Intellisource platform technology is being more accepted by utilities and in my opinion will become a necessity. Comverge now has 22 utilities using Intelisource to manage their Demand Response programs. This past December, Comverge received a $27 million contract with South African utility Eskom, the largest utility company in Africa.
OK, everything sounds great with this company; it is growing revenues and EPS and it owns an emerging technology that helps with the smart grid. Where is the caveat? The company needs to raise capital to help rid themselves of a bank credit line, some short-term debt and payables, and to finance future working capital expansion. This is an immediate need for the company, and as management mentions in the company's 4th quarter release, the board is working diligently on strategic alternatives for obtaining the required capital and financing. Numerous private institutions have been acquiring the company's stock over the past couple of months and I am expecting Comverge to acquire financing through a private equity partner.
Comverge's stock price is up 30% year to date. And institutional ownership has increased. Due to the growing market of the smart grid, I believe Comverge is set to surge into profitability and generate strong earnings growth for years to come. Every weak moment in the stock price is, in my opinion, a great entry point.
Disclosure: I am long COMV.