As if the second consecutive delayed filing wasn't enough to make Chimera Investment Corporation (CIM) investors a little squeamish, the company also recently announced that it has fired its auditor. This chain of events has certainly left investors scratching their heads and it definitely begs the question...is Chimera's smoke signaling a fire?
We have hightlighted the risks of owning CIM in previous articles, and we believe that investors should continue to tread with caution with the stock.
Chimera Overview
Founded in 2007, Chimera is a real estate investment trust ("REIT") that is externally managed by FIDAC (Fixed Income Discount Advisory Company). FIDAC is a wholly-owned subsidiary of Annaly Capital Management, Inc. (NLY). CIM acquires and manages residential mortgage-backed securities, residential mortgage loans, and real estate securities.
CIM is a non-agency focused mortgage REIT. As shown in the table below, over 70% of CIM's portfolio is allocated in non-agency RMBS.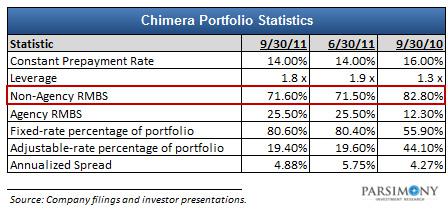 Whereas agency mortgages are guaranteed by government sponsored entities (implying limited credit risk), non-agency securities do not carry a similar implied guarantee. As such, non-agency securities are inherently more risky as they are exposed to the credit risk of the underlying borrowers. Because of this added risk, non-agency focused mREITs generally operate with less leverage than their agency-focused peers.
Delayed Filings and Auditor Change
CIM has delayed filing its quarterly reports with the SEC in two consecutive quarters due to uncertainty around the value of some of its non-agency holdings.
From CIM's press release on 11/14/11:
As previously disclosed, on November 10, 2011, the company, in conjunction with the review by its outside independent accounting firm, is conducting an analysis of the treatment under GAAP of other-than-temporary impairments ("OTTI") related to the company's investments in securities rated less than AA, non-rated non-Agency securities and other subordinate securities. Prior to September 30, 2011, the company evaluated certain of its investments in securities for OTTI under ASC 320 Investments-Debt and Equity Securities. The company had determined that its investments in securities rated less than AA, as well as non-rated non-Agency securities and other subordinate securities, should be evaluated for impairment under ASC 325-40 Investments-Other - Beneficial Interest in Securitized Transactions.
From CIM's press release on 3/1/12:
The Company is completing the preparation of its financial statements for the year ended December 31, 2011 and the Annual Report on Form 10-K. Additional time is required in order for the Company to review the application of GAAP guidance to certain of its non-Agency assets.
Two weeks after the press release updating the status of the 10-K filing, CIM announced that it was firing its current auditor (Deloitte & Touche).
Book Value and Dividend Trends
Despite the recent rally in the stock, which was driven by renewed hopes of a sustainable economic recovery, CIM's book value per share has declined in 4 straight quarters.
click to enlarge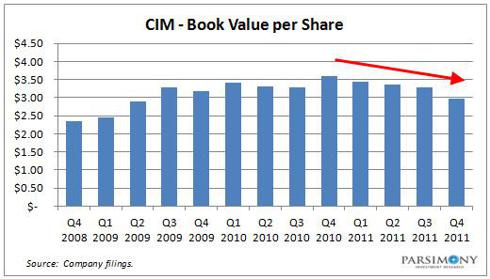 As expected, quarterly dividend payments have followed suit.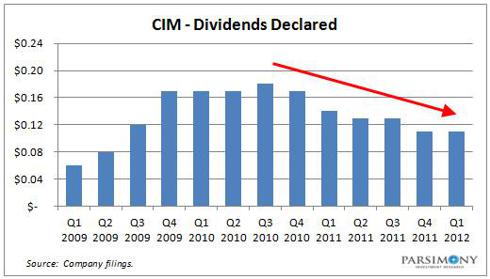 What Should a CIM Investor Do Now?
If you are a true income investor relying on the juicy CIM dividend yield, you are probably better off choosing an mREIT with a better risk reward profile. Why subject yourself to the additional headaches (and downside risk) of delayed filings and auditor changes? If the smoke ends up turning into fire, you could lose years of dividend payments overnight.
We think agency mREITs continue to offer investors a compelling risk/reward profile due to (1) limited credit risk, (2) a relatively steep yield curve, (3) slower expected prepayment speeds, and (4) an accommodative Fed that has a stated plan of maintaining short-term interest rates for nearly two more years (late-2014). Many agency mREITs pay a similar dividend yield to CIM without the additional noise surrounding non-agency valuations.
We are long-time holders of Annaly and American Capital Agency (AGNC), which continue to be our two favorite mREITs in the space. Please see the links below for further details.