Actionable Items:
CEF Weekly Review: On average, the 13 closed-end fund (CEF) types registered a share price decrease of 2.0% for the week ending 3/16/12. The PowerShares CEF Income Composite (NYSEARCA:PCEF), an ETF that invests in taxable income CEFs, decreased 1.7% for the week. PCEF is up 5.6% YTD on price appreciation. Currently, PCEF's trailing twelve months' yield is 8.1%. The S&P 500 advanced 2.4% during the week on an uptick in share volume (see below). The S&P 500 is up an impressive 11.7% YTD.
The Eqcome CEF Fear Index was significantly elevated for the week on the downside. The average CEF unweighted price decreased 3.3% while the average related NAV dropped 0.5%. This week the VIX slipped 15.1% to 14.52 and represents its lowest level since July 2007.
According to ETF Profit Strategy Newsletter, historically, a VIX below 15 has been a prescient "sell signal". Investors should brace themselves for potentially "down day" this week (see adjacent chart).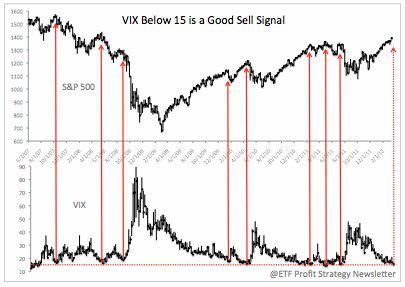 CEF Weekly Fund Type Performance: The contrast between the equity markets and the CEF market sector were stark this week. While the DJIA and the broader S&P 500 generated their best weekly gains of the year, the CEF market sector was dragged down 2.0% by the miserable performance of its fixed-income fund types.
Both the state and national munis were both significant contributors to this underperformance with an average share price decline of 6.0% and 6.6%, respectively. (We cautioned our clients late last week regarding "peak pricing" for the leveraged muni CEFs and earlier this week we issued a report entitled, "Heads-Up Closed-End Fund Muni Investors") Muni CEF performance was significantly worse than the iShares S&P National Muni Bond ETF (NYSEARCA:MUB) which was off by 1.4%.
Despite the significant weekly gains in equities, the equity-oriented CEFs share price performance was mute with GenEqFnds and WrldEqFnds registering small relative gains of 0.9% and 0.4%, respectively. SpecEqFnds registered an average price decline of 0.4% as the fund type was bifurcated by the strong performance of financial CEFs and the drag of energy and material CEFs.
Weekly CEF Winners and Losers: One of the CEFs with the greatest positive PrcNAVSprd* for the week was Gabelli Utility Trust . GUT's share price advanced 1.2% while its NAV per share declined 1.4% generating a positive PrcNAVSprd of 2.7%.
GUT, as the names implies, invests in products, services or equipment for the generation or distribution of electricity, gas and water. GUT is trading at its 52-week premium high of 47.5% to its NAV. Its average 52 week premium has been 31%. GUT generates an annualized monthly yield of 7.4%, all of which is a return of capital.
GUT's total net assets are $227 million with 23% of the portfolio leverage with auction market preferred shares. Its largest holding is a $9.0 million position in El Paso Corporation (EP) representing 10.2% of GUT's portfolio.
EP's shareholders have approved a merger with Kinder Morgan for a combination of cash stock and warrants valued at 30.37 per share-a 47% premium over its pre-merger stock price. With EP's stock trading at 29.10, most of that premium is already reflected in GUT's NAV. With the stock having gone ex-dividend March 14th, on a cursory basis, it seems toppy.
The CEF(s) with the greatest negative PrcNAVSprd for the week was Invesco Value Muni Income Fund . IIM's share price was down 12.5% while its NAV was down 1.5% generating a negative PrcNAVSprd of 11.0%. The stock, which trades on an average 3 month daily volume of 75,300, saw its average daily volume for the week of increase by 50%. It experienced successive daily downticks in its stock price.
IIM currently trades at an annualized monthly yield of 5.8% and as a result of its recent share price decline, it now trades at a discount of 2.8%. Its portfolio is $416.3 million and while it's structural debt (balance sheet) represents approximately 20% of its leverage, its hedged positions bring its effective leverage to 31.3%.
The carnage in the muni CEF funds this week took no prisoners.
CEF Focus Stock(s) for the Week:
Our focus stock for the week is Royce Micro-Cap Trust . RMT, as the name implies, it invests in micro-cap stocks that are usually under $250 million in market capitalization, but greater than $50 million (Nano-caps). These are typically companies in their early stages of growth.
Growth Prospects: Given their small size and the tendency for young companies to introduce new business models, this is a very complex and inefficient market sector. Investors should buy a package of such stocks. This strategy would allow an investor the opportunity to recover from a particular investment if it does not "pan out". Such a disappointment can be more than offset by winners in the portfolio. (A failed idea can go to zero, but a good idea has the sky as its limit, e.g. Apple.)
Treacherous Territory: Given the specific skills to analyze and buy these stocks, we recommend that you employ an experienced advisor. Royce & Associates, LLC, the advisor of the fund, has 35 years of small-cap and micro-cap experience.
RMT trades at a 13.4% discount and at an annualized quarterly yield of 5.6% (stock just went ex-dividend March 2nd.) RMT has total assets of $370 million and is leveraged 17% with a $60 million cumulative preferred share issue at an annual dividend rate of 6.0%. The stock has a 3 month average daily volume of 65,000 shares.
Micro-caps have a tendency to lead in a recovery as expectations are that smaller companies will benefit from the upturn in a material fashion as its denominators on all its metrics are small and comparisons are significant. At the peak in cycles they have a tendency to lag as the larger caps pick up steam.
The adjacent chart compares the iShares Russell Microcap Index (NYSEARCA:IWC). As depicted, RMT's performance has significantly lagged that of the ETF that is comparable both in assets and trading volume. YTD performance for RMT is 5% stock price appreciation and a 7% increase in NAV. This is below the 10.9% and 10.7% for IWC on comparable benchmarks, respectively. On any significant market correction, we would be adding to our position in RMT.
Last Week's Focus Stock(s): Our focus stock last week was ING Infrastructure, Industrial and Materials Fund . Fears of a global economic slowdown led by China and Brazil rippled through the market last week and negatively impacted WrldEqFnds such as IDE.
IDE trades at an 8.0% discount to NAV and currently generates an annualized quarterly yield of approximately 10.0%. IDE recently declared its quarterly distribution of $0.450 per share with an ex-dividend date of April 2nd and a payment date of April 16th.
IDE's portfolio is approximately $400 million with no leverage and consists mostly of large cap stock with a large dollop of energy related investments. It holds position in CenterPoint Energy, Schlumberger and National OilWell Varco.
IDE finished the week on its high advancing 2.6%.