A whole bunch of people out there think the "D" in dividend stands for "doom," especially in the case of Apple (NASDAQ:AAPL). I wonder if some of them who own shares will be selling today, now that a $2.65 quarterly dividend has been declared starting in July?
Well if so, I bet that supply will be quickly snapped up by dividend growth investors who now have another choice for their portfolio.
Don't look at me, though. I'm not selling. And this even gives me more work to do.
You see, occasionally I publish yield level charts on dividend stocks, to basically show where a stock trades against specific yield levels, such as this one for Microsoft (NASDAQ:MSFT)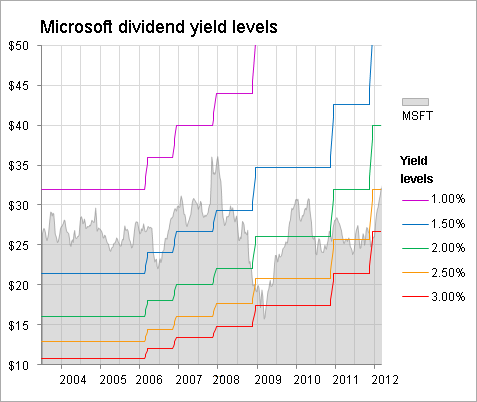 What you can see from this chart is that the stock has not traded at a yield of less than 1%. During the financial crisis, the stock did offer a 3% yield, but that level is obviously different now.
For example in July of 2009, buying the stock just above $20 provided a 2.5% yield. But today that same level is more like $32. That's what happens when dividends go up.
What does this mean for Apple? Well, we don't know how far or how fast the dividend - expected to total $10.60 per share annually starting in July - might increase, but all it takes is some simple arithmetic to see the levels for now.
Here's a chart with a few yield levels.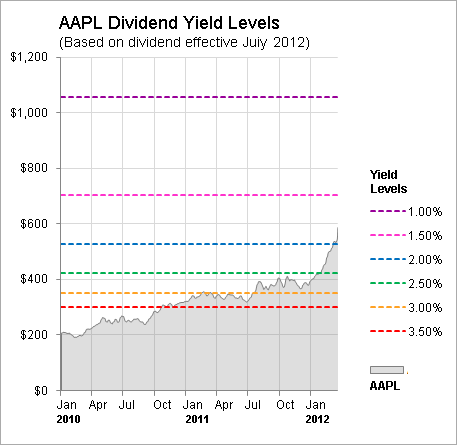 The lines that extend back to 2009 aren't valid, of course, as the stock had no yield - and won't until much later this year. But you can see the range of yield levels.
If you don't think the stock "should" eventually yield more than 2%, then your target price is $530. Personally, I think with a high-growth company like this, a 1.5% yield is perfectly reasonable - and that implies a price of $706 later this year.
Obviously, these levels are subject to change. If you think the dividend might be raised by 10% to $11.66 in 2013, then that 1.5% yield level would go up to $777.
Anyway, I'm happy the company took this step. At least it settles the issue, for awhile anyway, and gives a whole new group of dividend growth investors a chance to buy one of the world's leading companies.
Disclosure: I am long AAPL.