Honeywell (NYSE:HON) is a $46.81 billion large-cap global technology and manufacturing company. The company has operations in the following segments: Aerospace, Automation & Control Solutions, Performance Materials, and Transportation Systems. Many of us have Honeywell thermostats in our homes. Some of its other products include: aircraft engines & systems, airport logistics, environmental & combustion controls, resins & chemicals, brakes for cars & commercial vehicles, and more.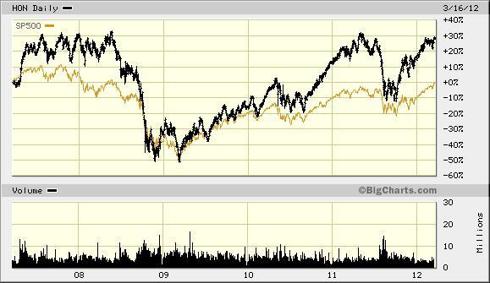 Click to enlarge
It looks fairly valued with a trailing PE ratio of 23.09, a forward PE ratio of 12.15, and a PEG of 0.97. The stock is currently trading at 4.36 times book value per share. If the price to book ratio was under 3, I would consider the stock undervalued. The company grew approximately in line with its earnings for the past five years reinforcing this fair valuation.
Honeywell pays a respectable dividend of 2.4%. Although it does raise the dividend over time, the payout does sometimes remain stagnant for a few years before a new increase is implemented. The company does offer a DRIP (dividend reinvestment plan) for investor's convenience.
Honeywell has operating cash flow of $2.83 billion and free cash flow of $2.87 billion. Only $1.2 billion of the free cash flow is used to pay dividends, while the other $1.67 billion is used to grow the business. Total cash stands at $4.11 billion and total debt is $7.56 billion. The company has 1.31 times more current assets than current liabilities.
The earnings outlook is bright for Honeywell. It has two upward earnings revisions for 2013. Honeywell is expected to grow earnings annually at 14.17% for the next five years. This should allow the current stock price of $60 to grow to around $116 in five years. Since the company pays a dividend of 2.4%, investors should expect to earn a total annual yield of 16.57% over the next five years. Or, to put it another way, the initial investment should approximately double in five years.
Emerging regions comprise 20% of Honeywell's total sales. The company is seeing large increases in Turbo, Commercial Aerospace, UOP (Honeywell's refining and petrochemicals company), and Process and Building solutions, with an increase in sales of 20% in the fourth quarter for China, India, and the Middle East.
The Aerospace segment was another highlight in Q4 for Honeywell. Aerospace profit increased 40% in Q4 due to strong commercial aftermarket volume. Sales for the Performance Materials & Technologies segment (PMT) increased 24%. Advanced Materials sales increased 18%. Transportation Systems sales increased 10%, driven by sales of turbochargers. ACS (Automation and Controls) increased 4%, where the company saw solid global growth.
Honeywell is expecting total sales for 2012 to fall in the range of 4% to 7%. It is projecting segment margins to grow 15% to 15.3% for the year. EPS is expected to be in the range of $4.25 to $4.50 which should reflect a 5% - 11% increase over 2011. These projections already account for a downturn in Europe for the first half of the year.
The company expects better results for 2013 and beyond. It is expected to grow earnings at 11.9% for 2013. Earnings growth will continue to march higher in 2014 and beyond. This growth will be driven by strength in: commercial aerospace, process solutions, and its UOP business.
Overall, Honeywell looks like a solid, diverse, dividend paying investment that will beat the market over the next five years.
Disclosure: I have no positions in any stocks mentioned, and no plans to initiate any positions within the next 72 hours.
Additional disclosure: Although I don't own Honeywell individually, I may have a position as part of a larger fund within my retirement plan.