"Courage is fear holding on a minute longer." - George S. Patton
On January 18th, I wrote a piece here on Seeking Alpha titled "Germany to Beat the U.S. During the Winter Resolution of 2012?" in which I stated that
the idea behind the Winter Resolution is that my analysis suggests the volatile sideways trend of last year is likely over, a trend (up) has asserted itself, and volatility/correlations will likely continue to fall. Now, under the same logic as the September 30th article, note that the ratio may be stabilizing and Germany could begin to outperform again. If it does, I argue the market will continue to climb an icy wall of worry.
I thought it might be worth updating this given the significant move higher in German markets following the DAX low of last year under 5,000 to now over 7,000 (a significant move reminiscent of how markets behaved following March 2009). Take a look below at the price ratio of the iShares Germany ETF (NYSEARCA:EWG) relative to the Dow Jones Industrial Average (NYSEARCA:DIA). As a reminder, a rising price ratio means the numerator/EWG is outperforming (up more/down less) the denominator/DIA.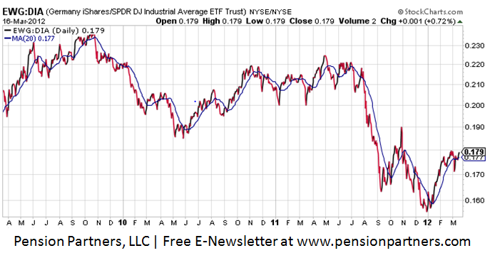 Germany, as proxied by EWG, has indeed strongly outperformed the U.S. during the move higher, and I would argue has more room to rally in the near-term given that the ratio has still not reached its level hit in late October, not to mention the high reached before the Summer Crash of 2011 expressed itself. The trend still looks to be headed higher, which remains a bullish sign for markets generally if you assume that as Germany goes, so goes (away) the European financial crisis, at least for now. What this means for investors is that stocks could rally further given still further potential for Germany's equities to recoup relative losses from last year.
Disclosure: I have no positions in any stocks mentioned, and no plans to initiate any positions within the next 72 hours.
Additional disclosure: Pension Partners, LLC, and/or its clients may hold positions in securities mentioned in this article at time of writing.