"If you make every game a life and death proposition, you're going to have problems. For one thing, you'll be dead a lot."
- Dean Smith
Part 5 (see part 1 and part 2 and part 3 and part 4)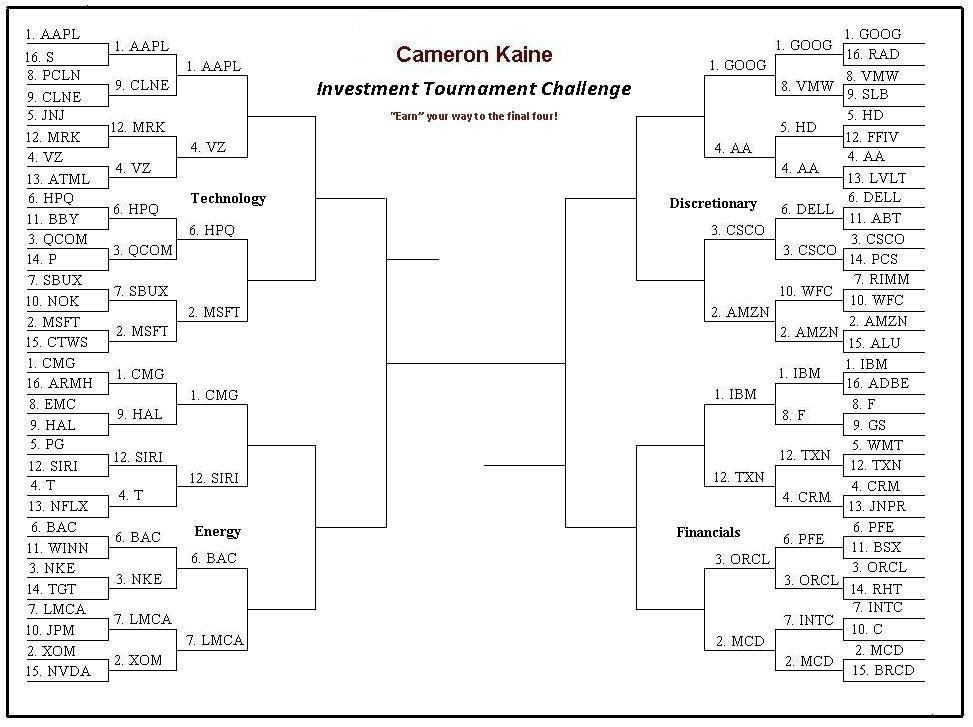 What an incredible weekend it has been in our investment challenge as we have now approached the sweet16. As with the NCAA tournament that is going on at the moment with all four number 1 seeds still alive, all four of our number 1s in our investment challenge still remain as well. But as they will tell you, it was not as easy as their first round matchups - but that wasn't entirely expected either. IBM (IBM) had to break away in the fourth quarter to seal its victory while Chipotle (CMG) required double-overtime to put away Halliburton (HAL).
Ford Vs. IBM
IBM faced the number 8 seeded Ford Motor (F) who's been riding with its top down all year and cruised into the tournament on robust auto sales for the first three months of the year. But for Ford, it met an opponent in IBM that was just too tough to overcome and one that is not only riding a streak of 52-week highs, but has also released stellar recent earnings results. Looking back, Ford just had no answer for IBM's performance in the fourth quarter. A quarter where it grew revenue, expanded growth, pretax and net margins and delivered operating earnings per share of $4.71, up 11% year-to-year. For the full year, IBM delivered revenue of almost $107 billion, which was up 7%, operating pretax income of $21.6 billion, up 9%, and operating EPS of $13.44, up 15%. Its 2011 results put the company well on track for its 2015 roadmap objective.
For Ford, I think for the rest of the year it will be just fine as the company's fundamentals remain in tech and it continues to be the dominant brand in its sector. I think its recent performance will put Wall Street on notice and the company will now be looked upon as one that deserves more respect. At the moment, it is hard to say that it has gotten any as evident by its extremely low P/E of 2. This tells me that the market is not expecting a whole lot from the company, but there is certainly some value there for investors who are willing to be patient and take a shot at an old reliable - one that pays a decent dividend yield of 1.6 percent.
Apple Vs. Clean Energy
As far as the other two number 1 seeds were concerned, it was pretty smooth sailing for the tournament's best team in Apple (AAPL) who had little difficulty eliminating upstart Clean Energy (CLNE), which quickly became a fan favorite for having established a sound and fundamental program. Its message to its players has always been to do things the right way and your community and the world in which we live will benefit - essentially, we can all be winners. From that standpoint, it has nothing to be ashamed about. The company's time will come one day, but it faced a giant that was just not ready to be slain this weekend.
Apple has dominated in the first two rounds of the tournament and (for the most part) has yet to defeat an opponent all year by less than double-digits. The company recently reached an all-time high in scoring by reaching $600 last Thursday and after its game last night, the rumor is it will indeed decide to issue a dividend to its fans for their support. The company currently has $98 billion in cash and for this reason it has continued to experience investor pressure to share it. (Apple said at a news conference this morning that it will begin paying a quarterly dividend of $2.65 a share this year and spend another $10 billion on a stock repurchase program.)
Google Vs. VMWare
The other number 1 seed was search giant Google (GOOG) who exerted little effort to dismiss cloud titan VMWare (VMW) the number 8 seed. Although the game was never really in doubt from the opening tip, it was clear to investors that Google was playing with some anger. The reality is, for a company with the stature of Google, it has too many battles with its own insecurities. We see evidence of this by how it spends its cash and the many projects and features it tries to push out - mostly to combat Apple and the success of social media - namely Facebook and Twitter.
While it plays second fiddle to no one, sometimes I believe the company operates with the mindset of a start-up and tries too hard to get into everything to the extent where it often forgets just how dominant it is in search. It this dominance was just too tough for VMWare to overcome last night. But as with Ford, Clean Energy and some of the others who were unable to advance, VMWare still has a bright future ahead and its fans should remain excited. The company should standout well into the future because it has positioned itself extremely well to take advantage of the demand that will come from the standpoint of the cloud.
From that perspective, the company has its focus on the hybrid concept - one that allows clients to create and manage the applications and services needed to run businesses effectively. Its hybrid cloud services features high performance, comprehensive security, high availability to deliver exceptional quality of service, interoperability and the ability to scale with business operations. The good thing is the company also provides clients with flexibility and portability to move applications between clouds without rewriting them - from private to public clouds and back. What's not to like? I don't think there are too many companies that would have fared much better against Google. And I have my suspicions that these two will meet again.
Sirius XM Vs. AT&T
The upset of the second round came in as Sirius XM (SIRI) the number 12 seed in the energy region defeated AT&T (T) the number 4 seed. From the start it appeared that AT&T was a bit over-confident and came out somewhat sluggish. It appeared that the company had its mind on other things and under-estimated Sirius - who many have doubted all year. AT&T seemed preoccupied with the release of Apple's new iPad. The company has been marketing heavily to its customers and reminding them the pre-order before supplies run out. I'm not sure what to make of this letdown, but I have to imagine that it is disappointed in its performance. However, that is not to take anything away from a great year and even a better future.
The fact of the matter is, the company has been dominant for a long time and it will be again. But UCLA didn't win every year either. For AT&T, not only does it feature one of the better 3G and 4G networks, but the company also has a wide selection of wireless products highlighted by the iPhone as well as various devices on the Android platform. The company will remain in a great position to add to its customer base and maintaining its momentum in subscriber growth - one that increased faster last quarter (1.3 million new wireless customers) than the previous two and a half years.
To say Sirius XM has been playing with a chip on its shoulder would be an understatement. As noted, the company has had its doubters all year (even from yours truly) and for that matter, it has had its doubters over the past four years. Despite its second round victory over AT&T, investors continue to wonder just how far can the company go? Does it have final four aspirations? Should that even be the expectation at this point? But I think at this point the answer to that question is now quite apparent as volume in the stock seemed to have disappeared as quickly as it arrived. Does that mean that investors feel that it has reached its full potential?
This week will be pretty interesting - the reason being is that I have targeted this coming week for my opportunity to cover my $2.35 short and I will be shocked if the stock does not touch $2.20 by at least Wednesday. There just isn't any more so called "catalysts" to speak of. However, as the company continue to show that sometimes it is able to rise to the occasion and overcome a superior opponent as it demonstrated against AT&T. The interesting thing in this bracket is that both Sirius XM and Liberty Media (LMCA) advanced and are both now one win away from making it to the elite 8 where they would face each other if both secure one more victory. Talk about irony. Ladies and gentlemen this is getting better and better with each round.
Other notable box scores:
Microsoft (MSFT) def. Starbucks (SBUX)
Hewlett-Packard (HPQ) def. Qualcomm (QCOM)
Summary
The sweet 16 is turning out to be as exciting as any other sporting event going on today as there are some incredible matchups on the horizon as we have two 12 seeded teams facing off against two number 1 seeds as Sirius prepares to battle sizzling Chipotle and Texas Instruments (TXN) will face dominant power IBM. So as they say, you will just have to stay tuned.